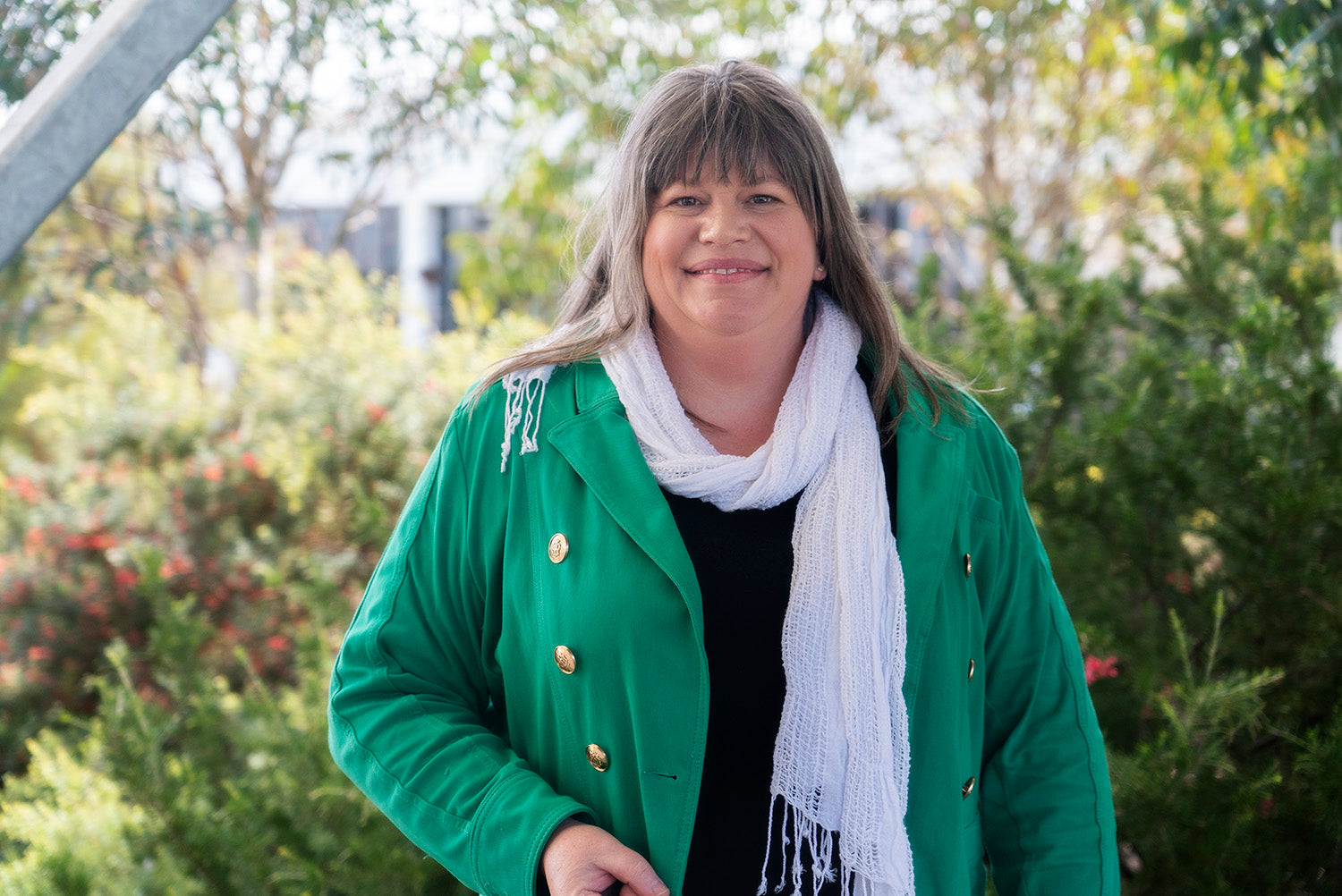 Meet The Locals - Lana's Garden
Lana, grew up on a dairy farm in Naringal, Victoria, surrounded by animals, fruit trees and veggie patches, is the "Rhubarb Lady" of the South-West.
Her home grown brand, Lana's Garden, proudly produces only in small batches using one central ingredient: Rhubarb. There are currently seven products in the range. Rhubarb and Raspberry Jam, Rhubarb Relish, Rhubarb Coulis, Rhubarb and Chilli Salsa, a savoury Rhubarb Sauce, Rhubarb Vinegar and a limited seasonal release of Rhubarb and Fig Jam. All 100% natural and delicious which we love! 
Learn more about Lana and her business journey below:
>> Lana's Garden 'Rhubarb Sauce' was featured in the Winter 2020 Discovery Box
What's your food philosophy?
Share what you have, food is about relationships.  Keep it simple and always share.
What was the inspiration behind starting Lana's Garden? Where did your journey with Rhubarb begin? (and why Rhubarb?)
Growing food and cooking produce has always surrounded me.  From my Grandfathers vegetable garden that supplied his 6 children and then their offspring. To both of my Grandmothers who had quite different cooking styles, but their kitchens smelled equally as inviting.  There was always hearty soups and stews, apple pies and rhubarb crumble, pickles and jams, cookies, and sponges to be enjoyed at either homes.  I was lucky enough to spend my childhood on a dairy farm surrounded by extended family whose own farms we only a bicycle ride away.
 So, my respect for where our food came from and the love and enjoyment that was present when a meal was shared was realised from a young age.  
Skip forward 30 odd years and 1 child, I knew that I wanted to stay at home and earn an income.  I could grow food, I had food knowledge from spending time training as a chef, and there was my lightbulb moment.  I would make a range of condiments.  My favourite condiment was my Grandmother Joys' rhubarb relish, that was my inspiration in the kitchen and rhubarb quickly became my inspiration in the garden.  It is such a versatile vegetable, growing all year round in Australia and being predominantly insect resistant, its hardiness made it an obvious choice to base my recipe development on.
What are the health benefits of Rhubarb?
Rhubarb is a good source of antioxidants, potassium and manganese, vitamin C and K, like other fruits and vegetables it is high in fibre but is not overflowing in essential nutrients.  Being a red vegetable rhubarb contains anthocyanins, this is what gives the stalks their red colour. Anthocyanins act as antioxidants, which we know are good for our bodies.  Like all "superfoods" rhubarb has many claims about proposed health benefits.  I prefer to eat it because it tastes amazing.
Is it true that the leaves of Rhubarb are poisonous?  
The leaf and stalk of rhubarb contain oxalic acid.  This is what gives rhubarb its tart flavour.  However, the levels of oxalic acid in rhubarb leaves is high and they should not be eaten.  I have seen, rabbits, chickens and calves and cows all devour rhubarb leaves, with no visible ill effects.  Rhubarb leaves are bitter and unpalatable, so there is no risk of ever ingesting enough to be toxic.  They are not poisonous to handle and are a great addition to the compost pile.
Can you tell us a little more about the region you produce in?  
Warrnambool is in South West Victoria, on the western end of the famous Great Ocean Road.  We enjoy a coastal environment(windy), good rain falls and definite seasons.  Winter does last a little bit too long for me, but the rhubarb loves it.
We are primarily a dairy and beef farming area.
As a small batch producer,  what's the most challenging part of your job?
Educating the customer that food is seasonal, inconsistent and has it individual characteristics.  This means that unlike the mass produced, manufacturing line foods, that can be full of food like items such as, sweeteners, thickeners, artificial preservatives and colours to keep them 100% consistent.  Our delicious range is natural and therefore naturally has slight and occasional variances.  We choose not to add the stabilizer, instead we remind people to shake the bottle.  We choose not to add artificial colours or preservatives and accept that overtime our product my not look as vibrant, again nothing that a shake or a stir wont fix. 
Like the Ugly Food Movement, I am adamant that the small batch ethos just needs a little awareness.  Small batch does not mean low production capacity, just a superior result.
And the most rewarding?
Always the customers positive feedback and the satisfaction that I produced a tasty product that keeps people coming back for more.
If we looked inside your fridge, what would we find?
Rhubarb condiments!  Always, we love them, coulis in a breakfast smoothie, relish on cheese toasties and salsa tossed though the pasta.  It is part of my families mealtimes.  There is also loads of yogurt, vegetables, fruit, eggs and fish a small amount of meat and of course some chocolate.
What do you love most about Winter and why?
I love the slow cooked dishes that we cook the aromas in the kitchen from more baking during the cooler months. Also, the still crisp mornings, not the frosts as that affects the rhubarb, but the mornings that our warm breath billows clouds from our mouths.
What is one thing you couldn't work without?
Our vegetable chopper.  I used to chop up to 30kg of rhubarb a day for years, my wrists have paid the price.  So, it is absolutely the vegie processor.  But at the most basic level, it would be our trusty stainless-steel stock pots, they are what gets used for every product each day.
If you weren't a food producer, what would you be doing?
Hahahaha…what a question!! Wow, ummm, I had already packed a fair bit in before food production, from sales and marketing to hospitality and retail.  It all benefited my current destination.  I think from here on out, I will always be a grower and producer.
How has covid-19 impacted you? Have you had any aha moments from this experience?
On the business front covid-19 has delivered huge changes, our calendar of weekly markets and larger food and wine events was suddenly empty.  Some of our retail stockists have closed their doors completely whilst almost all others have reduced their hours or turnover in some capacity.  We do not stock the large national chains of food outlets but sell through independently owned stores and businesses. This has been both a challenge and a lesson.  The challenge is now how do we get our products in front of buyers and build brand awareness.  The lesson learnt is even when not all your eggs are in the one basket, you can still side swiped.  Be prepared! 
My aha moments have been more along the lines of, realizing that I can slow down and things still keep going. 
What advice would you give to someone who is considering launching their own food business?
Do things as well as you can from the beginning.  Do not cut corners on quality.  Be sure that your idea is driven by passion first and finance second.  We all need to make a living, but hard work is a lot easier when you believe in what you do.
If you could have any celebrity/renowned chef cook you dinner, who would it be & why?
That is a super tough question, it has changed over the years.  Phillipe Mouchel renowned French chef would be on the list, I have enjoyed his meals before and hope to again.  If they were going to cook for me and then dine with me, I would want it to be someone that I could enjoy a good yarn with, Miguel Maestre would tick that box.  Pete Evans would be a dream come true, I enjoy his clean eating recipes, Maggie Beer makes the tastiest real food and of course Heston Blumenthal, Hestons inventions bend the mind and please the palette.
What would your ultimate last supper be?
A meal cooked by my Grandmothers.
Lamb shank and barley soup, crusty bread, toasted with butter.

A bowl of roast veg topped with rhubarb relish.

Apple and rhubarb pie with cream.
To discover more and connect with Lana's Garden click below:
Website: https://www.lanasgarden.com/
Instagram: https://www.instagram.com/lanas_garden
Facebook: https://www.facebook.com/LanasGarden