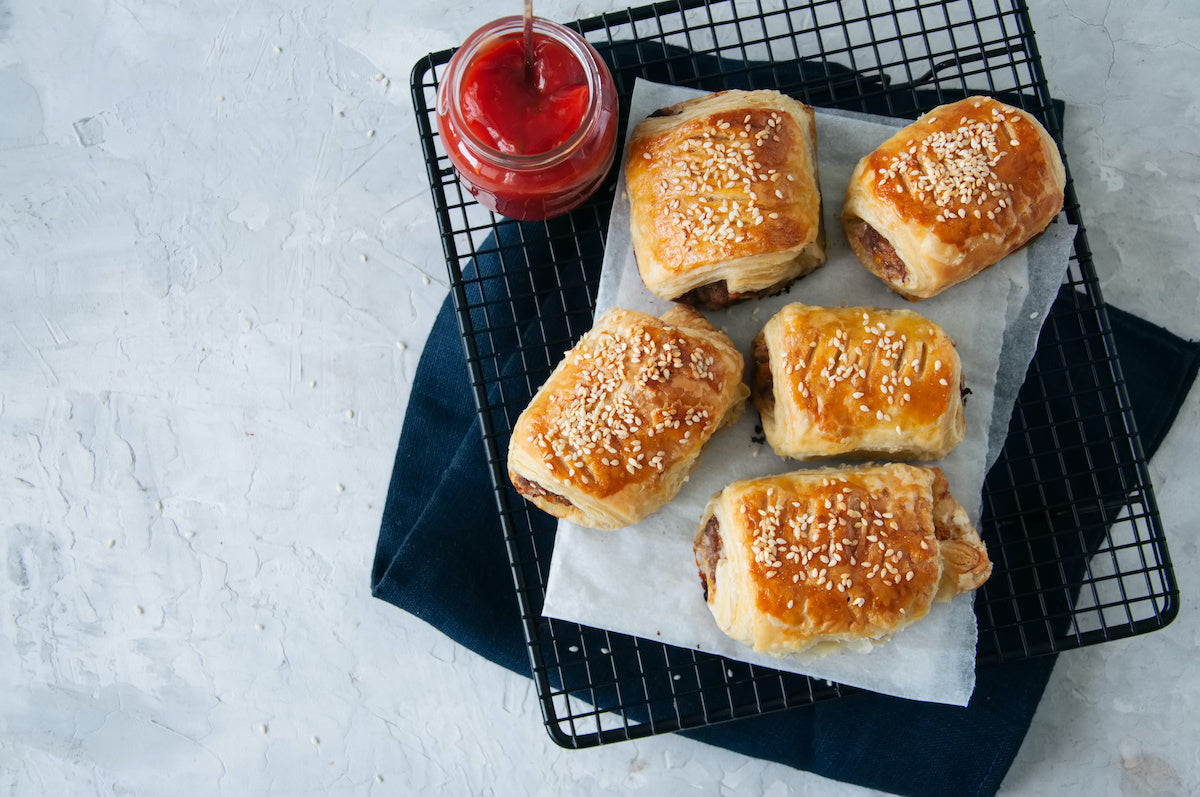 Pork & Caramelised Apple Sausage Rolls
Foodies Collective Store Admin
These golden flaky sausage rolls are taken up a notch with the inclusion of sweet apple pieces in the juicy meaty filling. These make a warming Winter snack or lunch, perfect for the whole family. 
Side note: The highlighted Australian ingredients below are featured inside the 'Discovery Box', as we love showing you ways to use your newly discovered goodies. You can substitute these with other quality products. Lana's Garden Rhubarb Sauce is recommended as a dipping sauce. This unique tangy savoury sauce was featured inside the 'Winter 2020' Discovery Box 
Happy cooking!
Pork & Caramelised Apple Sausage Rolls
Ingredients:
2 Granny Smith apples, cored and diced into 1cm pieces
20g butter
1 TB caster sugar
2 TB olive oil
1 leek, finely chopped
2 garlic cloves, finely chopped
3 TB thyme, finely chopped
1 TB flat-leaf parsley, finely chopped
500 gm coarsely minced good quality pork
1 large sheet butter puff pastry (we love using Careme) or 2 standard size
1 egg yolk, lightly beaten

To serve:

Lana's Garden Rhubarb Sauce
Method:
 Preheat the oven to 220C. Heat butter in a frying pan over medium heat, add apple and pan fry until beginning to colour, stirring occasionally. Sprinkle over sugar, stir and cook until caramelised, season to taste. Remove from the pan and set aside to cool.
Heat olive oil in the frying pan over low-medium heat. Add leek and garlic, stir occasionally until softened, mix through herbs, season to taste and set aside to cool.
Combine pork, apple and leek mixture in a bowl and season to taste.
Place puff pastry on a lightly floured surface. Place half the pork mixture along one long edge, leaving a 1cm border, brush with egg wash and roll to just enclose pork. Cut along the edge, press with a fork to seal then cut into three rolls (or 6 if you prefer smaller portions). Place on an oven tray lined with baking paper and repeat with remaining pastry and pork. Brush with egg wash, scatter with thyme and bake until golden and cooked (approx 15-20 mins).

Serve hot with Lana's Garden Rhubarb Sauce.