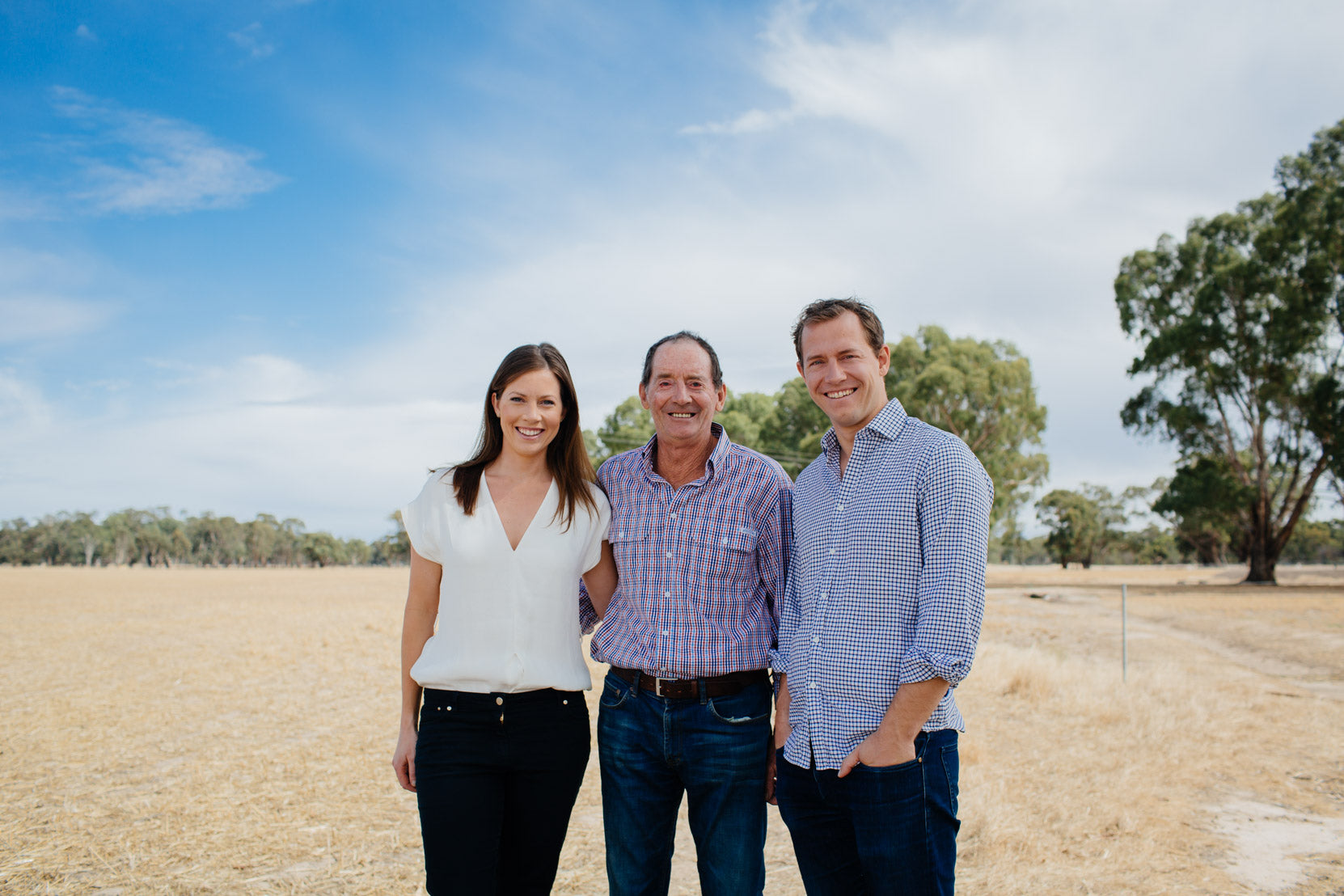 Meet The Locals - Alicia from Dad's Oats
Foodies Collective Store Admin
Using the finest Echidna Oats known to grow in Australia, the beautiful brand Dad's Oats, owned by siblings Alicia and Peter Cain, produce Traditional Rolled Oats, Quick Oats and Groats.
For five generations their family farm has grown oats which are nurtured from birth on the foothills of the Pyrenees Ranges in their Dad's Paddocks.
Learn more about Alicia, their business journey and which celebrity chef she'd love to have dinner with in our interview below:
>> Dad's Oats Traditional Oats were featured in the Winter 2020 Discovery Box
What's your food philosophy?
Local. Fresh. Sustainable. It's so simple really and if you have those three things in mind you'll always enjoy good produce.
What was the inspiration behind starting Dad's Oats?
My brother Pete and I were reflecting on how good the wine industry is at reserving the highest-quality grapes for making the best wines and at telling the story behind the labels. In the wine industry, provenance matters.
Other farmed produce, such as grains, are treated as simple commodities, sold by farmers in bulk quantities, pushed out the farm gate, losing provenance and any quality distinction.
Our Dad has always grown top-quality oats on our farm, winning several awards during his 55 years on the land. The more we thought about it, we wanted to embrace the example of wine by taking something from our farm to complete the journey from paddock to plate.
Can you tell us a little more about the region you produce in?  
Dad's Oats are grown at Natte Yallock which is located at the foot of the Pyrenees Ranges in North-Central Victoria.
As a small batch producer,  what's the most challenging part of your job?
Growing the oats is the hardest part. You're controlled by Mother Nature and there's always something to battle with!
And the most rewarding?
One of the most rewarding parts has been the wonderful feedback we get from our customers and realising just how important food provenance is to many people. Not everyone is focused on simply buying the cheapest food they can find in the supermarket. There's another group of consumers that cares about quality and embraces the single-origin concept.
If we looked inside your fridge, what would we find?
Stewed peaches and fresh cream – to go with the porridge of course! Also alot of veggies and fresh eggs from Pete's farm.
What do you love most about Winter and why?
I think winter makes you particularly grateful for some of the simple things in life. Having a warm cosy home to come to is a huge part of that.
What is one thing you couldn't work without?
The label printer. It saves us so much time!
If you weren't a food producer, what would you be doing?
Maybe a food retailer! I think it would be wonderful to run a small food store stocking the best of every category
How has covid-19 impacted you? Have you had any aha moments from this experience?
We haven't been able to attend the Farmers' Markets for a few months. We really miss the interaction with our regular customers. Also a lot of the cafes we supply oats to have temporarily shut down. However we are lucky that our online store sales have been going well and also we supply a group of really lovely retail stores where our sales continue to grow steadily.
What advice would you give to someone who is considering launching their own food business?
Focus on providing something high quality. Not only do you get to enjoy constant positive feedback from customers but you also feel good about the product you sell. We also love having a point of difference. For us, that's our little hand oat rollers. People are able to buy the groats (whole oat grain) and roll their own oats fresh each morning. Such a delight!
If you could have any celebrity/renowned chef cook you dinner, who would it be & why?
I met Maggie Beer a few years ago at a Market at Daylesford Lakehouse. I would love to have her cook for me! Not only because she is a talented chef, she also reminds me of Mum and her home cooked meals (stepped up a few notches of course!)
What would your ultimate last supper be?
Something decadent, definitely containing chocolate.
To discover more and connect with Dad's Oats click below:
Website: https://www.dadsoats.com/
Insta: https://www.instagram.com/dadsoats
Facebook: https://www.facebook.com/dadsoats