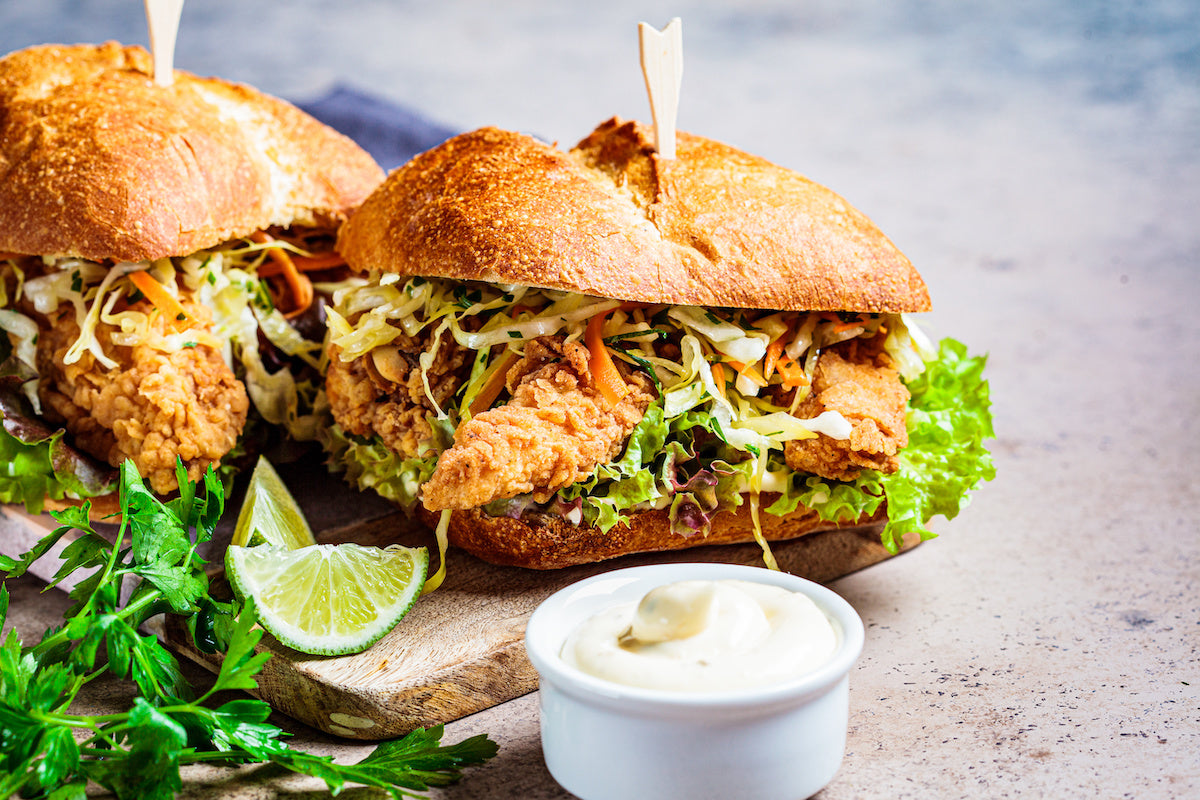 Crispy Chicken Burger with Poppy Coleslaw
A crowd pleasing Crispy Chicken Burger recipe that's finger licking good. 
This Crispy Chicken Burger recipe not only heroes the delicious Kentucky Style Chicken Coating by our friends PomPom Paddock, it also uses the Rich Glen Poppy Dressing to add some zing to the coleslaw (both goodies inside the Spring Box).
Quick side note: If you're new around here, a huge HELLO to you! Our mission is to help foodies like you discover & eat the best Australian made artisan foods every season.  The ultimate foodie box is delivered directly to your door for you to enjoy! Learn more on our ABOUT US page or come say hi on Instagram @foodiescollective 
Crispy Chicken Burger
Ingredients:
3 large chicken breasts - sliced into long, thick strips

240 ml (1 cup) buttermilk (*or plain milk)

PomPom Paddock Crispy Coating Kentucky Style

Rice Bran Oil for deep frying

Cheese - Gouda, Swiss, Sharp Cheddar or American Cheese

8 pieces crunchy lettuce - Iceberg, Romaine or Little Gem

4 brioche buns, lightly toasted (or ciabatta rolls)
Coleslaw
⅓ white cabbage, finely sliced

1 small carrot, peeled & grated

1 small red onion finely sliced

1 cup coriander leaves

3 pickled jalapenos finely chopped, plus pickle juice

Rich Glen Poppy Dressing
Method:
Place the chicken in a bowl. Add the buttermilk & season with salt & pepper. Mix together, cover and place in the fridge to marinade for at least 1 hour (up to overnight). *If you're short on time, you can skip this step & just do a quick dunk in plain milk.
To make the coleslaw, place all ingredients in a bowl and drizzle with some of your Rich Glen Poppy dressing and a little pickle juice (just enough to coat all ingredients but not too wet). Stir together, then cover and refrigerate until needed.
Pour your PomPom Paddock Crispy Coating mix into a bowl. Take the chicken out of the fridge. Lift a piece from the buttermilk and allow the excess to drip off. Dredge the chicken in the crispy coating mixture – ensuring it's fully covered. Place on a tray and repeat until all of the chicken is coated.
Preheat the oven to a low heat (for when the chicken is cooked to keep warm). Heat a large pan of Rice Bran oil or vegetable oil (or preheat your deep fat fryer) until hot. You can test by dropping a small cube of bread in there, if it rises immediately to the top and starts to bubble rapidly, it's hot enough.
Once the oil is hot enough, add in 5 or 6 of the chicken tenders. You can add more or less depending on the size of your pan, just be sure not to overcrowd the chicken. Cook for 3-5 minutes until golden brown and cooked in the middle. Place on a tray in the oven to keep warm whilst you cook the rest of the chicken.
Now it's time to assemble. First, arrange the chicken tenders into four piles and place the cheese on top. Grill or place into a hot oven for a couple of minutes until just melted.
Place the bottom of the brioche buns on four plates. Top with the lettuce leaves, followed by the cheesy chicken pieces and spoon on the coleslaw. Place the top buns on top, and serve!
 Enjoy!
Serves 4