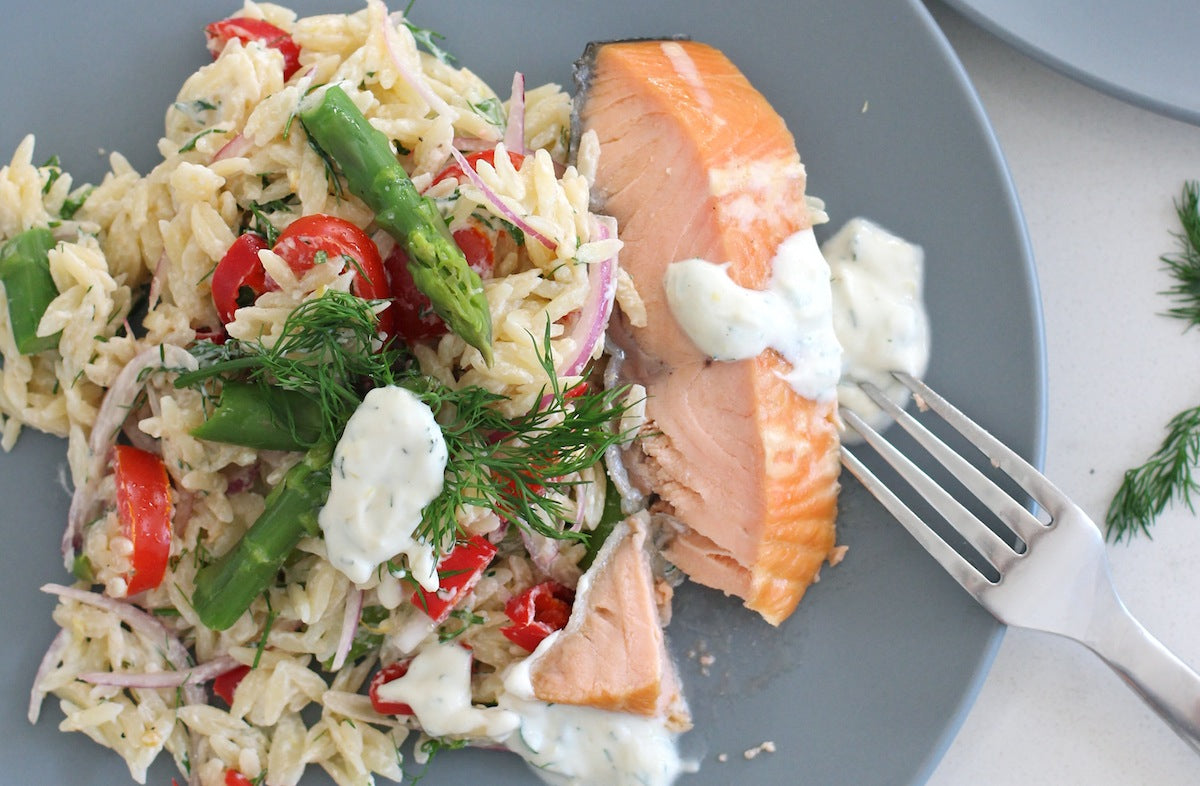 Salmon, Dill & Risoni Salad
In our last
post
, I wrote about how our cooking in Summer tends to be quite simple. Meals regularly consist of salad bits, raw veggies, cold meats & fish....you get the picture. After a long day in the office, we'd rather spend our down time outdoors, enjoying the last of the sun's rays, so something quick & easy never goes a miss. Which leads me to this fresh, creamy & tangy smoked salmon risoni salad. This is a super simple salad which can be on your table in less than 20 mins... that's what I'm talking about! The only 'cooking' involved is boiling the risoni. The rest is just chopping, whisking & tossing the remaining ingredients together.
> Not sure what risoni is? Nope, it's not a fancy term for rice...despite it looking & sounding like it. Risoni is actually a pasta. Classically it's used in soups, however it makes a great addition to salads and casseroles. It's sometimes referred to as Orzo. If you've never cooked with Risoni, give this easy recipe a go!
Salmon, Dill & Risoni Salad
Cooked Smoked Salmon Fillets* 185g (good quality, sustainably sourced)
Risoni 1/2 cup
Asparagus 4 spears, chopped into 3cm pieces
Long Red Chilli 1, de-seeded & finely sliced
Grape Tomatoes 8, halved lengthways
Red Onion small, 1/2 finely sliced
Dill 2 TB heaped, finely chopped + extra for serving
Lemon 1 whole zested, juice of 1/2
Natural or Greek yoghurt 5 TB
French Mustard 1/2 tsp
Extra Virgin Olive Oil for serving
Cook the risoni in a pot of salted boiling water for 8 mins, toss in the asparagus and cook for a further 2 mins. Drain and transfer to a large mixing bowl. Meanwhile whisk together the yoghurt, lemon zest, lemon juice, french mustard, 1 TB of the chopped dill & a good pinch of sea salt. Add the tomatoes, chilli, red onion and remaining TB of dill into the mixing bowl with the cooked risoni and asparagus. Mix through 3/4 of the yoghurt mixture. You can either break the smoked salmon fillets into chunks and gently mix through the risoni salad or leave whole and serve on the side (which you can see in our pics). Serve with a wedge of lemon, some extra fresh sprigs of dill, dollop the remaining yoghurt mixture on top and finally a drizzle of extra virgin olive oil. Season to taste. Serves 2 *You can find cooked smoked salmon fillets in the meat or deli sections in most supermarkets or grocers
This quick & nutritious salad is fab as a substantial lunch or dinner served with a cool crisp glass of white wine...ahhhh Summer bliss.