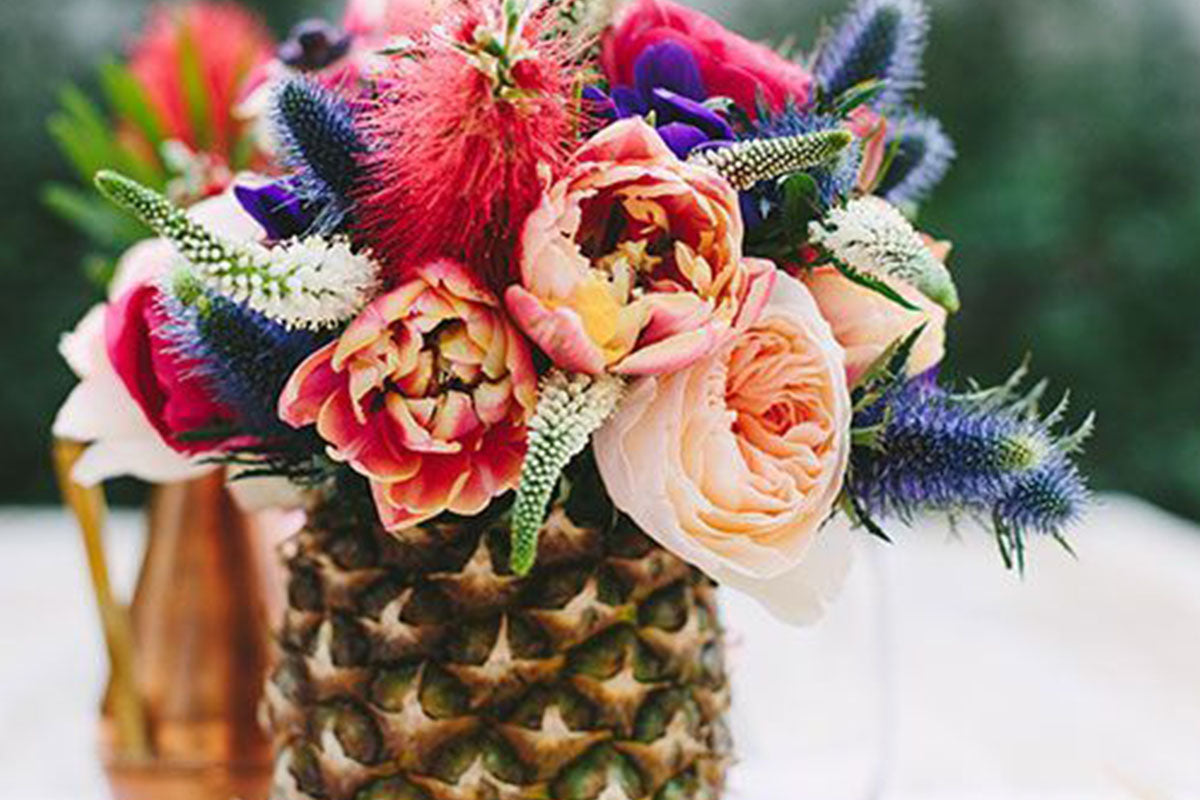 7 Summer Table Setting Ideas
If you're a regular reader, you've probably seen our series of posts on - 7 Table Setting Ideas for
Spring
/
Winter
/
Autumn
/
Christmas
.
Today we're super excited to finally bring you our Summer version. Summer has to be one of the busiest if not most popular time to entertain friends & family. I also find it's that time of year when my cooking is at its most simplest. Meals tend to be lighter & therefore less actual cooking involved. More salads, raw veggies, cold meats & cured fish. So staying in tune with this train of thought, the below looks are simplistic, fresh and of course easy to recreate in your home.
7 Summer Table Setting Ideas
Source: apartment34.com
This gorgeous spread of antipasto delights makes the perfect table centre piece for a twilight Summer drinks soiree. Buy, borrow a long wooden board or improvise with several boards joined together to recreate this look at home. The quality of the produce and carefully thought out presentation makes this truly standout. Source:
Apartment 34
Source: Rue

There are 2 things I love about this picture:
The floral bouquet has a beautiful combination of soft seasonal flowers, hardy succulents and sprigs of fresh mint
I absolutely adore stripes (stripes scream nautical, which scream sea, which scream Summer :) )
With the delicate accents of bronze and gold, this is a sophisticated & slightly edgy Summer look. Source: Rue
Source: 100layercake.com

Nothing says Summer more than tropical accents like palm fronds. This is an incredibly easy way to add a splash of Summer to your table. Either place a palm frond on each plate or perhaps lay them along the centre of the table with some tropical fruits entwined? Some of you may be lucky to have some palm trees growing in the garden, alternatively ask a friendly neighbour if they can spare a leaf or two, buy some leaves from a florist or purchase the whole plant and put your green thumbs to use with some follow up planting? Source: 100layercake.com
Source: LaurenConrad.com

How divine is this?! Who would have thought a pineapple could make such a fab flower vessel. This is such an easy way to make a big statement on your table. Oh and not to mention an amazing pop of bright Summer colours. Source: laurenconrad.com
Source: 100layercake.com

Blue has to be the colour of Summer. Add deep ocean or bright aqua blue accents to your table, whether it's the table cloth, glassware, napkins but don't go overboard! Less is more remember. Source: 100layercake.com
Source: abeachcottage.com

As mentioned above, less is more when it comes to creating a sophisticated simplistic setting. Avoid using tacky, plasticy beach decorations and instead go for soft neutral toned, natural materials to achieve a classy & relaxed beach vibe. I love this look by Sarah at A Beach Cottage. Check out her blog for more beautiful beach style ideas. Source: abeachcottage.com
Source: localmilkblog.com

And of course, a list of Summer table settings isn't complete without an outdoor spread. This simple rustic setting is enhanced by the soft glow of the outdoor lights. Why not shine some light on your next event? Use fairy lights (you can buy great quality solar operated ones now) or vintage inspired string globe lights like the ones pictured above. Source: Localmilkblog So which is your favourite look? I have to say the bouquet of Summer florals, striped table runner with bronze and gold decorative accents gets our vote! We hope the above inspires you to go that extra mile when it comes to entertaining. Not only does it make you feel house proud, but guarantees to make your guests feel welcome & loved. Happy entertaining!