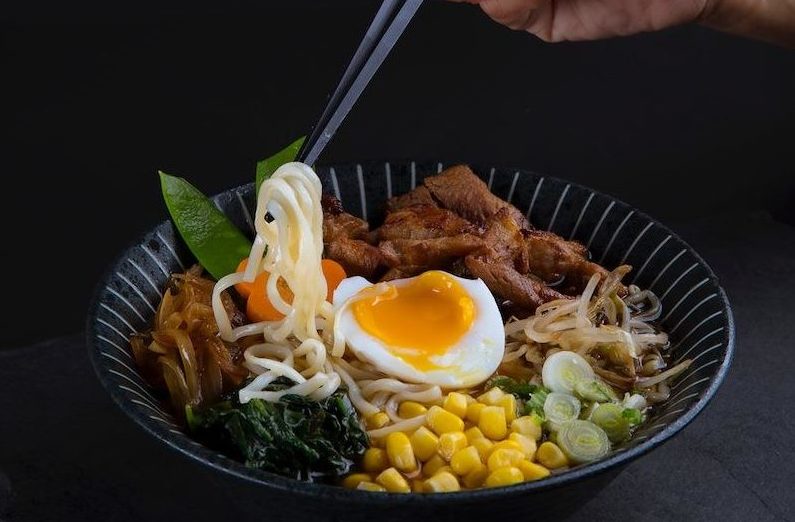 Chilli Miso Ramen Soup
This Chilli Miso Ramen Soup is a flavour bomb in a bowl.
Whilst the Sweet White Meru Miso soup sachets (found inside the latest Discovery Box) have been designed for a quick on the go snack, they can also be used to make a heartier noodle soup. Prime example here.
Feel free to mix up the protein and vegetable ingredients. It's a pretty flexible recipe so have a play with it!
Chilli Miso Ramen Soup
Ingredients:
2 Sachets Sweet White Meru Miso (found inside the latest Discovery Box)

600ml Boiled Water

1 TB Vegetable Oil

2 Garlic Cloves, finely chopped

3cm Knob of ginger, peeled, crushed

250g Minced Pork (*can use sliced leftover roast pork)

1/4 Cup (60ml) mirin

2 TB Soy Sauce

1 TB Chilli Paste

2 Eggs, at room temperature

200g Dried Ramen Noodles

1 sml bunch pak choy, rinsed and halved

½ cup fresh or canned corn kernels

Thinly sliced bamboo shoots and spring onions to serve
Method:
Heat oil in a wok over medium-high heat. Add garlic, ginger and pork mince, and cook, stirring occasionally, for 5 minutes or until the pork has browned.
Combine mirin, soy and chilli paste in a bowl and add to pork mixture. Cook for 2 minutes or until heated through. Set aside.
Bring a saucepan of water to the boil over high heat. Add eggs to boiling water and cook for 6 minutes. Remove with a slotted spoon and immediately place in iced water to cool, then peel and halve.
Add noodles to this saucepan of boiling water and cook according to packet instructions, adding the pak choy and corn in the last 30 seconds of cooking.
Meanwhile bring a second saucepan with the 600ml of water to the boil. Stir in the miso sachets and turn off the heat.
Drain noodles, corn and pak choy, and divide between serving bowls with the cooked pork. Pour miso broth and top with bamboo shoots, spring onion and halved eggs. Serve immediately.
*If you're using sliced leftover pork, just cook the garlic and ginger for 1-2 mins until golden before adding in the left over pork and sauces. Set aside and spoon into the bowls just before serving.
Serves 2
Recipe by Kate Willbourn-Trevett
As seen in our exclusive June/July
2018 mini zine, tucked inside the Discovery Box:
Experience your very own Discovery Box now and discover the #tasteoflocal.