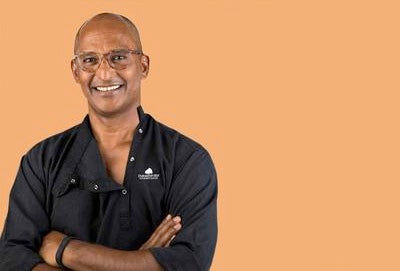 Meet The Locals - Tamarind Tree Gourmet Sauces
John Ger's hospitality career began at the luxurious Taj Mahal Hotel in Mumbai. From there he travelled the world from London to Melbourne to become an accomplished chef trained in classical French, Italian and Indian cuisine. For 22 years he served the finest Indian cuisine to Melbourne's curry aficionados however in 2015 he had a change of heart and decided to create his own authentic range of Indian sauces inspired by his home village of Vasai in Mumbai.
Learn more about John's delicious food and business journey below. Tamarind Tree's Vindaloo was featured in our June/July 18'
Discovery Box
.
What's your food philosophy?
My food philosophy is to bring easy to cook Indian food to the table, so all Australians can enjoy the fresh, authentic flavours of India. I use the finest spices, preserved naturally. My products are all gluten free, nut free, dairy free, vegetarian and vegan friendly, so everyone can enjoy them.
What was the inspiration behind starting Tamarind Tree?
After being a chef for 30 years and running my own restaurants from 1994 until 2015, it was time for a new challenge. I was ready to develop products for a larger audience and believe that we all have a cook in us. From my experience I knew that most people are intimidated by the complexity of cooking with Indian spices. I also knew that with my family recipes and cooking skills I could develop easy to cook Indian curry sauces to turn into delicious, authentic Indian meals for all Australians.
I grew up in the village of Vasai in Mumbai India. It's north of Mumbai CBD on the coast of the Arabian Sea.
Also the tamarind fruit is an essential ingredient in Indian cuisine. When I was young as the fruit ripened we harvested the pods, shelled and deseeded them. Next the sticky fruit was kneaded with salt and sealed in clay pots to mature. It was then used throughout the year. Everyone in the family got involved, like we see in Melbourne during tomato season with the Italian families making passata.
So when I started my business it was apt that the mighty tamarind tree lent its name to my gourmet curry sauces and BBQ marinades.
As a small batch producer, what's the most challenging aspect to your job?
It was challenging to find a production facilities that could produce quantities I wanted and still maintain the exacting quality I insist upon.
And the most rewarding?
Introducing more Australians to home style Indian cuisine and giving them the ability to make this food at home easily and quickly with their choice of meat, fish or vegetables. Sharing some special family recipes has been a highlight too.
If we looked inside your fridge what would we find?
Fresh coriander,fresh curry leaves, ginger, chillies, yoghurt, coconut milk and of course jars of my Tamarind Tree gourmet sauces and marinades. You will also find samples of chutneys that I am developing, for example the latest is olive and jaggery chutney, a north-east Indian speciality.
What is one thing you couldn't work without?
Fresh curry leaves. I just love the aroma they give once tempered in oil.
Do you get the opportunity to travel back to India much? What do you miss most from your home village?
I try to get to India a couple of times a year, to visit my mother and other relatives. I love the fresh fish and great home cooked curries.I miss being there in summer, when the tamarind and alfonso mangoes are at their best. We eat the fresh tamarind with sugar, chilli and salt. It's wonderful. It brings back great childhood memories.
I love that every time I go my mother or one of my aunts share a secret family recipe.
What's your favourite season for food and why?
No favourite season, I just like using seasonal produce and making meals with what's available in the market. Every season produces its own bounty and I believe we should include local, seasonal produce in our cooking.
What's your biggest achievement to date with Tamarind Tree?
Being awarded 5 medals in the Royal Agricultural Society Victoria Food Awards for my products in my first year.
What are your BIG goals for 2018??
Investing more time and effort in online channels to reach a wider Australian audience. Creating new products and educating people about Indian cuisine and the tips and tricks to make things spicier or dial the heat down. Giving vegans and vegetarians a tasty base for wonderful meals of vegetables and lentils, full of Indian flavours. Sharing a vast variety of wonderful vegetarian and vegan dishes that Indian cuisine provides.
What advice would you give to someone whose considering launching their own food business?
Be authentic and follow your passion.
What would your ultimate last supper be?
My Mum's Mumbai masala with prawns and my Grandpa's pork vindaloo, with rice and a traditional brown rice roti.
To discover more and connect with Tamarind Tree click below:
Website: www.tamarindtree.com.au
Instagram: www.instagram.com/tamarind_tree_
Facebook:
www.facebook.com/tamarindtreegourmetsauces