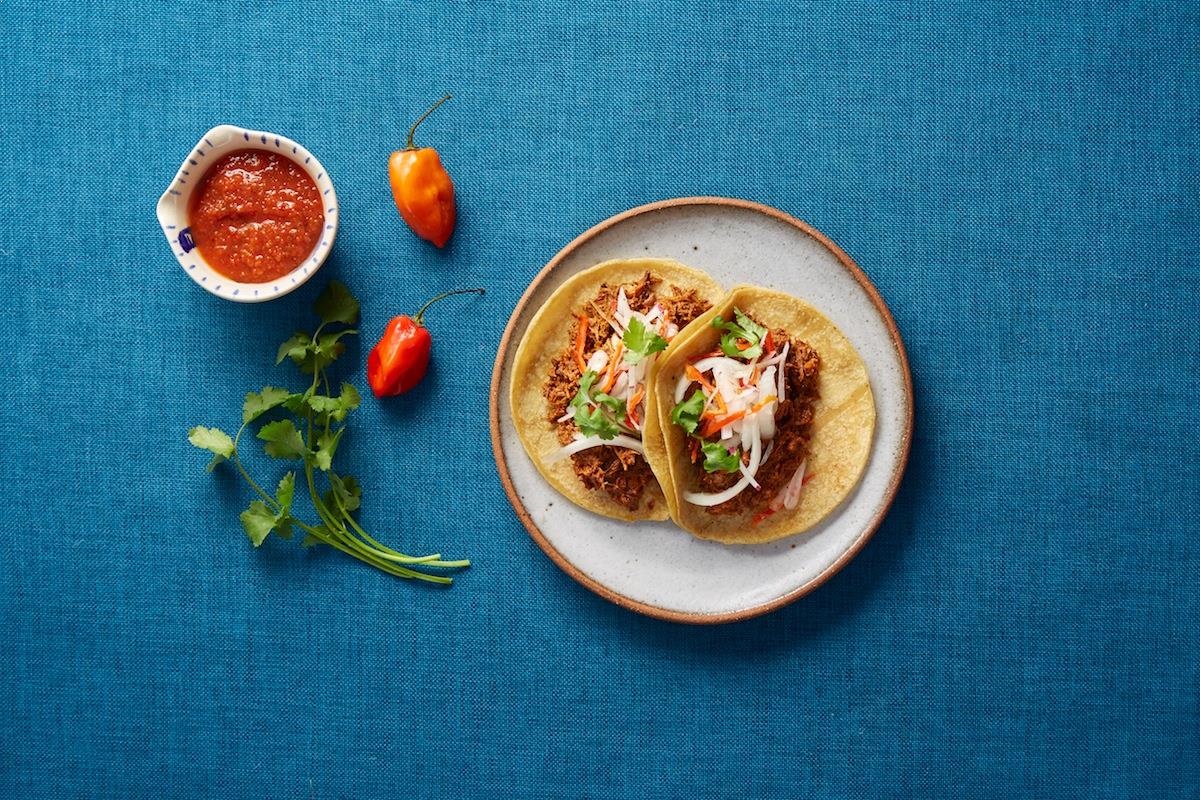 Tacos De Cochinita Pibil (Pulled Pork Tacos)
'Pibil' is a Mayan word for buried, which refers to the traditional method of cooking in an underground fire pit, covered with banana leaves.
Traditionally, this Pulled Pork Taco recipe is made with Seville oranges that grow in the Yucatan and have a bitter, acidic flavour.
Here, orange juice mixed with white vinegar is used, which works well to create that authentic flavour. The rich orange colour of the dish comes from the achiote paste, made from annatto seeds.
Although simple to prepare, this dish takes time, so plan ahead! Enjoy!
Tacos De Cochinita Pibil (Pulled Pork Tacos)
Ingredients:
8 La Tortilleria corn tortillas

1kg free-range pork shoulder or leg
Marinade
100g achiote paste

Juice of 2 oranges

3 tbsp white vinegar

2 tsp oregano dried

¼ onion, peeled and quartered

1 garlic clove

Salt to taste
Garnish
1 habanero chilli, finely diced

3 radishes, finely sliced

½ red onion, finely sliced

60ml lime juice

Fresh coriander leaves

Salt
Method:
Combine achiote paste, orange juice, white vinegar, oregano, onion and garlic in a blender, adding salt to taste.
Rub the marinade over the pork with your hands, ensuring all the meat is covered. Cover and place in the fridge overnight. (Tip: You can cook in the slow cooker immediately after preparing, however note that this impacts flavour - it is worth the wait!).
Place the pork and any excess marinade into the slow cooker and submerge with water 2cm above the meat. Cook for 3 to 4 hours on a low setting. If you don't have a slow cooker, place pork in an ovenproof dish and cover with baking paper and foil before cooking at 180C for 2 to 2.5 hours. (Tip: You can tell it's ready if you squeeze the meat and it falls apart).
While the meat is cooking, prepare the garnish ingredients by combining the habaneros, radish, red onion, and lime juice. Season to taste. Set aside and allow to rest while the meat cooks.
Remove the cooked pork from the liquid and place into a large bowl. Shred the meat using two forks. Add 3-4 spoons of the cooking liquid and stir through the shredded pork.
Heat your tortillas on a hot dry frying pan until steam rises and they're hot and floppy, about 10 seconds either side. Wrap them in a thick cloth or aluminium foil as you go to keep them warm.
Place pork onto each tortilla, topped with the garnish mix and fresh coriander leaves.
Serves 2-3 with lots of lovely extra pork for leftovers :)
Recipe by La Tortilleria (read about this Melbourne based authentic Mexican food producer in our Meet The Locals interview)
As seen in our exclusive June/July
2018 mini zine, tucked inside the Discovery Box:
Experience your very own Discovery Box now and discover the #tasteoflocal.