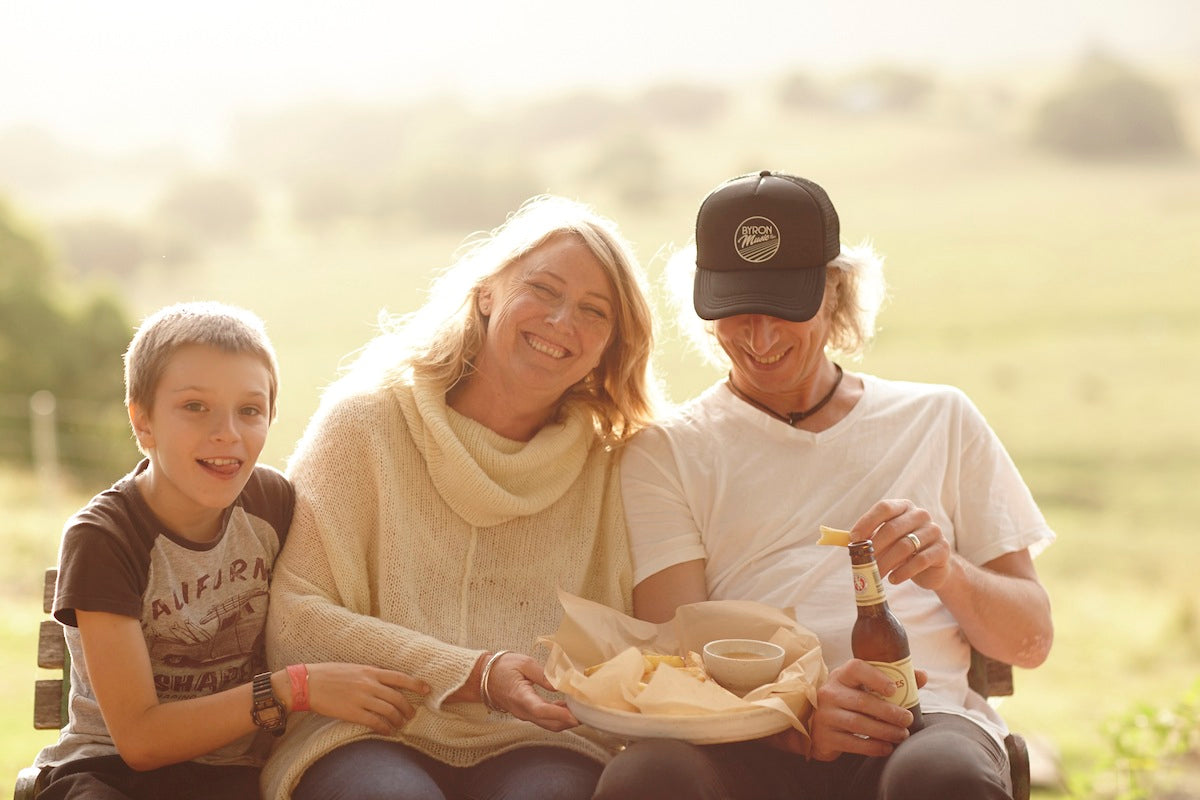 Meet The Locals - Zest Byron Bay
In the hills of Byron Bay amongst music and laughter, the team of Zest hand produce a beautiful range of spice pastes and curry blends that are simple, easy to use and full of colourful aromatic flavours. Owned by husband and wife team Pob and Shelley Sellors, they believe flavour is the essential component of every meal and are 100% dedicated to creating quality flavours whilst providing an alternative to the mass produced options where sugar and preservatives are amongst the ingredients.
In this interview Pob shares with us why they took on the Zest business, the must dos when visiting Byron Bay plus his mouth watering ultimate last supper.
Zest Byron Bay Rendang + Yellow Curry base sauces are featured in the Apr/May 19 'Wok On!'
Discovery Box
.
What's your food philosophy?
From my 'chef's' perspective I wanted to create super tasty convenience food that tastes like it comes from a kitchen, not a factory. We want it to be affordable as a weekly family item and not just a once-off gourmet product. My lofty wishes are to expand the Australian palette with worldly flavours yet still satisfy the experienced foodie.
What was your inspiration behind starting Zest Byron Bay?
For me it was part of my life to stay in the kitchen but pull away from service. It was perfect for us to have a business where we could compliment each others' talents. We didn't start Zest, but just after we had our son it seemed obvious (to Shelley!) for us to buy into Zest Byron Bay and take part in a business with training wheels.
Byron Bay is an exciting and dynamic foodie hotspot within Australia. For someone visiting for the first time, what are the must do's?
Head to the Hills! The Hinterland is why I moved here; the creeks and trees. Stumbling across something or somewhere you never expected and getting lost is usually a very sociable experience. Mist in the morning and the glare of sunset in the afternoon. Of course our very local Doma cafe is incredibly popular but please eat the Japanese selection before rushing in for a burger, even though they are excellent. Brunswick Heads is all gentrified now, head to the Milk Bar. There are some local secrets but you'll have to find them yourselves!
As a small batch producer, what's the most challenging aspect to your job?
Maintaining consistency is tricky as some of our seasonal fresh ingredients fluctuate in quality throughout the year. Fortunately we have a great supplier giving us the goods.
And the most rewarding?
By having a relatively small business we can still have a life. Rewards come from complementary messages from families or people enjoying our flavours at the heart of their meal.
We've been approached by the big grocery chains and even though we don't want to play that game it was somehow rewarding to be in their sights and selected by them.
If we looked inside your fridge what would we find?
A lot of condiments, home-made jam and mayo, chinese chilli/peanut, various sauces and accompaniments, huge wedge of Reggiano and other assorted cheese and small goods. Piles of broccoli and beans and a couple of unrecognisable science projects!
What's your favourite season for food and why?
I'd say Winter as I like to dive into a comforting casserole or Osso Bucco. Of course curries sell better in Winter but they are definitely an all year round option in our house.
What is one thing you couldn't work without?
A good music system. Nuff said...
What are your BIG goals for 2019?
We have a new flavour coming out in about a month or two which is always exciting. Also our labels which we hand-apply are going to be made on a roll which will make one of our procedures a lot quicker. I'm going to India in July for a bit of research and pilgrimage and then meeting Shelley and Luis in Sri Lanka which has always been on the list.
If you weren't a food producer, what would you be doing?
I'd be Djing a lot more and probably writing electronic music.
What advice would you give to someone whose considering launching their own food business?
Be selective and get your price right from the word go. I think it's always better to do one thing really well than to try and accomplish too many things from a whirl of ideas. My analogy is that I like my toast buttered thickly!
If you could have any celebrity /renowned chef cook you dinner, who would it be?
Straight off the bat I think it would have to be Jamie Oliver. I've followed his cooking since his first Naked Chef book and his respectful, slap-it-about attitude with exceptional ingredients is something I really resonate with. He still seems fairly humble and his drive for education surrounding food is inspirational.
What would your ultimate last supper be?
It would have to be Pork Chops Avesnoise, a recipe from a Robert Carrier book, and one of those special reminiscent meals my mum cooks. Basically Pork Chops grilled with a topping of cream, gruyere, dijon mustard and black pepper. With asparagus, almonds and a light coleslaw. With good friends and impeccable tunes.
To discover more and connect with Zest Byron Bay click below:
Website: www.zestbyronbay.com.au
Instagram: www.instagram.com/zestbyronbay
Facebook: www.facebook.com/ZestByronBay