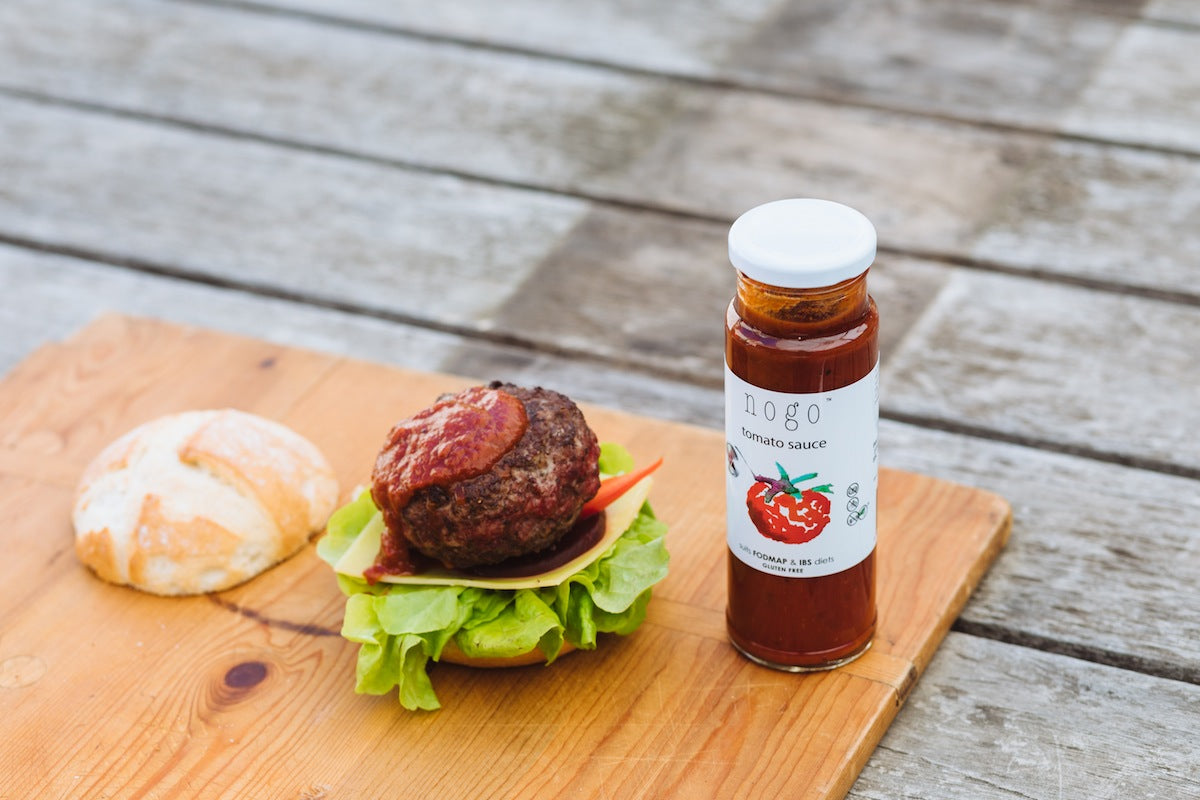 Meet The Locals - Nogo
Following a diagnosis of fructose malabsorption & gluten intolerance, founder Meg Farrell was motivated to develop a high quality, natural, great tasting sauce range that's not only fructose friendly, but great for the whole family. Refusing to let her condition remove her pleasure and passion for food, her range has resulted in a delicious selection of sauces and condiments for everyday cooking.
In this interview Meg shares with us the one thing she couldn't work without, who she'd love to meet in Paris + more!
NOGO 'Tomato Sauce' is featured in the Feb/Mar 19 'Smokin' Sizzle'
Discovery Box
.
What's your food philosophy?
It's simple! Eat locally made and produced food. Plus our food is extra special in that we are FODMAP friendly (we don't use garlic or no onion and are gluten + dairy free).
What was your inspiration behind starting Nogo Sauces?
I was diagnosed with Fructose malabsorption and gluten intolerance in 2016. After many a plain (and very boring) meal, I was inspired to start NOGO, I wanted to give people pantry stables, sauces and condiments. Sauces that were so delicious the whole family (and friends) would be happy to eat them! Everyday flavour hit for the whole family.
Gluten free products have had a bad wrap in terms of lack of flavour. Can you share with us why flavour is so important to you and how it's led you to develop award winning products.
It's all about flavour when eating, otherwise the world is a little beige! My goal was to not dilute down our products with fillers and water, ours are good old fashion sauces and condiments, made in a traditional method, the best part is, they taste delicious.
As a small batch producer, what's the most challenging aspect to your job?
Firstly, it's great fun company to run but there are challenges. It's mainly trying to fit my work load into a normal day, the list is long but I always get there!! The end result, being our happy clients, makes it worthwhile.
And the most rewarding?
The feedback from people that have allergies and can't eat fodmap is amazing, I've been hugged and even had someone cry in gratitude - these reactions make it totally worthwhile. The surprising reward is that everyone likes them, not just the FODMAP community and we have a big following of people that are looking to eat clean, healthy foods.
If we looked inside your fridge what would we find?
The full range of NOGO as it's my go to for an easy meal, especially having to eat low fodmap and gluten free … and then there's the alcohol section…
What's your favourite season for food and why?
That's like asking me which is my favourite NOGO sauce (they are all like children), even though summer is a big hit in my house as it's when I entertain the most. I love making fresh Asian/Italian style salads on warm summer nights.
What is one thing you couldn't work without?
My super amazing support team. Without them this company would not be where it is today.
What are your BIG goals for 2019?
We are working hard on sending our sauces to all major cities across Australia, including NSW, which we have grown in recently!
If you weren't a food producer, what would you be doing?
Interior Designer (which I was in a previous life, I still do projects for myself but have closed my practice since starting NOGO).
What advice would you give to someone whose considering launching their own food business?
Go for it, before you do though, have a great financial model and business plan plus network within the industry for help and have fun, enjoy the ride.
If you could have any celebrity /renowned chef cook you dinner, who would it be?
Gosh, can we call on Julia Child's as I would have loved to have meet her, she looked like a real character and followed her dreams and whilst we are on the topic, can we meet in Paris?
What would your ultimate BBQ feast be?
I love doing dumplings on the BBQ, sticky pork or even a paella and the list goes on as they are such versatile machines! I had the gas pipe on my wok (on the side of my BBQ) made larger so it verging on flame thrower, for when I stir fry outside (and make my favourite peanut sauce!). BBQ's rock.
To discover more and connect with NOGO click below:
Website: www.nogosauces.com.au
Instagram: www.instagram.com/nogo_sauces
Facebook: www.facebook.com/nogosauces