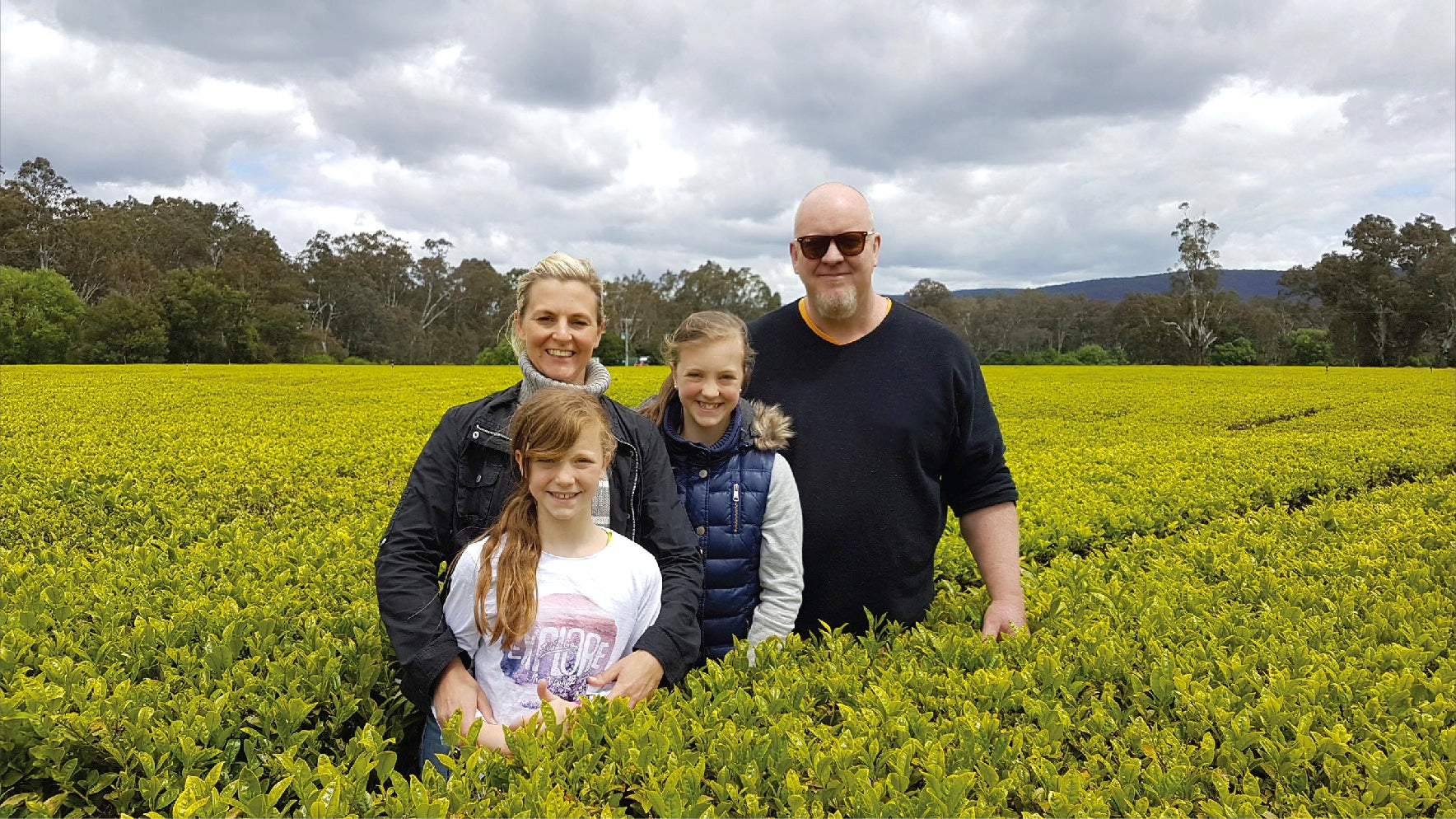 Meet The Locals - Yarra Valley Tea Co
Wanting a more fulfilling and healthier existence, founders Garrick and Meaghan took a leap of faith into the world of tea making. The Yarra Valley Tea Company's unique range of premium certified organic teas evolved from countless blending sessions, meetings with growers and customer feedback via in-store tastings and over two thousand farmers markets and festivals. The result? An award winning range of carefully selected teas and tisanes that have both function and more importantly, flavour! Their Funky Chai tea was featured in the December 16' Discovery Box .
Meaghan shares with us below her simplistic food philosophy, what it takes to receive the Australian Certified Organic stamp and how to make the perfect cuppa! We hope you enjoy this interview.
2016 Organic Green Tea Harvest, Victoria, Australia
What's your food philosophy?
As nature intended! Simple, unadulterated and highlighting the best aspects of the ingredient.
What inspired you to create Yarra Valley Tea Co?
A passion for brewed beverages…who doesn't like a good cuppa! Garrick and I have been partners for 23 years, we had always wanted our own business. Our skills set complimented each other and our core values are the same. It is most rewarding to have your dreams come to fruition in the market place and 10 years on, a compliment from a customer is still a real buzz.
Your teas are organically grown and certified, what was the driving force behind doing this?
From the very beginning we made the commitment to only use Certified Organic ingredients and without compromise. A lot of companies promote organics but have conventionally grown ingredients as additional lines. For us it means a smaller range but larger ethics.
Can you share with us what the core benchmarks are to receive the Australian Certified Organic stamp you have?
Organically grown and harvested without the need for additional inputs such as growth factors, herbicides, pesticides and additives. In addition we are required to process all our raw ingredients in an organic facility free of conventional practices and chemicals and batch and log all aspects of the production process. Certification from an authorized third party auditor such as ACO guarantees consumers of the validity of the organic claim.
Your Green Vic tea is the first certified organic green sencha tea to be grown in Australia. Tell us a little about the region you farm in and what makes it extra special?
Green tea production started in Victoria in the late 1990's. There are currently seven growers of which only one is Certified Organic. There is currently 13 hectares of organic green tea grown in Alexandria, North East Victoria. All the tea is processed by Ito En

th

largest beverage company> at their Wangaratta facility of which 95% is exported to the Japanese market in a raw form. The rest is purchased by us and processed into our Uncle Vic green tea, Aunt Myrtle and Real Organic Iced Tea; a blend of green tea, lemon myrtle and apple juice.
As a tea expert, how do you make the perfect cuppa? Milk first or after?
Horses for courses! Garrick regularly attends trade shows all over the World and has witnessed many variations on the correct procedure. Truth be known, we both drink our tea without milk but to best address the question, warm your cup with hot water and rinse, add milk and then pour in your tea.
As a family run business, what is the biggest challenge and most rewarding aspect to your job?
As a working mother, the challenge is always about balance and giving the required dedication to each role without guilt. We have two daughters 10 and 12, in the early days I made many a phone call from the walk in robes for a cone of silence! We started the business on the kitchen bench when the girls were babies and we have gone through every high and low small business owner's experience. Our family went through considerable trauma last year when our eldest daughter nearly lost her life to an unexpected heart condition. You drop everything in those situations, but as a family business you can only do this for a short amount of time as you have to keep on keeping on. Our daughter is really well now. The whole experience has made us tighter as a family. We gravitate towards each other every day for family time and you no longer sweat the small stuff! There is always a bigger picture.
What would your ultimate last supper be?
Well I know what Garrick's last meal would be…grass fed rib eye beef on the bone, organic green string beans, organic baked potatoes with labneh and a side of sautéed organic field mushrooms all dusted with fresh cracked pepper and finished off with a cup of our Digest It tea to aid digestion!
I wouldn't care as long as I was with my family. Although Garrick is a big foodies, he would feel the same!
To discover more and connect with Yarra Valley Tea Company, click below:

Website: www.yarravalleytea.com.au Facebook: www.facebook.com/yarra-valley-tea-co Instagram: www.instagram.com/yarravalleyteaco