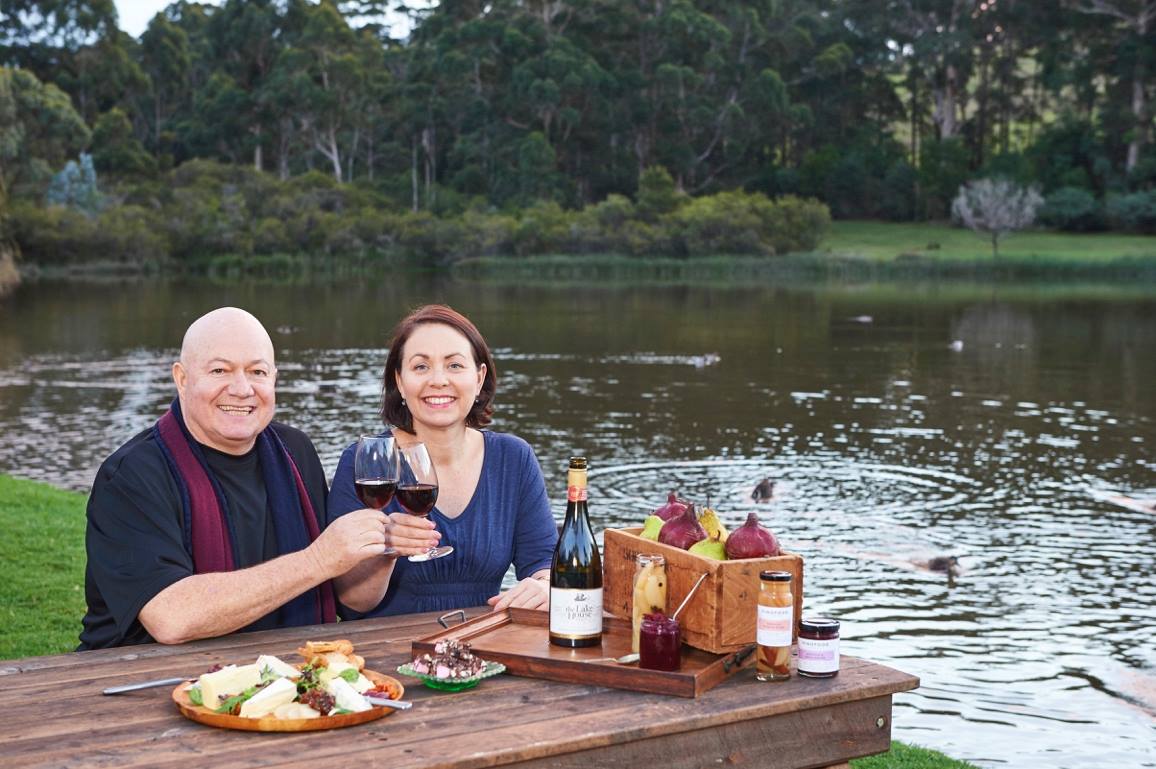 Meet The Locals - Vino Food by The Lake House Denmark
The Lake House Denmark is a cellar door, restaurant, cafe, vineyard, winery and gourmet food store located just 6kms from the town of Denmark in the Great Southern Region of WA.
Located down a quaint country road on a picturesque lake, partners in life and business Leanne and Garry thought people would love to sit by the lake and enjoy a glass of their fabulous wine and of course needed some food, so their vineyard platters and Vino Food were created.
Leanne shares with us their inspiring business and food philosophy, her favourite season for food (& we have to agree) and the most rewarding aspect of their work. Vino Food's Merlot BBQ Sauce was featured in our Feb/Mar 18'
Discovery Box
.
What is your food philosophy?
The philosophy behind The Lake House Denmark has always been to inspire people, to provide a memorable '
lake house moment'
experience every time someone visits our cellar door and restaurant, sips our wines, tastes our Vinofood condiments or uses our WineSpa body products. We want to enrich people's lives, be a place where life slows down and people tune into nature and connect with themselves and others. We find fulfilment and meaning in our own lives when we research and develop our products and then see our customer's enjoyment and satisfaction when they experience what The Lake House has to offer. This is 'why' we do what we do.
Our food philosophy is simple, clean and fresh, locally grown and organic where possible and keep it natural with no artificial colours, flavours or preservatives.
What was the inspiration behind The Lake House Denmark and creating the Vino Food brand?
After holidaying in Denmark for over 10 years, my partner Garry and I made the move from Perth to Denmark in 2005. We fell in love with a rural property just five minutes from town. It was everything we wanted almost 100 acres, a big lake and two houses (one being a run-down cellar door and restaurant that had been vacant for 2 years), plus a vineyard (which wasn't really what we were looking for!).
Without any previous experience in wine or hospitality, and it can't be that hard attitude at first, we set about learning everything we could about looking after a vineyard, growing grapes and making wine and in September 2006 with our first vintage bottled we opened the cellar door and restaurant.
The Vinofood condiments came from my love of 'making things'. I always gave handmade gifts of chutneys, relishes, soaps, scrubs and creams for Christmas presents so having a commercial kitchen and an outlet to sell products was my idea of heaven.
The Vinofood condiments are showcased on the vineyard platters that we do in the restaurant so a great way for guest to try.
What's the most challenging aspect to your job?
Juggling all the different roles that I have everyday.
And the most rewarding?
Watching customers enjoy our products. I love watching people taste all the products and see their reactions and comments. People love all the different flavours and I get great pleasure in seeing them enjoy.
What's one thing you couldn't work without?
My computer! Being located in a regional area it would be very hard to do business with Perth, the East Coast of Australia or the rest of the world. With the Internet we don't feel so isolated or behind the times as we have access to the whole world at anytime.
What's your favourite season for food and why?
I love spring/summer mainly because the veggie garden is full of great produce. At the moment we have capsicums, tomatoes, corn, zucchini, strawberries, blueberries, and raspberries all full of flavour.
What advice would you give to someone who's considering launching their own food or beverage business?
Do what you love to do, find your passion as this is what gets you by when the going gets tough. Also surround yourself with others that support you and share your passion.
What are your BIG goals for 2018?
To expand into the East Coast of Australia. We have mainly focussed on Western Australia but now it's time to venture further afield.
What would your ultimate last supper be?
Such a hard question as I love food. I have been vegetarian for 25 years so I would really love to be able to be able to go out to the veggie garden, pick some fresh produce and create an amazing meal. With a great bottle of Lake House Chardonnay and some Vinofood this would be perfect!
To discover more and connect with Vino Food click below:
Website: www.lakehousedenmark.com.au
Instagram: www.instagram.com/lakehousedenmark
Facebook:
www.facebook.com/LakeHouseDenmark