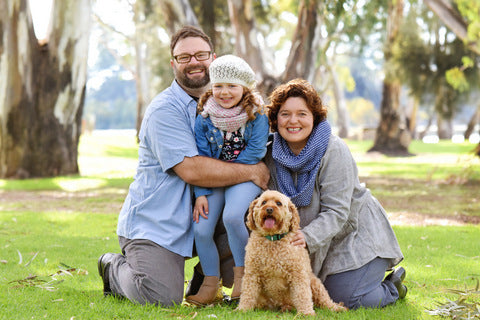 Meet The Locals - Singing Magpie Produce
For over 100 years, the Heward family has tended their orchard in the rich and generous soils of the Riverland, South Australia. Amos 'Jack' Heward planted his orchard in the 1920s at Monash and today the family harvests 1200 fig trees, wine grapes, quinces and pecans.
Sue Heward, founder of their new brand Singing Magpie Produce, is one inspiring woman who is truly in touch with the seasons and the fertile soil beneath her.
Singing Magpie Produce 'Riverland Melange' was featured in our Feb/Mar 18'
Discovery Box
.
What is your food philosophy?
'Keep it simple and know your farmer'.
At Singing Magpie Produce we aim to connect our family of farmers, other Riverland producers and their amazing South Australian produce with you.
We aim to grow, produce & source high-quality local produce and sell direct to customers. We want to improve the shopping experience for our consumers and thus build a community of value and quality-conscious shoppers. We keep it simple, we don't skimp on quality and we care about our ecological footprint. By playing a part in 'resocialising' food we aim to:
tell the story of where our food comes from

create a less complex, shorter food supply chain

minimise our product waste and use low impact farming methods

provide a connection with our 100 year old farming family and the land.
What inspired you to start Singing Magpie Produce (& its name)?
For almost 100 years, my family has tended their orchard in the rich and generous soils of the Riverland, South Australia. It's beautiful, fertile country — but hot as hell in summer!
Amos 'Jack' Heward, my Poppa, planted his orchard in the 1920s. Today the orchard is run by my Mum and Dad and we harvest from 1000 fig trees, wine grapes, quinces and pecans.
I did leave the Monash to go to university (vowing to never come back) and keen to explore the world. However after 28 years of global travel and career-building, I found myself deeply embedded in the Melbourne rat-race, living an urban lifestyle but desperate to share the life I knew as a child with my partner Mark and young daughter. So in early 2016, Mark, three-year-old Frankie and myself took the plunge: we swapped the hustle of the city for the rustle of fig trees.
Exactly one year later, Singing Magpie Produce was born.
Australia grows beautiful figs — plump, juicy, full-flavoured. Unfortunately, the season is painfully short and fresh figs can be hard to transport. Dried figs are the obvious answer. However Australians are used to the bland, grey imported product that are squashed flat and dried hard for their long journey in a shipping container. It's a bit like putting Kraft blue box cheese on your plate rather than being able to offer a gorgeous Barossa cheese.
Our figs and quince are naturally sun-dried to retain their best qualities, including intense flavours and a decadent chewy, stickiness that blends beautifully with many textures and flavour combinations. Our plan started small with our
semi-dried figs
,
quinces
and
pecans
. This has now been expanded to other local fruit and chocolate products.
Our Heward orchard customers are a select group of quality-conscious consumers, including Maggie Beer, Beerenberg and the Adelaide Wholesale Fruit & Vegetable market. Our move into semi-dried products aims to offer unique Australian products to the market and minimise our product waste. We use low impact farming methods and our focus is on providing access for customers to seasonal Australian produce.
Our name Singing Magpie Produce comes from the family of Magpies that regularly entertain us as we pick figs and sit amongst the Mallee trees. At a family birthday we had an impromptu focus group with about 15 of our relatives and this was one of the four names that revealed itself. We put the list to our (then) small group of followers and Singing Magpie Produce got the vote. We love it.
Can you tell us a little about the region you farm in?
Our orchard is in a small town of Monash in the Riverland. The Riverland is a region of South Australia, all 9000 square kms of it, with the Murray River weaving through. We are about two and half hours from Adelaide and one and half hours from Mildura in Victoria.
The Riverland's history is strongly linked to irrigation and the area's suitability for growing crops. The region enjoys a hot
Mediterranean climate
(sometimes very hot 47 degrees), and has vast acres of fertile soil and a readily available water source in the
Murray River
.
The Riverland's economy is driven by primary production. This is kind of obvious given we have a strong history of irrigation, fertile soils, climate, best practice water supply systems, ability to grow a diversity of crops, fruit fly free status and proximity to markets.
The area is Australia's largest wine producing region, growing over half of South Australia's wine grapes. Most major Australian wine companies source a significant amount of wine from the Riverland.
The Riverland is also a significant
almond
and stone fruit growing region and Riverland juices and milk drinks are stocked on supermarket shelves across Australia and internationally.
What's the most challenging aspect to your job?
I struggle with the juggle – having a young family; having a part-time off-farm job as a food development officer; doing everything for Singing Magpie – planning, production, marketing and filling orders; and finally fitting in some Sue time (which I must say is losing out at the moment).
A real issue for small producers like myself in rural areas is also transport. Our value added products are small scale, hand produced and niche. I have Providores interested in our products but transport costs getting to this type of customer, with relatively small volumes can be very cost prohibitive.
And the most rewarding?
The most rewarding is the ability to CREATE, to minimise waste from the orchard's wholesale production and produce a gourmet food product. Do what you love and your heart swells. Creativity in my life is something I have been missing for a long time.
If we looked inside your fridge what would we find?
Right now:
Summer fruits because we need to make the most of the peaches, nectarine, plums, figs, grapes while they are in season.
Homemade pesto because the basil has gone crazy, quince paste, olives, caperberries, new season chutney.
The latest batch of kombucha
Cheese, you can never have too much.
Some Callop (called Golden Perch in other states) that my brother just caught.
All our dried fruit and nuts- we always keep them in the fridge and they last forever.
A big bunch of kale, sweetcorn, cucumbers and watermelon all from very lovely neighbours because our veggie garden is very slow to produce this year (I was very slow to plant).
Eggs, eggs, eggs
What's one thing you couldn't work without?
NBN. I know lots of people complain about NBN and I understand it could have been so much better. But for us in our little town of Monash, quite afar from decent services that city folk are used to, the NBN has revolutionised what we do. We wouldn't have an e-commerce business without.
What advice would you give to someone who's considering launching their own food business?
This time one year ago Singing Magpie Produce opened for business. It has been a very steep learning curve for me personally and nothing like a couple of 43 degree days for some casual reflection:
My Mum and Dad having been growing, picking, packing and selling their produce for some fifty plus years. Their resilience and those around them astounds me. Since I was 20 years old I've earned a salary with a fortnightly or monthly pay packet and lived in a city (well for most of those years). It's a very, very different life when there is no guaranteed pay packet, start with some money stored away if you can.

Be thrifty, start small, be enthusiastic but don't let it get to your head or empty your wallet too early.

That said, do what you love and your heart swells. Creativity in my life and creating our produce is the jigsaw puzzle I have been missing for a long time.

I don't get much sleep. I need to dedicate a bit more on self care.. yes there is some adjustments I've got to work on in this small business vs Sue vs family commitments love triangle.

I'm incredibly grateful - I have met some truly helpful people, virtually and in person, who really go out of their way to help Singing Magpie succeed.

Shift aside naysayers. Okay have your inner circle and let them keep you in check (I do think this is important) but beyond that negativity breeds negativity.

Support your local farmer, do everything you can. Understand their prices are a real reflection of what it costs to produce quality food and pay their workers a fair wage. When you buy cheap imports someone will always miss out…. either the farmer or their employees (slaves) working for them.

Kindness and good manners costs nothing, whoever you are.

Just go ahead and make it happen.
Riverland is becoming a popular tourist destination in South Australia, what would you recommend seeing or doing for a first time visitor?
Get on a houseboat, in a dinghy or on a canoe and go for a ride on the River, it's a gentle giant running through our region and stunning. The
guided
tours are pretty special and if you've never seen a Lock, checkout
Lock 5
. One of our personal favourites for swimming is Lake Bonney.
Definitely go to the lookout at Headings Cliff, once you've seen this you'll understand what I mean about a gentle giant, there are amazing views of the Murray. Off course while you are there go visit the
Wilkadene and the Woolshed Brewery
it will blow your socks off.
If you are looking for coffee-
Arrosto
in Renmark and tea at
Flavours of the Riverland
(amongst a range of other local produce and great sourdough bread). One of our local providores
Illalangi
will have you sorted on gourmet treats.
My favourite food places- Elleni's at Mallee Estate Winery (the fish is local Murray Cod and Greek fare is wonderful), Bella Lavender for all things pizza, the Renmark Club has something to please everyone and does a great job of featuring local produce, Riverjacks in Berri for everything lunch, the Murray River Queen for stunning views on the River, serving local wines and amazing Thai food. Still places on my list to get to are Mallee Fowl and the Loxton Club with their local degustation menu.
My favourite local wineries/wine/beer- 919 Wines, Whistling Kite, Bassham Wines, Top Block, Jachmanns Cider, The Arnold Brothers Lemon Cooler like there is no other, 23rd Street Distillery, Angoves Family Winery in Renmark, Banrock Station and Wetlands and Berri Estate's Cellar Doors for a range that will blow your mind.
What's been your biggest achievement to date with Singing Magpie Produce?
In all my dreams I never thought we would have our sun-dried figs served up to the French Ambassador or that we would sell out of produce before our first year of business was through. However probably our biggest achievement in my mind is when we won a Sydney Fine Food Champions, Gold and Silver Awards for our sun-dried quince and figs. It was special and everyone's well wishes, feedback and congratulations just topped it all off.
What would your ultimate last supper be?
Ooh I know this and it's very unique to this region. First get in the boat (which is our case is an old dinghy) and go yabbying- it's all part of the experience and I believe makes your food taste better. This is a Summer dish and one we have only when the River is in flood. On the riverbank or at home, wherever you are set up, get your wok or pan sizzling hot on an open fire and in go the yabbies (we wash them and put in the freezer before cooking). Stir fry with some chilli and then add a good slug of 919 Wine Pale Apera. Serve it with a creamy herb sauce, coriander pesto and fresh coriander leaves. This is flat out one of the best meals I've ever cooked. I'd finish with fresh fig, elberta peaches and Golden North honey ice-cream.
To discover more and connect with Singing Magpie Produce click below:
Website: www.singingmagpieproduce.com.au
Instagram: www.instagram.com/sue_singingmagpieproduce
Facebook:
www.facebook.com/singingmagpieproduce