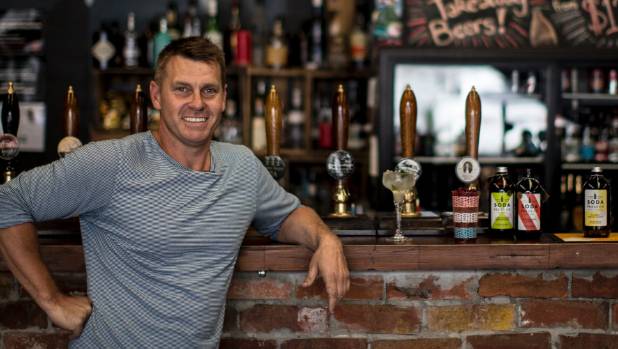 Meet The Locals - Soda Press Co
Originally from NZ Cam Romeril​, founder of Soda Press Co, was tired of sugary, artificial cordial syrups and in particular mixers that he used for cocktails, most especially Indian Tonic. This inspired him to create a range of natural, handcrafted low in sugar and now certified organic syrups and mixers to enjoy beloved classics and new refreshing creations.
Cam shares with us the most rewarding and challenging aspects of being a small batch producer, the two things he couldn't work without and gives advice to those who may be considering launching their own food or beverage business. Soda Press Co's Raspberry & Mint syrup was featured in our Feb/Mar 18'
Discovery Box
.
Image: Stuff.co.nz
What inspired you to start Soda Press Co?
I'm inspired by real food and real flavours. Sadly the market is clogged with bland, sugar laden, average tasting, and heavily artificial cordials and syrups. Apathy and complacency from the big brands has caused this. So we knew it was time, we got stuck in with research, engaged with a couple of smart organic orientated food scientists, some cracker creative cats and the rest is history in the making.
As a small batch producer, what's the most challenging aspect to your job?
Ha, that one's pretty simple - Time and working capital to keep up with demand without compromising quality.
And the most rewarding?
Hearing positivity and enthusiasm from customers, even small messages on FB mean a lot to us.
If we looked inside your fridge what would be find?
About 80 bottles of experimental syrups squeezed in amongst delicious food.
What's one thing you couldn't work without?
I'll give you two as they are equal. Good music and exercise - I do 15 hour days and without music and exercise I'd be a large object in padded room by now.
What's your favourite season for food and why?
Summer as I love eating outside be it at home BBQ's or on the beach at sunset.
What advice would you give to someone who's considering launching their own food or beverage business?
Back your idea up with some robust figures and get advice from as many experts as you can without paying for it! So that lots of drinks I guess, but worth it. Trust your gut along the way and drive your concept with vigour without being impatien
t
Serving suggestion for the Raspberry & Mint syrup: Fresh berries, ice and sparkling water
What are your BIG goals for 2018?
Expansion into Europe - that's a giga-goal
What's your favourite flavour from the range and how do you prefer to have it mixed?
Ha ha I love them all for different occasions - truly.
What would your ultimate last supper be?
Whitebait patties inside fresh bread, followed by fresh pan fried and crumbed Blue Cod with crispy mashed potato, pan seared scallops on angel hair pasta and finally Paua ravioli.
To discover more and connect with Soda Press Co click below:
Website: www.sodapressco.com
Instagram:
www.instagram.com/sodapressco
Facebook:
www.facebook.com/sodapressco