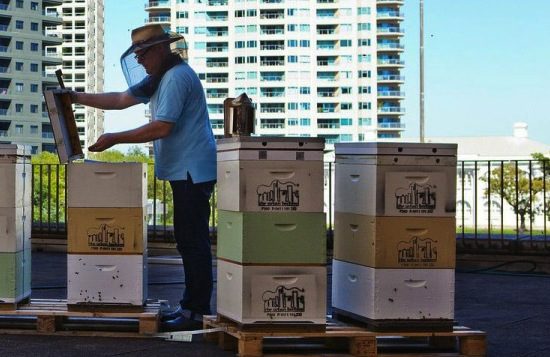 Meet The Locals - The Urban Beehive
Thanks to The Urban Beehive, there are some lucky bees in Sydney enjoying some of the best views in the city.
In 2010 The Urban Beehive launched with the aim of supporting the honeybees that do their critically important work in urban Sydney by placing beehives in city backyards, businesses, community gardens and on rooftops; from Bondi to Marrickville – even the Botanic Gardens. Along with their beautiful honey, The Urban Beehive offer beekeeping courses and equipment too.
In this interview, Vicky & Doug share with us how important bees are to Australian agriculture, what their most important tool of the trade is and their goals for 2019 + more. The Urban Beehive 'Raw Honeycomb' is featured in our Dec/Jan 18'
Discovery Box
.
What's your food philosophy?
The Urban Beehive believes in supporting Sydney honey bees pollinators and providing
locally sourced 100% pure honey to our customers. Low food miles and being able to talk to producers is a luxury in the city, we encourage supporting your local beekeepers and farmers. A great place to meet is the local farmers market!
What was your inspiration behind starting The Urban Beehive?
The Urban beehive was started in 2010 by Doug Purdie and Vicky Brown. We came from different backgrounds but both had an interest in honeybees and were aware of the threats to bees such as varroa around the world. The inspiration was to raise awareness of the importance of honeybees and how they help us so much in the local environment and the beauty of honey.
There has been a lot of press recently about protecting our local bees. How important are bees to Australian agriculture?
Pollinators are essential to Australian agriculture. Two thirds of our fresh food is available because of pollination and your supermarkets would look bare without them. Humanity would not necessarily die without bees but food would become very expensive to purchase. Awareness around pesticide and chemical use is critical as it can adversely impact the environment as well as honeybees.
As a small batch producer, what's the most challenging aspect to your job?
Time management is always a challenge, we inspect our beehives regularly while running a beekeeping shop and holding beginner courses. Juggling all aspects of the business while doing the best by the bees is rewarding but also exhausting during peak bee season.
And the most rewarding?
Knowing our honey is pure and receiving such great feedback from the community. Sharing our knowledge and teaching others about keeping bees but also respecting them and that it's not all about the honey.
If we looked inside your fridge what would we find?
Fruit, veggies, leftovers and wine.
What's your favourite season for food and why?
Summer, for the peaches!
What advice would you give to someone who's considering launching their own food business?
It can be hard but believe in your product and yourself. Listen to feedback from others and be prepared to evolve.
What is one thing you couldn't work without?
Our bee smokers. Most important tool of the trade.
What are your BIG goals for 2019?
Expand the shop and apiaries and to also be able to support other workers.
If you weren't a food producer, what would you be doing?
Vicky would still like to be working with nature or connected to travelling. Doug would get back into filmmaking, most likely about bees.
What would your ultimate last supper be?
Japanese all the way.
To discover more and connect with The Urban Beehive click below:
Website: www.theurbanbeehive.com.au
Instagram: www.instagram.com/theurbanbeehive
Facebook:
www.facebook.com/theurbanbeehive