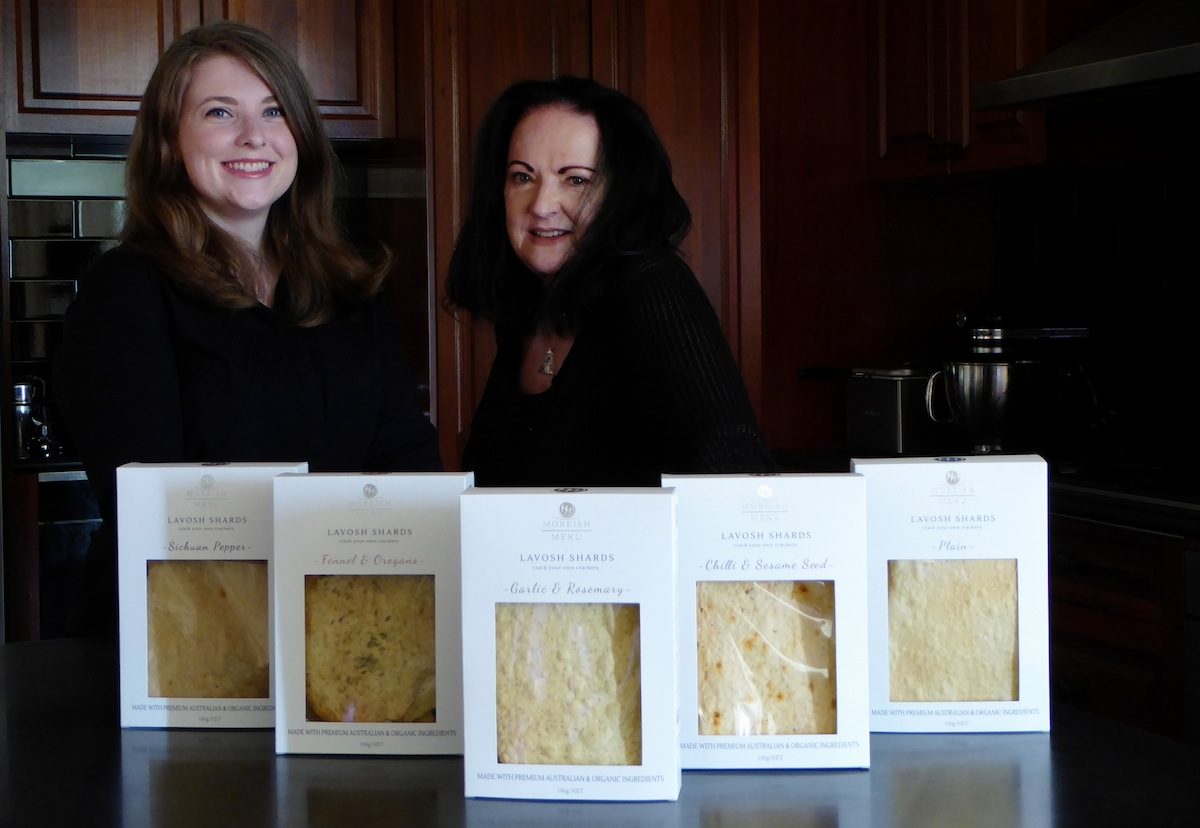 Meet The Locals - Moreish Menu
Mother-daughter duo Beris Anderson and Laura Anderson, owners of Moreish Menu, hand-roll, bake and then partially snap their lavosh into uniquely-shaped shards, allowing you to crack your own crackers into your desired size.
M
ade using only exceptional Australian and organic ingredients sourced from our country's finest producers including organic olive oil from the Grampians region, organic roller-milled flour from New South Wales, premium Australian salt flakes and pure filtered water.
In this interview, they share what they've learnt in their first year of business, the most rewarding aspect of being a small batch producer and the one thing they couldn't work without + more!
Moreish Menu 'Fennel & Oregano Lavosh' is featured in our Dec/Jan 18'
Discovery Box
.
What's your food philosophy?
Everything we do starts with sourcing ingredients of the highest quality. We always look for local, organic and fresh produce in everything we make.
What was your inspiration behind starting Moreish Menu?
We've always been mad foodies and cook everything from scratch.
Increasingly, we noticed many products on the market used ingredients with added fillers and were created using questionable methods of production. Very few were producing the quality of food that we took for granted at home.
Moreish Menu was a natural progression to create quality food for others.
Congrats! You've survived your first year in business. Can you share any lessons you've learnt so far?
Markets are brilliant testing grounds for new products. It's lovely to talk directly to customers and get instant feedback.
Also, everything takes longer than you would expect it to. Whether it was testing recipes or creating packaging, producing a product you are proud of means there are no shortcuts.
Besides your delicious lavosh, what else are the must haves for the ultimate cheeseboard?
Variety and the best quality of everything! A wonderful selection of cheeses, homemade dips and chutneys. Organic fruit. The best thing about cheeseboards is that they can be adapted to each person's unique tastes.
As a small batch producer, what's the most challenging aspect to your job?
Keeping up with demand. Everything is made by hand so getting an understanding of lead times and anticipating each week's orders is important when we make five different flavours of lavosh.
And the most rewarding?
People saying they are the best lavosh crackers they've ever tasted!
If we looked inside your fridge what would we find?
Delicious leftovers (we waste nothing in our house).
What's your favourite season for food and why?
The best things about food is it's amazing all year round. In summer you can enjoy light, fresh seafood and in winter you can look forward to slow-cooked dinners with rich flavours.
What is one thing you couldn't work without?
Each other. We are very fortunate to be a mother-daughter team and we both bring complementary skills to the business.
What are your BIG goals for 2019?
To grow Moreish Menu across the board. To make it readily available in many more outlets and to add more products over time.
If you weren't a food producer, what would you be doing?
Even if we didn't have a food business, food would still be the centre of our attention. So really anything that relates to that!
What would your ultimate last supper be?
Beris: I genuinely don't have a favourite dish but it would have to be really yummy and homemade!
Laura: Something with chocolate. Always chocolate.
To discover more and connect with Moreish Menu click below:
Website: www.moreishmenu.com.au
Instagram: www.instagram.com/moreishmenu
Facebook:
www.facebook.com/moreishmenu