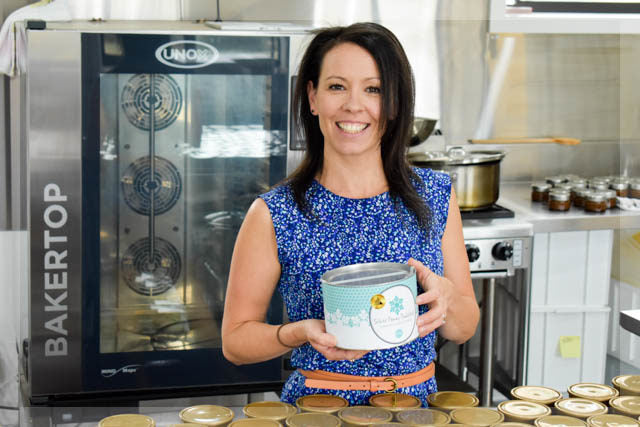 Meet The Locals - Silver Penny Puddings
Silver Penny Puddings goal is to produce the best Traditional English Christmas Pudding with quality natural Australian produce. Each year production commences in early Spring to ensure customers receive a mature and developed pudding for their Christmas table.
In this interview, Elisha shares with us the real challenge of being a small batch producer, what inspired her to create a Christmas pudding business and shares advice to those wanting to launch their own food brand.
Silver Penny Puddings (highly addictive) 'Spiced Brandy Sauce' is featured in our Dec/Jan 18'
Discovery Box
.
What's your food philosophy?
Enjoying and respecting each ingredients so you get the best out of it. And salt, so important!
What was your inspiration behind starting Silver Penny Puddings?
It's funny how things work out. I never intentionally meant to start making Christmas Puddings, it happened by accident.
I love tradition and my Grandmother was all about it. She would make the puddings for our Christmas when l was little and the Christmas table was always full of silver cutlery, silver salt and pepper shakers, silver jugs, silver serving platters, you name it. All Silver. So that's where the Silver in Silver Penny Puddings came from.
Another traditional ingredient in puddings is suet, which is what l use. Nothing beats it. It created a beautiful rich flavour and makes it amazingly light
How do you prefer to eat your Christmas pudding....with custard, cream or ice-cream?
Hot with Silver Penny's Spiced Brandy Sauce and a little cream. The Spiced Brandy Sauce has won two Gold Awards at the Australian Fine Food Awards, its delicious.
Last year you collaborated with Four Pillars Gin to make a Christmas Gin Pudding. How important do you think collaborations like this are in business?
So important, this year was the second year and it was massive. It is a great way to get your brand out there, especially with something as wonderful as Four Pillars.
As a small batch producer, what's the most challenging aspect to your job?
As it only me so it is very busy in the 4 months leading up to Christmas, fitting it all in and meeting requirements.
And the most rewarding?
Receiving the feedback, knowing l did this all by myself.
If we looked inside your fridge what would we find?
Always aged parmesan, good butter, salted capers . Plenty of fresh veg and fruit
What's your favourite season for food and why?
Tricky, they are all so special in their own way. I do love a good mushroom forage with the kids.
What advice would you give to someone who's considering launching their own food business?
Push yourself and believe in yourself and don't give up.
What is one thing you couldn't work without?
The best ingredients, and gas!
What are your BIG goals for 2019?
To grow the business even more and produce a few all year round products, keep any eye out!
If you weren't a food producer, what would you be doing?
Gosh knows. I am destined to make food. I would cook fancy dinners every night l think.
What would your ultimate last supper be?
MMM, as much fresh seafood in its rawest state and Champagne. Isn't that what everyone wants?
To discover more and connect with Silver Penny Puddings click below:
Website: www.silverpennypuddings.com
Instagram: www.instagram.com/silverpennypuddings
Facebook:
www.facebook.com/silverpennypuddings