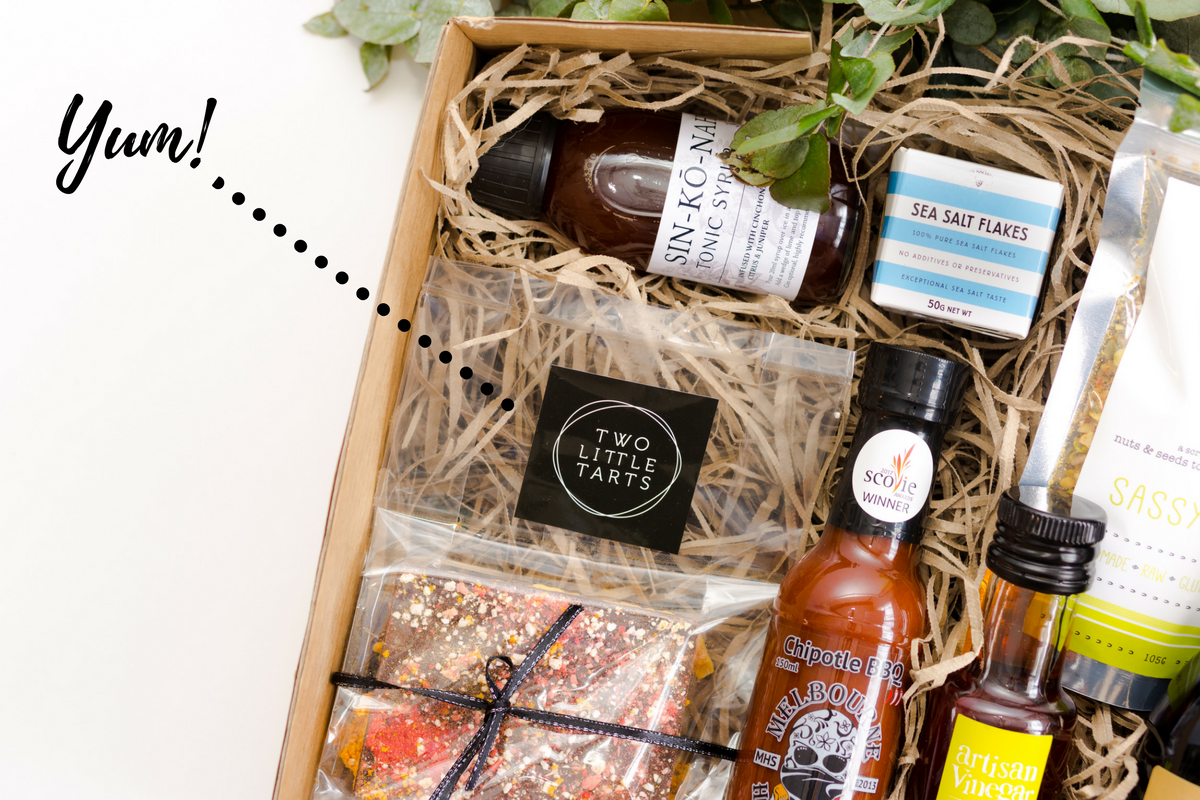 Meet The Locals - Two Little Tarts
Two Little Tarts is made in Melbourne by founder and Pastry Chef Odette Squillace. Odette's inspiration is drawn from her travels, experiences and influences in the world of Patisserie. Odette completed her 4-year apprenticeship close to 15 years ago in Brisbane. Since then she's worked in fine dining restaurants, five star hotels, high tea lounges, fancy catering companies and even a small chocolate shop. 5 years ago, Odette made the move to Melbourne to continue her Pastry career, here she saw the demand for high end packaged sweets and as a result, Two Little Tarts was born!
Odette shares her inspiration behind the Two Little Tarts name and what makes her honeycomb (featured in our February 17' Discovery Box) and popcorn extra special...plus what her epic last supper would be.
What's your food philosophy?
Visually appealing, flavoursome, real food!
What inspired you to create Two Little Tarts and please tell us the story behind its catchy name?
Being a Pastry Chef I've always wanted to create my own brand of products. I spent many years making new products lines for other people's business' – which was fun + definitely a learning experience…or even test run! Two Little Tarts – is a simple representation of my life and how I wanted to stand out + make a name for myself that people would remember…or at least bring a smile to their face. I wanted people to know straight away that the products in this brand are 'sweet'.
What does a typical day look like for you?
Up @ 430am! (and I'm not actually a morning person!)
Then into the kitchen cooking up a storm while it's still quiet, the paperwork, talking with suppliers + clients, on the road for deliveries, then back into the kitchen for the fun stuff….Chocolate work …every Pastry Chefs dream.
Your honeycomb and popcorn products aren't your stock standard, what makes them extra special?
I like to use traditional recipes like candy Honeycomb and Caramel Corn, that we all remember as a kid, and pimp them up for an adult palate. I don't add any artificial products or preservatives and love making all my sweets by hand, in small batches. I package them beautifully while the candy is still at its peak to seal in the freshness and flavour, as though I made it for you only an hour ago.
My flavour combos are really my favourites!! I enjoy using local Sunny Ridge Freeze dried strawberries, Murray River Sea Salt, Beechworth Honey ….and Pistachios and Rose petals are very important to the honeybees…so it all fits quite well. On top of all of that I use good quality Callebaut Couverture Chocolate.
What's your biggest achievement to date with Two Little Tarts?
Building strong relationships with Beechworth Honey and Sunny Ridge Strawberry farm to name a few, which in turn helped spark the interest and demand and support for my products.
What's next for you and Two Little Tarts?
A few new products are in the pipework's for this year and a couple of beautiful interstate stores are going to include our Two Little Tarts range…so you never know where we are going to pop up!
What would your ultimate last supper be?
Espresso Martini, Two Little Tarts Rose + Pistachio Honeycomb with a triple cream brie!
To discover more and connect with Two Little Tarts, click below:
Website:
www.twolittletarts.com.au
Facebook:
www.facebook.com/twolittletarts
Instagram
:
www.instagram.com/twolittletarts_melbourne