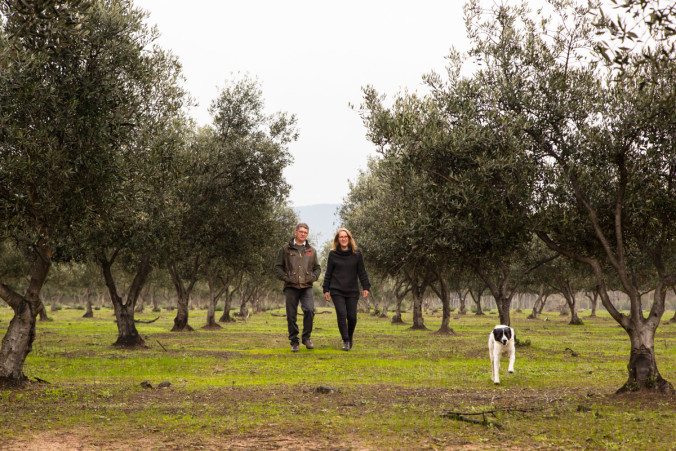 Meet The Locals - Red Rock Olives
Owners Rita and David, both passionate about the environment met whilst tree planting in the Wirrema area in Victoria. Together they took on Red Rock Olives with a vision to only leave a small environmental footprint and promote food integrity within the community.
Red Rock Olives grows and produces high-grade, locally-pressed extra virgin olive oil, table olives, a house-made olive salt and a range of beautiful artisan vinegars. Their Apple Balsamic Vinegar was featured in our February 17' Discovery Box.
The olive grove is located in Pomonal, described as "
the Grampians region's garden of floral delights".
Rita shares with us their beginnings at Red Rock Olives, what an average work day looks like for them and their inspiring 'backyard trading' concept. Enjoy!
What's your food philosophy?
My food philosophy is echoed through the Red Rock Olives brand and farm gate cafe. I hate food wastage, so preserving and pickling produce in olive oil or vinegar is very important to me. Buying produce that is local and in season and showcasing it in its most flavoursome way is easy, healthy and most importantly, delicious.
You and your partner David took over the business in 2013, can you share with us your inspiration for taking on an olive grove & your journey on getting to where you are today?
I was based in Melbourne, constantly frustrated with the waste created by the city lifestyle – the paper in offices, food packaging and fast food. In an effort to reverse this wasteful cycle, I signed up for a tree planting weekend in the Wimmera area. David was working for Project Platypus, a landcare organisation focused on revegetation and this is where we first met. Once I made the move from the city to western Victoria, we stumbled upon Red Rock Olives - a perfect business to draw upon both their skills. We have combined my past Melbourne business and public relations experience, with David's 35+ years of agriculture and farming.
What does an average work day look like for you?
There really is no average day at Red Rock Olives - as the seasons change, the work changes. Watching the seasons shift in the Grampians is my favourite part of the job - the plants and flowers, the sky and the mountains, all varying with the weather. Often my days consist of cooking in the kitchen, product development, office work or pruning the trees in the grove. Hand raising lambs also plays a huge and noisy part in my day - when they get hungry, they let me know
.
What's your biggest achievement to date with Red Rock Olives?
Red Rock Olives is still quite a young business, so developing the brand and gaining awareness is still very exciting. We still get very excited when we find new stockists that are as passionate about local produce as we are

.
Your very own Red Rock Olives farm gate cafe has recently introduced 'backyard trading'. Can you share a little more about this concept?
Backyard Trading is a concept that we introduced to remind ourselves and our customers where our food comes from. There is nothing more pleasurable than growing your own food in your backyard, but often people don't know what to do with it. We have started accepting donations from people that have an abundance of produce. Unlike others, I do not get overwhelmed by large quantities, it excites me. It reduces food wastage, broadens our minds and brings the community together.
What's your focus for 2017?
We have a big year planned for 2017. We are going to continue to develop the brand and are aiming to reach and teach more people about the incredible health benefits of extra virgin olive oil and the importance of buying local.
What would your ultimate last supper be?
A simple wood fire pizza with seasonal, local and fresh toppings drizzled with our fresh extra virgin olive oil, coupled with a Grampians shiraz and olives on the side. After all, what grows together, goes together.
To discover more and connect with Red Rock Olives, click below:
Website:
www.redrockolives.com.au
Facebook:
www.facebook.com/redrockolives
Instagram
:
www.instagram.com/redrockolives