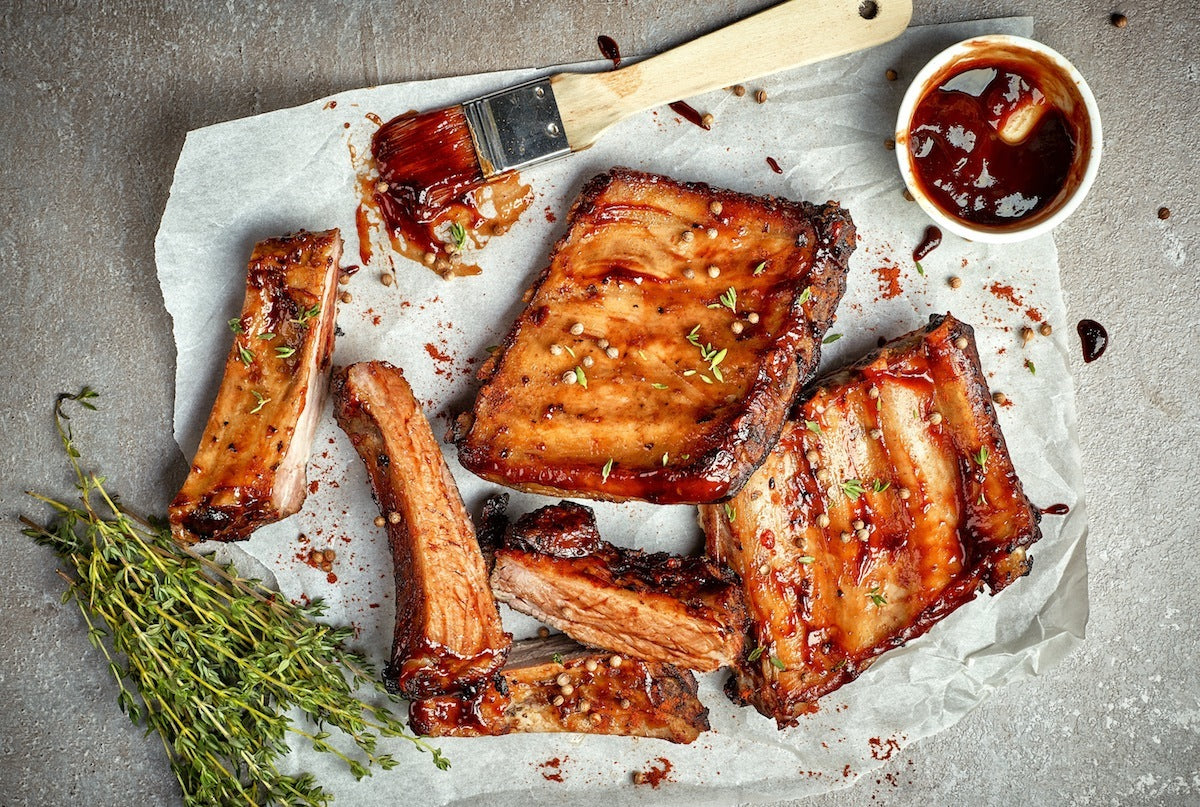 BBQ Pork Ribs with Chipotle Mop
Even saying the words,
BBQ pork ribs
gets us salivating. Does it for you? Suffice to say when Richard from Melbourne Hot Sauce shared this recipe with us, we were a tad over excited. Richard's cooking method includes an offset smoker, which will give you the most epic tasting ribs, however if you don't have one of these, we've included an alternative method to follow.
BBQ Pork Ribs + Chipotle Mop
Ingredients:
2 pork rib racks (approx 1.2kg each)

Melbourne Hot Sauce Chipotle BBQ

Creole Rub
Creole Rub ( Base recipe, mix 1 part rub to 3 parts soft Brown sugar)
¼ cup smoked paprika

3 TB sea salt

¼ cup garlic powder

2 TB dried Thyme leaves

2 TB cracked pepper

2 TB onion Powder

1 TB cayenne powder

2 TB dried oregano

Brown sugar as per above note
First step is to peel the membrane from the underside of ribs. Pound or blitz the creole rub ingredients together and generously massage into the ribs. Leave to marinate overnight or a minimum of 2 hours in the fridge.
(The rub will keep for one month if stored in an airtight container if you have any leftover)
The ultimate way to cook ribs is in an offset smoker for 6-7 hours using a combination of fruit and hard wood on red gum lump charcoal. Baste with MHS Chipotle BBQ on the chargrill to finish.
Alternatively, place ribs on a wire rack in a roasting pan, pour 1-2 cups of water in the base of the pan and cover with foil. Bake in oven at 160 degrees celsius, turning once, for 2-3 hours or until tender. To finish, baste with MHS Chipotle BBQ and
cook on a preheated barbeque grill for 4-5 minutes each side or until caramelised and slightly charred.
Serve up with some extra BBQ Chipotle mop and a Summer slaw.
Serves 4
Original recipe provided by Richard at Melbourne Hot Sauce. We've provided the alternative cooking option incase you don't have an offset smoker.
You can read more about Richard and Melbourne Hot Sauce in our Meet The Locals interview here
As seen in our February 2017 mini zine, tucked inside the box: