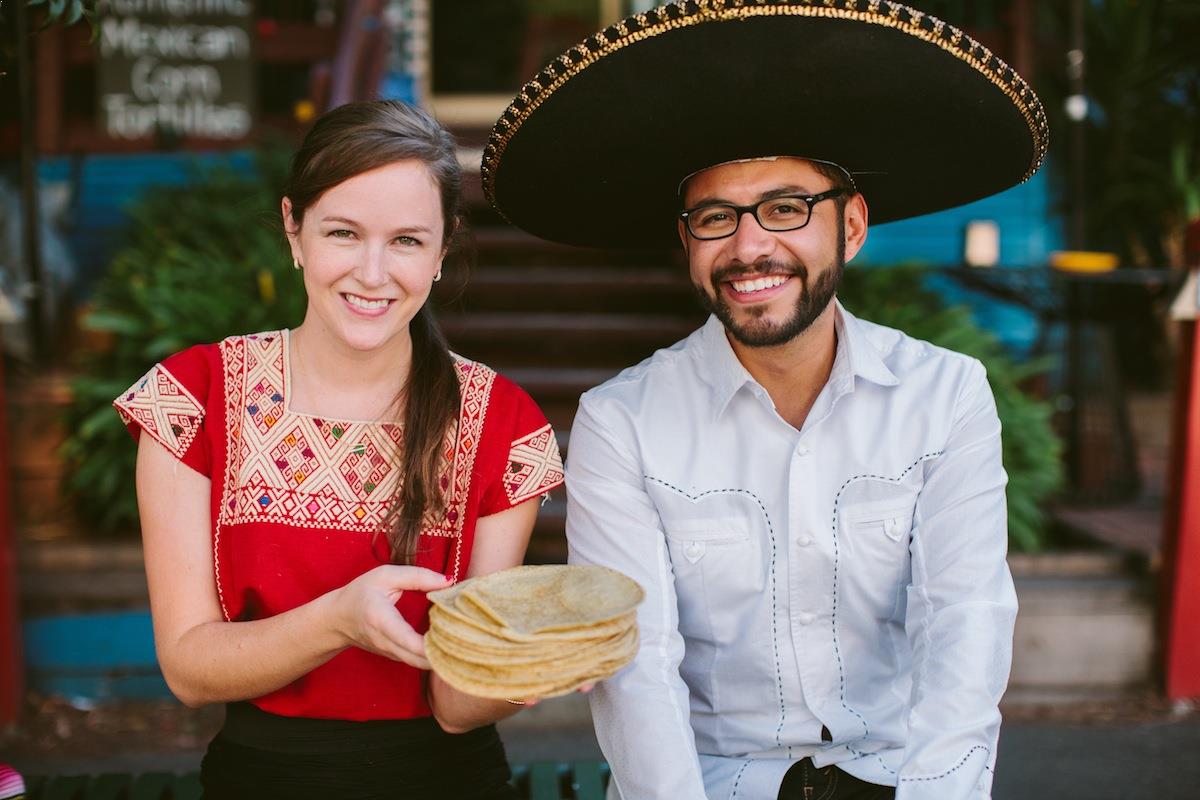 Meet The Locals - La Tortilleria
The La Tortilleria story begins when Gerardo Lopez, a proud Mexican who had settled in Australia, met Diana, a passionate traveller with a love of Mexican food and culture.
While Australians were beginning to enjoy real Mexican food, Gerardo and Diana felt something was still missing; truly authentic corn tortillas. In 2013 the duo decided to recreate the millennia old 'nixtamal' craft here in Australia, using all local ingredients.
Gerardo shares with us the real challenges of running a small batch food business, what he misses most from Mexico City and their biggest achievement to date, plus more!
La Tortilleria Tortillas were featured in our June/July 18'
Discovery Box
.
What's your food philosophy?
We believe in making food the way it has always been made, using traditional methods and starting with the raw ingredient.
Real food has a story to tell. In our case, this story is the tradition of the indigenous people of Mexico who have been making corn tortillas the same way since 1200B.C. These days cheaper short-cut methods of making tortillas are taking over, so we really want to preserve this ancient culinary tradition. And most importantly we want every Australian to be able to experience it!
What was the inspiration behind starting La Tortilleria?
I grew up in Mexico City and moved to Australia in 2009. When I got here the only tortillas widely available were either frozen from the US, or made here but out of imported processed tortilla flour (masa harina). I was really missing the proper corn tortillas like we have in the villages of Mexico, made directly from the whole corn grain.
My business partner Diana, who went to university in Mexico, had just discovered how different "Mexican" food in Australia was from actual Mexican food in Mexico. It was getting better and there were great chefs trying to create great Mexican food, but the key ingredient was missing: good corn tortillas. So Diana and I decided to team up and do something about it!
What makes your tortillas so special??
The difference is that we do the entire tortilla making process from beginning to end ourselves, starting with the raw ingredient: whole grain corn kernels, grown here in Australia. We cook them, soak them overnight in limewater, then stone-grind them wet into a dough, before pressing and baking them into fresh tortillas.
We do not use processed 'instant' tortilla flour (masa harina) mixed with water, a method that was invented around the 1950s in order to industrialise tortilla making. It's a lot like the difference between instant coffee versus a freshly ground real coffee.
The method of nixtamalising the kernels in limewater enhances the nutritional value of the corn and makes it more digestible. The Aztecs and Mayans discovered this method by cooking their corn in water from rivers containing limestone, which is naturally-occurring throughout much of Mexico.
By using Australian grown corn and doing the whole process ourselves, we can ensure our tortillas are gluten free, preservative free, non-GMO, wholegrain and vegan.
As a small batch producer, what's the most challenging aspect to your job?
Educating our customers! In Australia, people have been exposed to Tex-Mex food for many years, and whilst this kind of food has an important role to play in the expansion of Mexican food around the world, changing people's perceptions is not always easy.
Real Mexican food, including proper soft corn tortillas, is quite different from Tex Mex. We still get some customers expecting hard shell 'tacos' from us and need a few tips on how to use soft tortillas instead.
And the most rewarding?
Definitely seeing Australians embracing traditional Mexican. Back in Mexico, we eat tortillas breakfast, lunch and dinner in our family homes, it's an absolute staple. Here it brings a tear to my eye seeing Australian families doing the same. I remember customers who came into our store for the first time a few years ago not even knowing what a corn tortilla was. After explaining what we do and sending them off with their first tortillas and a few recipes they're now back in every week buying kilograms of tortillas to feed their families. They use them for all sorts of dishes, not just Mexican food. It has become a family staple for them too, just like in Mexico.
We also love hearing the Mexicans (and also Americans!) tell us how happy they are to have finally found real corn tortillas here in Australia. It warms our heart to hear how we've given them a small taste of home.
If we looked inside your fridge what would we find?
Fresh tomatoes, chillies, onion, coriander and tortillas. The first four to make fresh salsa, and the last one to make tacos with whatever else is there, topped with that fresh salsa.
In the freezer you'll also find a batch of frijoles refritos (refried beans), which I make up in large batches and freeze in small portions so I always have them on hand to eat with tortillas as a healthy snack. That plus a bit of avocado and salsa and you'll never go hungry!
What is one thing you couldn't work without?
A wonderful team of people who are in love with their job and with tortillas.
What do you miss most from Mexico City?
The food, the smiles and the party. Mexican people are joyful people regardless of the circumstances and tacos go well on any occasion, making it the best combination.
What's your favourite season for food and why?
It would have to be summer when tomatillos and fresh chillies like poblanos, serranos and habaneros are in season in Australia. We love a good salsa verde made from fresh tomatillos, and a spicy kick in all our food!
What's your biggest highlight to date with La Tortilleria?
There's been many! But one that comes to mind is winning the Delicious Food Awards in 2016. It was wonderful to have our corn tortillas awarded like this by the top culinary experts in this country, alongside so many other great producers.
What are your BIG goals for 2018?
There are a few new products in the pipeline, stay tuned!!
What advice would you give to someone whose considering launching their own food business?
Stay true to your beliefs and passion. Many are tempted to make their product the quicker, cheaper way. If you know you have a good product, stay true to your values and make it properly with real ingredients, don't substitute fillers and E numbers! Your customers will appreciate it.
What would your ultimate last supper be?
That is easy, a taco feast with a table packed with different taco fillings, salsas and warm tortillas for everyone to make their own tacos the way they like it. And finish it off with a glass of quality mezcal!
Try La Tortilleria's incredible slow cooked
Pulled Pork Tacos
recipe
here.
To discover more and connect with La Tortilleria click below:
Website: www.latortilleria.com.au
Instagram: www.instagram.com/latortilleriaau
Facebook:
www.facebook.com/latortilleriaau