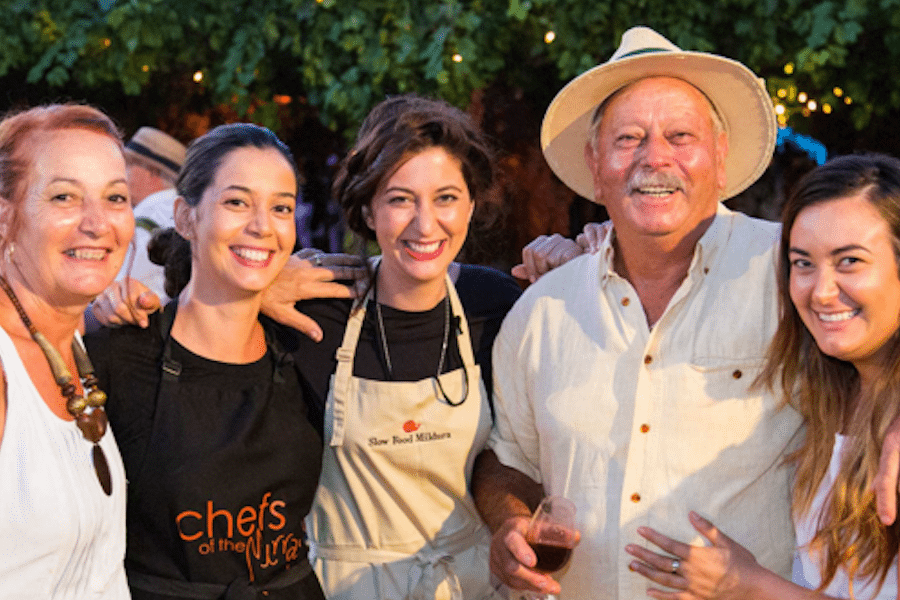 Meet The Locals - Tabletop Grapes
In 1972, founders Gino and Elina Gareffa bought their first property in Mildura,
known for its
abundant sunshine, rich red loam soil and irrigated water from the Murray River. Wanting dried fruit that was rich in its true natural flavour, the family developed a unique method that produces a premium tasting product that is 100% chemical free dried and delicious. To this day the family produce premium table grapes as well as fresh fruits and vincotto.
The seeded muscatel clusters (found in the December 16' Discovery Box)
is the result of the family's passion to produce a truly unique flavour in its natural form.
Elina shares with us below her beautiful food philosophy, how best to serve and eat dried muscatels and what her ultimate last supper would be....can you guess what this might be??
What's your food philosophy?
Food was influenced by my very strong Italian family upbringing. In the late 50's, I would not have been able to tell my school friends that we ate calamari, offal or that we cooked with oive oil, and especially that we killed and made our own pork salami & made blood pudding, as all of this would have certainly screwed up some peoples noses! In our family we grew and made what we ate. We created beautiful meals from very basic ingredients and food was unsophisticated and from ingredients as natural as possible. All this made me realise and appreciate that no matter what part of the world and culture we come from, we all have a food story that is so real to our heart and we can share and discover and introduce natural foods from all cultures together.
What was the inspiration behind creating Tabletop Grapes?
The inspiration came from wanting to create and continue sharing our love for real food to the world. From growing to the plate. "Like a child watching it grow, groom it beautifully and then introduce it to the world".
Tell us a little about the region you farm in.
We farm in the Mildura region of Victoria, with lots of sunshine. Tabletop Grapes four vineyards are grown on beautiful red sandy soil, all within a 15km radius of each other and watered by the flowing water from the Murray River.
What does an average work day look like for you?
I wake up and peer through my window overlooking the beautiful Kings Billabong to view the sunrise and appreciate every day. Right now it is grape harvest time. I do quality control in the field and show our crew the requirements needed for the day. I walk around the vineyard inspecting the work is to the buyers specifications and assist the pickers in achieving that. Depending on the temperature of the day we could cease picking from
1pm
if the temperature is warmer or
4pm
if the temperature is lower. We then come inside to the office to catch up with any correspondence for the day. By then it is
6-7pm
, then I will organise dinner, then do all my general house duties (clean, wash, iron, catch up on any chores) and then if time permits, maybe ring a friend or two.
You're an Australian owned family business, can you share what this experience is like & how important it is for you?
We consider ourselves to be very lucky to have migrated to Australia. Myself as a very young child and Gino (my husband) migrated as an adult at the age of 21 years. We love this country and the opportunities and possibilities it has to offer. At the same time being very proud of our Italian heritage and proud to share and pass on our knowledge to our Australian friends alike.
Your grapes are 100% chemical free dried, how do you naturally dry the fruit and retain its rich natural flavour?
The fruit is hand sorted and hot air dried, dried very slowly under the same temperature. The time can vary depending on the size and maturity of the fruit. The fruit then becomes caramelised and the flavour is a true tasting experience. It is all handpicked & hand packed with tender loving care.
In recent years, what's your biggest achievement at Tabletop Grapes?
Our biggest achievement is producing a product that we take great pride in and is recognised by its true natural flavours Australia wide, and now growing Worldwide.
The Tabletop Grapes Muscatel Clusters is a fantastic addition to a cheeseboard. What else should we include to compliment the rich sweet flavour?
You need to eat Muscatel Clusters with cheese, roast almonds/nuts, to achieve that true tasting experience. The seed should never be spat out as it complements the flavours. When travelling, fill a bag with Muscatels & roast nuts and put this in your centre console, it will make a long trip worthwhile.
What would your ultimate last supper be?
Natural Dried Muscatel, the best of cheeses & roast almonds surrounded by lots of seasonal fresh fruit and shared with family and friends.
To discover more and connect with Tabletop Grapes, click below:
Website:
www.tabletopgrapes.com.au
Facebook:
www.facebook.com/tabletopgrapes
Instagram
:
www.instagram.com/tabletopgrapes