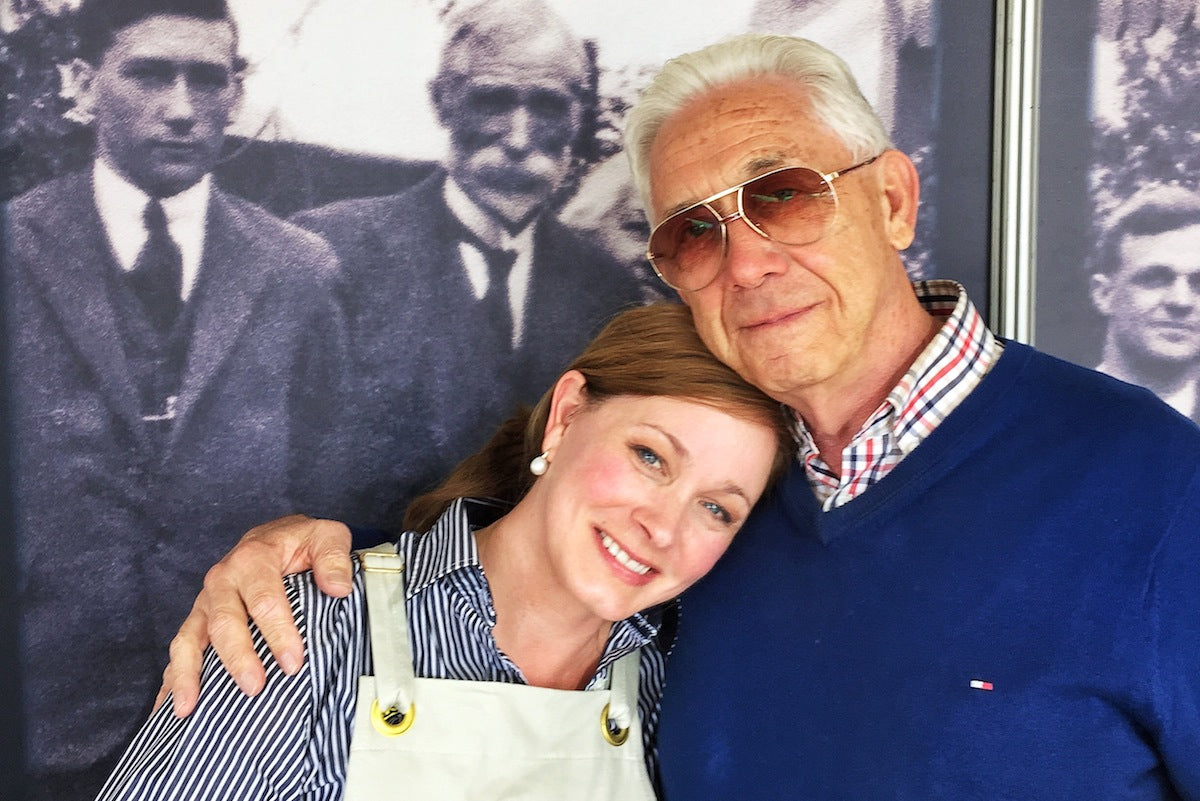 Meet The Locals - Olsson's
Olsson's is the oldest family owned and operated salt company in Australia. Their story in Australia begun in 1878 when Olaus Olsson arrived in Melbourne from a small town in Sweden. Fast forward to today and they are one of the most respected salt companies used in some of Australia's best restaurants ( currently in Quay, Bennelong, Dinner by Heston, Pilu, Coda + Qantas First Class to name a few). The Olsson's Sea Salt Flake was recently awarded State winner in the 2016 Delicious. Produce Awards.
Company director, Alex Olsson, daughter of the sole managing director, Charles Olsson, shares with us the fascinating reasons why they farm in the pristine Great Australian Bite, some surprising & helpful ways to use salt and which part of her job brings her the most satisfaction and joy. >> The Olssons sea salt flakes was featured in the February 17'
Discovery Box
Alex and Charles
What's your food philosophy?
Prior to motherhood I attempted a "purist" approach to food (eg. making my own vinegars, sourdough "mother" starters, yoghurt and butter, etc - yes yawn) which in retrospect must have been so annoying for my friends. But now it's a bit more relaxed, let's call it "natural but convenient". So I'm very fortunate there is now a growing culture of artisanal food production in Australia supported by a ground-swell of people willing to spend more on food that is exceptional quality, sustainable, naturally grown/prepared and delicious.
Olsson's has such a rich and beautiful family history. Can you share with us what it's like to work in a family run business and did you ever have any other career plans?
My great-grandfather came from Sweden in 1878. He opened a grocery shop in Parramatta in 1888 and we've been in business ever since.
On the face of it, my career plans did not include me joining the family business. I wanted a career in food and spent time in Europe and Japan absorbing the food culture. And when it was time for me to head home my father offered me work while I looked for a meaningful position in the hospitality industry. Twenty years later and I'm still with the company. Luckily for me, family companies grow and change with the personalities and experience of the family members and I find myself back in the food industry with some of the best restaurants in the country using our salt. It couldn't have worked out better.
What makes Olsson's sea salt so special?
Olsson's salt is unique because of the location of its salt pans in the Eyre Peninsula in South Australia and at Port Alma in Queensland on the southern end of the Great Barrier Reef. Both locations share some of the most pristine bodies of water on earth resulting in salt rich in minerals and flavour.
How long have you been making sea salt in the Great Australian Bite and what made you choose this location?
My grandfather Norman and father Charles starting harvesting sea salt in the Peesey Swamps on the Yorke Peninsular back in the 1950's and then moved the operation to the Eyre Peninsular in 1970 when the BHP salt leases became available. To make great salt you need very clean sea water, lots of sun and lots of wind. Whyalla has all of these. With over 300 days of sunshine every year and enough wind to support the national kite-boarding championships, it is the perfect place to make great sea salt. And in addition to this, we are situated on a vast tidal marsh called False Bay (you can see it from space) which allows us to naturally capture the sea water.
Salt has many delicious and helpful uses? Can you any tips that may surprise us?
The general consensus (Ref The Salt Institute USA) is there there are more than 14,000 uses of salt, and our grandmothers were probably familiar with most of them. Many of these uses were for simple things around the home before the advent of modern chemicals and cleaners. However, many uses are still valid today and a lot cheaper and safer than using more sophisticated products.
So besides the obvious uses as a super delicious condiment, here are some of my favourites:
Boiling Water

- Salt added to water makes the water boil at a higher temperature, thus reducing cooking time.

Peeling eggs

- Boiling eggs in salted water will make eggs peel easily.

Preventing browning

- instead of acidulating water with lemon juice, apples, pears and potatoes dropped in cold, lightly salted water as they are peeled will retain their colour.

Extinguishing grease fires

- Salt tossed on a grease fire on the stove or in the oven will smother flames. Never use water; it will only spatter the burning grease.

Gargling

- Stir 1/2 teaspoon salt in an 8-ounce glass of warm water for use as a gargle for sore throats.

Keeping cut flowers fresh

- A dash of salt added to the water in a flower vase will keep cut flowers fresh longer.
Over the last few years, what's been the biggest achievement for Olsson's?
We recently launched our Red Gum Smoked Salt that was the result of a three-year-long collaboration between ourselves, Ross Lusted and Pialligo Estate Smokehouse. The salt is smoked on Red Gum wood chips for three days in the traditional Northern European style. This produces a depth and complexity of flavour that cannot be replicated. It adds a rich, smoky flavour to everything. I absolutely love it.
.
Olsson's is a diverse and innovative company. Can you share with us what's next on the agenda?
We're always in various stages of collaboration with chefs and other Australian producers to bring new and delicious products to Australian kitchens, whether commercial or domestic. This part of my working life brings me the most joy and satisfaction.
We've also slated 2017 as the year we expand into Asia and Europe. So it's looking to be a busy year.
To discover more and connect with Olsson's, click below:
Website:
www.olssons.com.au
Facebook:
www.facebook.com/olssonssalt
Instagram
:
www.instagram.com/olssonssalt