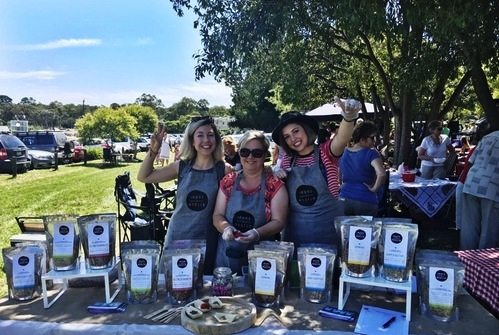 Meet The Locals - The Haus Of Health
Behind the brand The Haus of Health is a dynamic & passionate family trio - sisters Angelina and Gabriella and mum Edina.
Their delicious wholesome blends are hand curated and hand crafted in Melbourne using 100% organic ingredients. Each Salad Topper and Spice Mix has
been selectively designed to enhance what you are already eating in order to give it one epic power up!
Angelina opens up on how challenging and incredibly rewarding running a small business is, a fab insight into her average work day (which includes an awesome tip on an app she uses to start the day right) and shares why the The Haus of Health products are so special. >> The Sassy Salad Topper was featured in the February 17'
Discovery Box
L-R: Angelina, Edina, Gabriella
What's your food philosophy?
Being of European descent, the foods we ate growing up were very traditional Hungarian meals; hearty, heavy and, let's be honest, perhaps not the healthiest!
As I got older, I developed a very keen interest in healthy eating, the human body and its response to the fuel we ingest. I studied Personal Training and gained some invaluable insight into the importance of treating our bodies well.
From there I began my journey. I was pescatarian for a number of years, however, my body didn't respond well. It was difficult to introduce other meats back into my diet, but since doing so my mind and physical being has been much happier! I inadvertently cut refined sugar out of my diet a couple of years ago, I will have the occasional slice of birthday cake, but I no longer finds any of those sorts of foods appealing at all!
Balance is incredibly important. If you are trying to make healthier choices, don't crucify yourself if you fall of the wagon once in awhile. Each person has different needs and I think listening to what your body is saying is most important, what works for you may not work for someone else.
My ultimate food philosophy is Just Eat Real Food!
What was the inspiration behind creating The Haus of Health and did you always plan on running your own food business?
T
he Food Toppers were the very first creation for the range. They came about when I picked up a similar product from the health food store and was using them regularly on my breakfasts, however, there were a few ingredients I wanted to add to the mix, so I came up with my own recipe that was more suited to my taste, one that also packed a hefty nutritional punch!
My partner began using the nutty mixes, then my sister, and soon my girlfriends began asking me for some. I quickly found myself regularly peddling bags of nuts to colleagues, friends and family.
That is really how the journey began.
There are definitely days where I throw my hands in the air and think "Why food?!" It is a challenging industry with all of the rules and regulations required to operate, the ever changing 'foodie fads' in addition, fighting the clock, so to say, in terms of making sure ingredients are fresh and then of course, there is the processing, packing and shipping - Loads of manual labour but also loads of love!
So what makes The Haus Of Health Food Toppers so special?
Our Food Toppers and Superhero Spices are incredibly special because our entire range is organic, vegan, gluten-free, refined sugar-free, dairy-free, raw and 100% delicious. They have been handcrafted by us, in small batches. This means that you are consuming boutique super duper foods that have been lovingly created right here in Melbourne! (without the hefty price tag!)
.
As a family run business, what's the biggest challenge and most rewarding aspect to your job?
At the very beginning, I was trying to run a one-woman show whilst working a full time office job (which I still have). This entailed postal runs during my lunch break, phoning suppliers under my desk whilst whispering 'This is Angie from The Haus Of Health' in the hope that management wouldn't hear and manically running around doing local deliveries in the evenings.
Saturdays were spent chopping, mixing, packing, sticking labels and sealing bags in preparation for Sunday events and the week ahead.
Thankfully, I have an incredibly supportive family who are always encouraging zany ideas and it wasn't difficult to get them to jump on board and lend a helping hand. My 86-year-old grandma is the ultimate sticker queen!
Pretty soon, my sister, Gaby, and Mum, Edina were getting involved in all facets of the growing business and toward the end of last year, my very generous Dad, Danny, converted half of his wine cellar into an incredible commercial kitchen.
The most rewarding aspect of what we do is seeing customers begin their journey.
All it takes is one tablespoon. We have had customers come back and say they have made some positive changes within their diets because they have been more mindful about what they were eating. Comments such as, 'Oh, I decided to have a salad for lunch instead of the usual ham sandwich so I could use Sassy Salad' means our customers are making healthier choices which is a massive 'Heck Yes!' moment!
What does an average work day look like for you?
I begin my day at 6:20am. Most mornings I will do a five minute yoga stretch or if I wake up a bit earlier, I usually do a 15 minute meditation using the One Giant Mind app (its amazing!) I then begin to prepare for the day ahead.
I love the stillness of the morning and use this as an opportunity to read the news and emails and post something on social media for the breakfast crowd. I then prepare brekkie slowly and mindfully (as cheesy as that sounds!).
I depart for my full-time job at 7:30am. During my lunch break I work on The Haus Of Health, checking and sending emails, sending order requests to dispatch, and updating the website intermittently throughout the day.
I leave the office at 5pm and head straight to training. I do this four days a week and the other two I practise Yoga with a weekend day taken up by events or markets.
Exercise allows me to quieten my mind for an hour and It helps me keep stress and anxiety in check (mostly). Once I have sweated, lifted and burpee'd myself out, I head home to continue working on The Haus Of Health. This is usually writing or preparing blog posts, recipe testing, researching ideas, reading and hitting up suppliers, retailers or online stores. My partner comes home from work at about 8:30pm; we then prepare dinner together and usually head out afterwards for a short stroll around the neighbourhood.
This is my favourite bit of the day. Both being business owners we can really nerd out over anything and everything business related. The Ups, the Downs and everything in between!
We've seen that you support Victorian Wildlife, can you share a little more about this with us?
This was an amazing initiative dreamed up by my sister, Gaby. She surprised me at Christmas with a massive box of beautiful T-Shirts in an array of colours featuring an adorable and super zen Koala Yogi. She had the T's locally screen-printed and illustrated by the king of ink, Mark Lording. They have been incredibly popular, not only because they are locally designed, look awesome but because we are donating proceeds to our furry friends at Wildlife Victoria!
What's your biggest achievement to date with The Haus Of Health?
Sustaining a business whilst working full-time has most certainly got its challenges, however, seeing the business thrive on its own two legs within 12 months has been incredibly humbling and very exciting!
Having worked with some great names within the Health food industry has been an absolute honour, but for me, the greatest achievement, has been the ability to bring our family closer and work on something that we all enjoy doing!
Any new or exciting projects on the horizon?
We have been in the kitchen recently, experimenting with some epic ideas to create some more foodie delights based around my fave part of the day, breakfast time! We are bringing some classics back with a healthy twist, and we are so pumped!
What would your ultimate last supper be?
Does the last supper have breakfast menu until late?!
To discover more and connect with The Haus Of Health, click below:
Website:
www.thehausofhealth.com
Facebook:
www.facebook.com/thehausofhealth
Instagram:
www.instagram.com/thehausofhealth