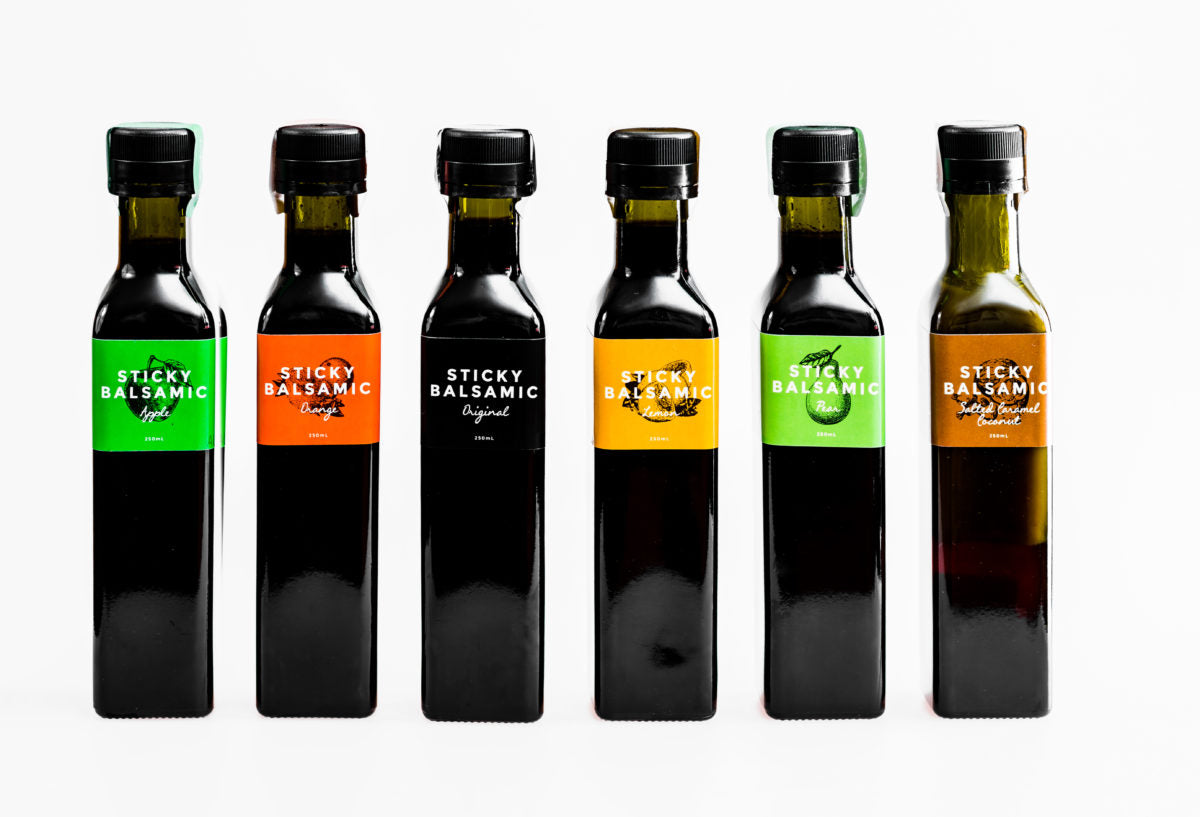 Meet The Locals - Sticky Balsamic
Sticky Balsamic is a handcrafted gourmet product, proudly made in Geelong.
The creator,
Lea, had a clear vision to provide people with an easy way to enhance the flavour of their food. With his partner Dee, they have created an award winning brand and highly desirable fruit infused balsamic product range.
In this interview Dee shares with us their simple yet beautiful food philosophy, why it's important to get up close & personal with customers and what their ultimate last supper would be...and we love it!
Sticky Balsamic 'Original Sticky' was featured in the June 17' Discovery Box.
What's your food philosophy?
The best food is that which is created from fresh, high quality, locally grown and produced food, and is made simply, to taste great!
Where and when did your story with making balsamic vinegars begin?
Sticky Balsamic was initially created when Lea had his restaurants and cafes. It started its second life about two years ago when we decided to create a high quality, pure Sticky Balsamic range for people to use at home to make their food taste better, in a simple way.
Besides the Original Sticky, you have a unique range of fruit infused balsamic's. What was the inspiration behind creating a range of flavours like these (Apple, Lemon, Orange, Fig & Quince)?
Sticky Balsamic Original is an excellent, versatile product. The other fruit varieties work well with specific types of food. For instance, Sticky Balsamic Apple works brilliantly with Pork and Turkey, where Sticky Balsamic Orange is excellent with game meats such as rabbit and duck. Sticky Balsamic Premium Fig is amazing with cheese, fruit and red meats. The limit to how you can use them is truly your imagination and we encourage people to be creative when thinking about how to use a delicious balsamic with their food.
You have a strong presence at food markets and events around Australia. How important is getting up close and personal with your customers?
Meeting and speaking with people is extremely important to Sticky Balsamic and feedback we have had is that our customers enjoy it too! Sharing a mutual love of Sticky Balsamic is wonderful and being able to share inspiration and ways to use it is fantastic. We have people telling us how delicious it is to use it as a cordial, with vodka cocktails, ice-cream and berries, as well as how much they enjoyed basting roasts and drizzling over veggies, with cheese and many other ways we just have not thought of!
What's your biggest achievement to date with Sticky Balsamic?
Winning the five medals at the 2016 Australian Food Awards, as well as winning the Royal Adelaide Show first prize (Fig) and winning the Most Outstanding Commercial Exhibitor in 2016.
As a small batch producer, what's the most rewarding and challenging parts of your job?
The most challenging and rewarding part of the job is developing a strong gourmet brand in the Australian market.
What would your ultimate last supper be?
Entree - Tempura zucchini flowers stuffed with eggplant and cumin, with Sticky Balsamic Premium Quince.
Main - Salad with toasted sourdough, roasted fig stuffed with Taleggio and wrapped with prosciutto, drizzled with Sticky Balsamic Original.
Dessert - Chocolate and duck liver pate with Sticky Balsamic Orange drizzled over it.
To discover more and connect with Sticky Balsamic click below:
Website: www.stickybalsamic.com.au
Instagram
:
www.instagram.com/stickybalsamic
Facebook:
www.facebook.com/stickybalsamic