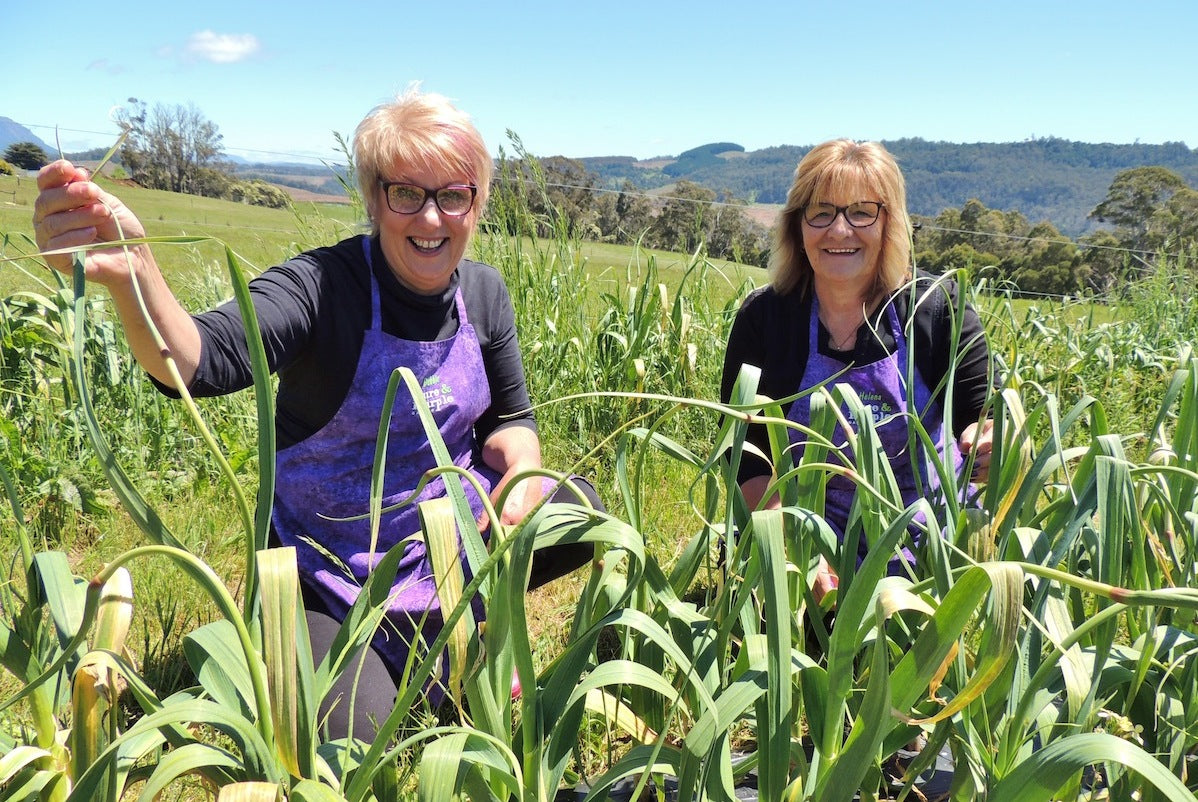 Meet The Locals - Pure & Purple
Instead of putting their feet up and enjoying retirement, sisters-in-law Debbie & Helena turned their love of garlic - growing it, cooking with it, and sharing results with their family and friends into a thriving business. Using the best quality ingredients that have been sustainably grown, they've created a unique and delicious range of dried garlic seasonings to help time poor cooks.
Pure and Purple's Orange & Fennel Mix is featured in the Feb/Mar 19 'Smokin' Sizzle'
Discovery Box
.
What's your food philosophy?
We are passionate about garlic and use the best quality ingredients, that have been sustainably grown, to make unique and delicious products. Our aim is to make it easy for time poor cooks to create new taste sensations and add a touch of gourmet to their meals.
What was your inspiration behind starting Pure and Purple?
Two retired sister-in-laws living on farms a kilometre apart decided to grow Tasmanian purple garlic to supply local greengrocers. After three years of growing and supplying fresh garlic, one of our crops was over-watered and when it was harvested it was unsuitable for sale as fresh produce. We needed to find a use for a mountain of garlic, so decided to dry it and sell it as sliced dried garlic to customers who want Australian garlic during the off-season, when fresh local garlic is not available. During the course of learning how to successfully dry garlic we discovered other local products, such as the Tasmanian native pepper berries. From there Pure & Purple Garlic Original Mix was born and our other products came on line over the next six months.
Can you tell us a little about the region you farm in and how it influences your product and flavours?
Our farms are in north-western Tasmania where the red basalt soils, pure air and cool climate are ideal for growing purple garlic.
As a small batch producer, what's the most challenging aspect to your job?
All our products are hand-made which is extremely time consuming - it is a real challenge for our small team during the hands on production stage and there are never enough hours in the day.
And the most rewarding?
Meeting our clients at food events, watching their faces when they first smell our products and meeting them again when they return to future events to tell us how much they love our product and they become loyal repeat customers.
Image: Meander Valley Gazette
If we looked inside your fridge what would we find?
At the moment, because we are working around the clock peeling garlic, our fridges are practically empty!
What's your favourite season for food and why?
Summer because we like fresh summer fruits and vegetables.
What is one thing you couldn't work without?
Family and friends.
What are your BIG goals for 2019?
We are developing some new products, including an Italian mix and a more intense Chilli mix for those who like a hotter chilli hit.
If you weren't a food producer, what would you be doing?
Relaxing and enjoying retirement.
What advice would you give to someone whose considering launching their own food business?
If you are passionate about your product go for it!
If you could have any celebrity /renowned chef cook you dinner, who would it be?
Matthew Evans (The Gourmet Farmer) because we follow his paddock to plate aspirations and he has done so much to promote small scale Tasmanian farm producers and their food products.
What would your ultimate BBQ feast be?
All of our Pure & Purple Garlic mixes are ideal for BBQ cooking, from marinades, seasoning your favourite meat before grilling, on BBQ vegetables and in your salad dressings. Spruce up a steak with a drizzle of olive oil, a good grind of any of our wonderful mixes and grill on the BBQ. The Orange and Fennel Mix makes a great marinade for pork cutlets with some virgin olive oil. The possibilities are only limited by your imagination!
To discover more and connect with Pure & Purple click below:
Website: www.pureandpurplegarlic.bigcartel.com
Facebook: www.facebook.com/pureandpurple