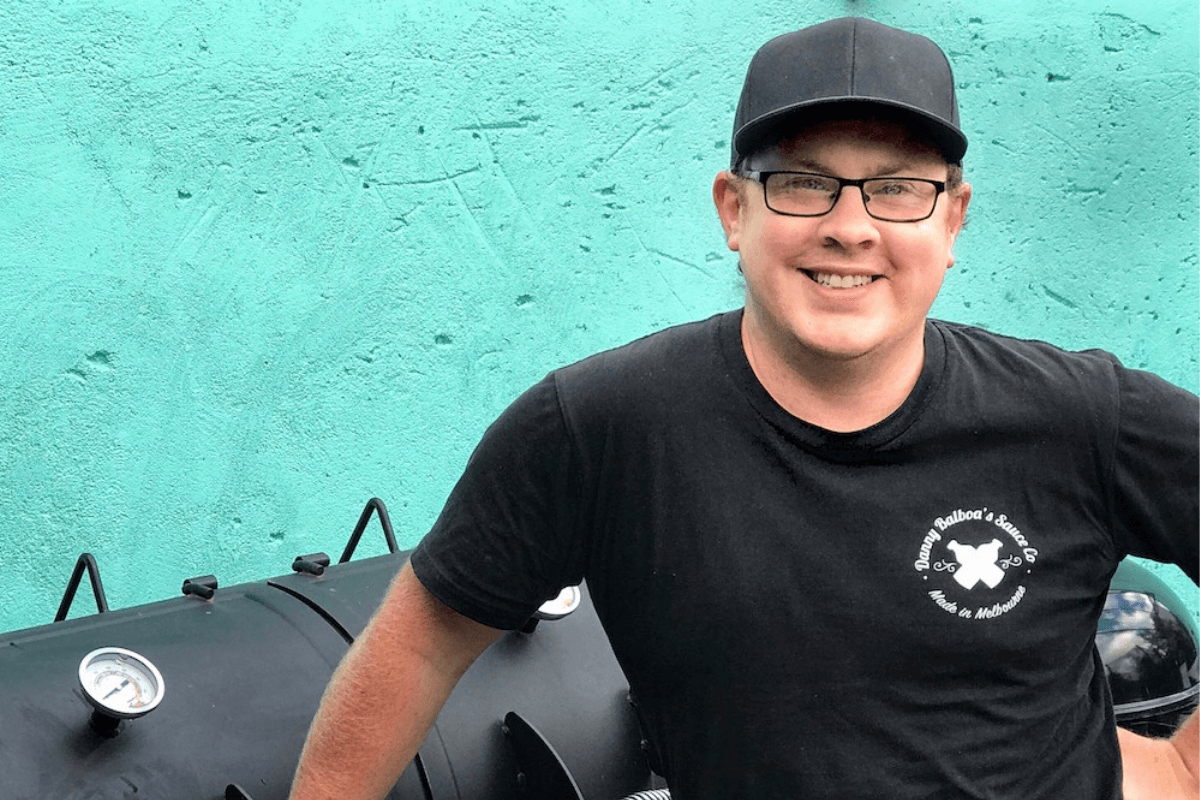 Meet The Locals - Danny Balboas Sauce Co
Born from one man's love of BBQ, action movies and good old fashioned friendship is Danny Balboa's Sauce Co. Danny Verbi is a multi award winning pit master who is continuously experimenting with new flavours and techniques to create a unique and versatile range of BBQ products.
Danny Balboa's Fight Sauce is featured in the Feb/Mar 19 'Smokin' Sizzle'
Discovery Box
.
What's your food philosophy?
Start with the best quality ingredients and don't mess with them too much. You don't need to complicate things to make great food. Good techniques, flavours and produce speak for themselves.
Food for me it's about family and bringing people together, it's about lighting a fire and smashing beers with mates.
What was your inspiration behind starting Danny Balboa's Sauce Co (and its name)?
For most of my adult life I have been a musician, I wrote electronic music and was flown around the country to play at festivals and clubs. After having my first child I realised that my career was not sustainable, the late/odd hour, the environments I was in and the instability of it all just didn't work with my family so I started looking for something new.
Your average 9-5 has never worked for me and I'd always had a passion for food so I started exploring this. I dabbled in the world of competition BBQ and started working in BBQ restaurants and spending all my waking hours researching and refining recipes and cooking methods. When you have a new baby you spend a lot of time too scared to move and wake them which translates into LOTS of time for research. We did well in the comps and the recipes I developed for them were the starting point for Danny Balboa's. This was meant to be my thing, we thought just a little side project, but the immediate response was so positive that we quickly realised it was going to be much bigger than that.
The name was originally given to me by mates as a bit of a joke due to my love of Sylvester Stallone. Rocky is a bloody great movie. As a side note there may be a few Danny Balboa tracks floating around the internet.
We hear you're a multi award winning pit master. Can you tell us more about this!
In my brief foray into competition BBQ my team walked away with a win at every comp which is pretty sweet. Our team 'Meat Friends BBQ' also won 1st place brisket at the Melbourne BBQ Festival one of the most prestigious awards to win. Then I retired swiftly before our championship reign ended! I pop my toe back in every once in a while, most recently at a little day comp where i placed for my take on a Bloody Mary, it involved a whole deep fried spatchcock.
As a small batch producer, what's the most challenging aspect to your job?
Everything! (Hahahaha) Working around a small family can be challenging, knowing what to do next, confidence in making the right choices at the right time. We've got fantastic products, great flavours and the business grows organically to a point, but my background was music, my partners was education and we're figuring it out as we go. It's a steep learning curve.
And the most rewarding?
Having the opportunity to work around my family, having the flexibility to spend time with my children. Turning my passion into an actual business that supports my family and that we all have a part in is huge. Also having the space to be creative, being able to challenge myself with new flavours and combinations in a market that is already so diverse is exciting, it means I never get bored with it.
If we looked inside your fridge what would we find?
So many sauces!!!! Lots of fresh fruit and veg, random pickle experiments and beer.
What's your favourite season for food and why?
Spring for sure! Summer is like the drunk guy at your party who's fun for a bit but then you just want to leave, Spring's the guy with the jokes who you never want to go.
Spring is perfect for BBQ and the availability of fresh, local produce for us is essential.
What is one thing you couldn't work without?
Fire. Cooking on the BBQ or Smoker is how I unwind. When business is stressful cooking relaxes me.
Also my partner, while I'm the creative force at Danny Balboa's she's the everything else. I come up with the recipes and ideas and she's the one that actually makes them happen. Her practicality is the balance to my chaos, we make a good team.
Sorry that's two.
What are your BIG goals for 2019?
To release the rest of our range. We've got another 6 sauces and a few more rubs ready to go this year.
If you weren't a food producer, what would you be doing?
Stunt Man!
What advice would you give to someone whose considering launching their own food business?
Talk to someone in your industry, pick their brain a little. There are a lot of little decisions that need to be made at the start that seem so huge when you're new to the game, if you can find someone to bounce some ideas off that knows what they're doing, it can save you a lot of time and wasted energy
If you could have any celebrity /renowned chef cook you dinner, who would it be?
I love Adrian Richardson, we have similar philosophies around food as far as highlighting secondary cuts and using technique to bring out the best in them.
What would your ultimate BBQ feast be?
Do I have to choose one? Duck is right up there, lamb shanks, beef cheeks, there are too many good options. The variety of things you can cook beautifully with fire is limitless, don't make me choose.
To discover more and connect with Danny Balboa's Sauce Co click below:
Website: www.dannybalboa.co
Instagram: www.instagram.com/danny_balboas_sauce_co
Facebook: www.facebook.com/dannybalboasauces