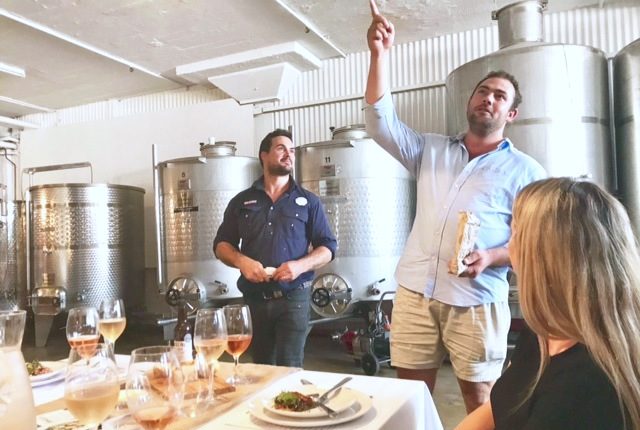 Meet The Locals - Prickle Hill Produce
Roy and Judy Duffell are the proud owners of 'Prickle Hill'. The 40ha property is primarily a sugar plum farm that produces & sells dried sugar plums, dried red dates as well as the unique 'Roysboys' Worcestershire Sauce.
Roy's son James, fourth generation grower, has returned to the farm sharing the same commitment to organic and natural farming practices, and above all, quality.
In this interview James shares with us his food philosophy, the interesting history of the Riverina region and his Aussie inspired ultimate last supper + more.
Prickle Hill Produce 'Royboys Worcester Sauce' was featured in the Oct-Nov 17'
Discovery Box
. (limited boxes left).
James sharing stories from the farm at our recent event at the Urban Winery Sydney.
What's your food philosophy?
Eat fresh, eat local, eat seasonally, eat with friends and family.
Prickle Hill has a rich family history, can you tell us a little about its beginnings and what inspired you to take part in the family business.
My great grandfather started farming in the Riverina nearly 100 yrs ago, producing amazing stone fruit. I was inspired by my family and all there hard work over the years and I wanted to show case it direct to customers.
Tell us a little more about the region you farm in.
Our region was set up by soldier settlers after WW1, and they were given blocks of land in return for helping build an irrigation network throughout the area. 100 yrs later the area is now a huge food bowl of Australia growing everything from, grapes, citrus, stone fruit, grain, cotton, livestock and vegetables.
As a small batch producer, what's the most challenging aspect to your job?
Finding time to be all roles in the business. Farmer, cook, marketer, husband, father...
And the most rewarding?
Exceeding our customer needs and wants. Receiving great reviews
If we looked inside your fridge what would we find?
What wouldn't you find.
James and his Father Roy
What's one thing you couldn't work without?
My Father.
If you weren't a farmer, what would you be?
A farmer's son.
Prickle Hill Produce is a regular fixture at many farmers' markets, how important is it for you to be face to face with your customers?
Extremely important. They are the reason we keep coming back. We also push ourselves to produce the freshest and best quality produce and products we can. #love our customers.
What would your ultimate last supper be?
Mum's Sunday roast. And maybe some crumbed cutlets.
To discover more and connect with Prickle Hill Produce click below:
Website:
www.pricklehillproduce.com.au
Instagram:
www.instagram.com/prickle_hill_produce
Facebook:
www.facebook.com/pricklehillproduce