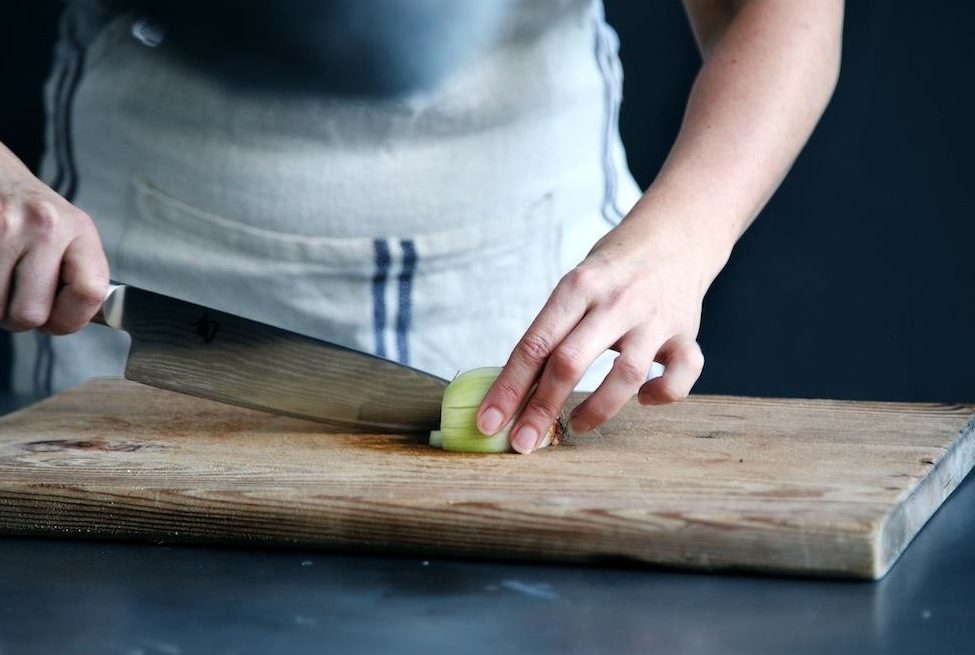 6 Kitchen Tools & Tricks
Want to maximise flavour and make better use of the food you cook with?
MasterChef finalist, Arum Nixon, shares with us some key tools and tricks of the trade to help you in the kitchen.
Check out Arum's 6 kitchen tools and tricks below and let us know in the comments section any others you have to share!
One // Always use sharp knives
. This really does make a difference - having at least one really sharp cooks knife to hand not only makes light work of prep, but it's also a lot safer too. Believe it or not, you're actually less likely to cut yourself with a sharp knife as you're more in control. A good quality knife is a great investment for anyone who loves cooking.
Two // Salt is your friend.
It's amazing how much of a difference properly seasoning a dish makes - a pinch of salt can transform how a dish tastes, from bland to delicious. Always have salt to hand when you're cooking. And don't forget the salt in sweets, they still often need a tiny pinch of salt to maximise the flavour too.
Three // Acid is also your friend
. Second to salt when seasoning, a bit of acidity can really lift a dish, and we don't often think of it. If a sauce is tasting a bit flat, try adding a tiny dash of lemon juice, vinegar or verjus.
Four // One ingredient, many uses.
Think of all the things you can do with just one ingredient to make your meals interesting and varied. For example, the cauliflower in my salad recipe - you can roast it, pickle it, puree it, make cauliflower 'rice' by blitzing it, steam it, use the leaves, stalk and florets... there's just so much you can do with just one vegetable! Check out our Roasted Cauliflower and Spiced Lentil recipe
Five // Make stock from leftovers.
Leftovers from a roast are great for making a simple stock that you can use for soups, sauces and so on. Just cover the bones (such as a chicken carcass with the meat stripped off) with cold water, bring to a simmer, leave to cook for a couple of hours and strain off the liquid. Adding some sliced onion and carrot, plus maybe some herb stalks if you have them, will increase the flavour. And if you don't need it straight away, just freeze it for later!
Six // Buy the best you can.
No matter how good a chef you are, the food you cook will only be as good as the ingredients you use. I would rather use a lesser cut of meat from a great quality butcher, than buy a premium cut cheaply from a supermarket. Get to know your local butcher, fishmonger and vegetable store. Or even better, get to know the suppliers themselves at farmers markets.
"No one is born a great cook, one learns by doing"

Julia Child