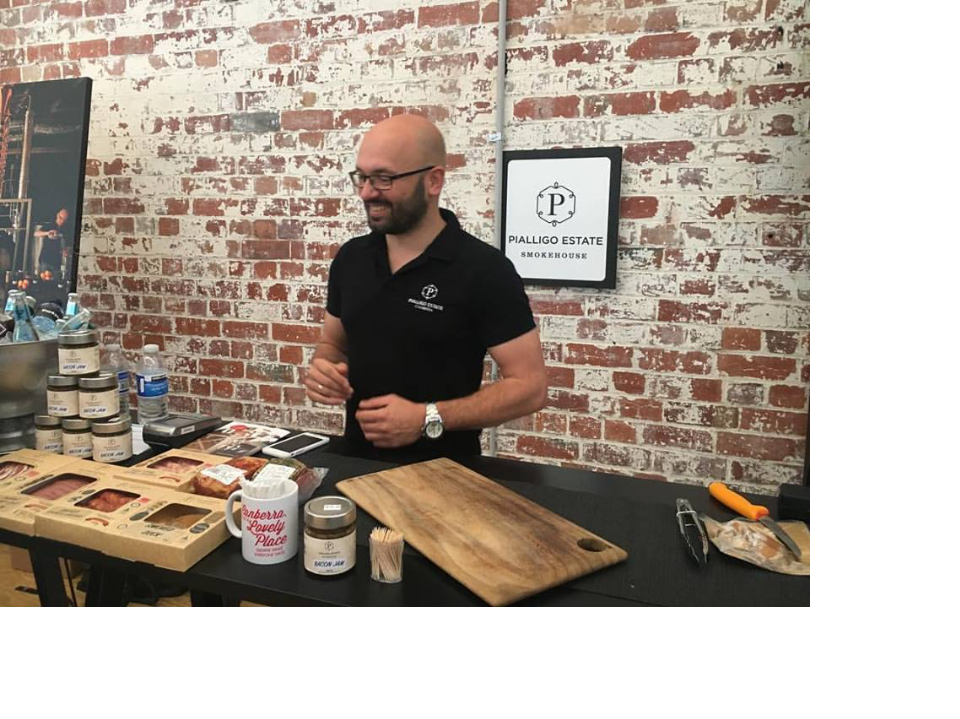 Meet The Locals - Pialligo Estate Smokehouse
The story of Pialligo Estate Smokehouse is one of a challenge that well and truly paid off. This now award-winning artisan smokehouse creates naturally smoked products (like bacon, smoked salmon, sausages etc) that showcase the best of the Canberra region. A subtle smokey aroma, well balanced flavour, delicate texture and minimal wastage are the hallmarks of their products.
Smokehouse manager, Aleksander Petryk, shares with us the unique history of the estate, how the idea of the smokehouse came about, what his ultimate supper what be and which celebrity chef he'd love to have dinner with plus more.
The Pialligo Estate 'Bacon Jam' is featured in the Aug/Sep 19 'City Slickers'
Discovery Box

What's your food philosophy?
Know what you eat. Nowadays there is so much confusion about food production, what's in it and where it comes from, which keeps consumers in the dark.
Our goal in everything we do is to create amazing food using local produce, ingredients and create true 100% Australian products.
Pialligo Estate has a rich and interesting past. Can you share with us a little about its beginnings and how you got involved?
It started with a vision of a place embracing paddock to plate philosophy with exceptional food and wine. The Estate is set on the banks of the Molonglo River in Canberra where fresh produce has been grown since 1830. Just a few minutes away from Canberra Airport, we have created a place where you can dine amongst the vines, fruit and olive trees. Taste a wide selection of small goods from the Smokehouse complemented by fresh produce from our garden and enjoy the views of Capital Hill. The Pialligo Estate project was started in 2012 so we are still a very young business and we have big plans and ambitions! So watch this space. I joined the team back in 2014 to help establish the Smokehouse into the market. Back then there was nothing much here apart from a building site, but they sold me on the vision!! I had to be part of this project. I have years of experience in quality management in manufacturing and I had been working for a large smoked salmon producer in Ireland. So my skill set fitted nicely to the small team back then. Nowadays there are over 150 employees working at the Estate.
How did the concept of the Smokehouse come about? Where did you learn the craft of curing fish and meat, in particular the cold smoking process?
Well, believe it or not, the smokehouse was the result of a bet or a challenge you might say. It was never an intention to have a manufacturing business on this property but back then our General Manager saw a huge opportunity. Being from Ireland, Charlie was not impressed with the quality of small goods offered in Australia, so he pitched his idea to the owners and to convince them he had to prove that he could do better. The litmus test for this challenge was Sydney Royal Fine Food Awards in 2013. Condition: Product needs to come back with any medal or recognition. Smoked Salmon was sent away and when the results came back, it was apparent that Charlie was onto something. The Smoked Salmon didn't just get any medals, it scored the Gold Medal and Champions Medal for best Salmon product of the show!! Ever since then it has been 4 times Champions Medalist and 6 times Gold Medalist of that show. I call that an impressive way to prove your concept?
I'm polish and smoking and curing runs in our blood I guess, think Polish Sausages! But I didn't follow that path in my home country, even though my Auntie has a smokehouse!
My career started in Ireland where I've truly learned about smoking and curing. I've been lucky to have had great mentors that taught me everything about it. I guess the key is to keep the mind open and know that there is always something to learn. Nowadays I'm learning from our Italian butcher! :)
Cold smoking is quite tricky and is not that popular in Australia, but I guess that's what sets us apart. It requires a lot of patience and perfect conditions. Not too hot, not too humid. Canberra just fits the bill perfectly!
As a small batch producer, what's the most challenging part of your job?
I guess logistics in Australia. I'd love to deliver my goods anywhere in Australia but it has proven to be difficult and very costly. (FYI most of their products are chilled). Lack of options. Major cities are easier but anywhere just ouside the city is a problem.
And the most rewarding?
When you see the facial expressions of our customers when they taste your products for the first time. and then come back for more, and more and more, and more.
If we looked inside your fridge what would we find?
well.. let's see... here we go:
2 packs of streaky bacon.
tray of eggs, that's a must! bacon and eggs every day!
huge tub of spinach
big container of cheese - anything from smoked Tasmanian cheddar to french blue - a lot of cheese
2 or 3 bottles of Swedish Kefir! - yep that stuff from Woolies or Aldi
eggs, did I mention the eggs?
some vegetables smuggled into the fridge by dearly beloved wife
1 or 2 pieces of cured meat aging at the back of the fridge - my homemade trials :) different styles of lonza, coppa or pancetta.
bottle or two of nice wine, riesling or chardonnay.
big tray of ricotta, sometimes smoked - this with our smoked salmon and capers!!
eggs? more eggs? I need to buy eggs.
What's your favourite season for food and why?
All year around. Coming from Europe where you have 4 seasons you embrace every season and what it brings! Love the change of the menu every 3 months :)
What is one thing you couldn't work without?
Knife ... and bit of salt
If you weren't a food producer, what would you be doing?
hmmm, probably embracing my inner geek building websites or picking bananas in northern queensland
If you could have any celebrity/renowned chef cook you dinner, who would it be & why?
Francis Mallmann- I love Argentinian asado and he is the god!
What are your BIG goals for 2019?
Ok, let's see. Move to bigger premises. Make our products available to our fans in Melbourne, Brisbane, Perth and Darwin. Expand our international customer base, Singapore, Hong Kong and maybe middle east. Come up with few new products. Introduce our low fat, low salt bacon to school canteens nationwide.
What advice would you give to someone whose considering launching their own food business?
Never ever compromise on quality!
You might squeeze better margin short term but you loose product integrity in the long term.
What would your ultimate last supper be?

Polish Pierogi, stuffed with sauerkraut and porcini mushrooms. fried with onions and pialligo bacon then I can rest in peace.
To discover more and connect with Pialligo Estate click below:
Website: www.thepialligoestate.com.au
Instagram: www.instagram.com/PialligoEstate
Facebook: www.facebook.com/PialligoEstate