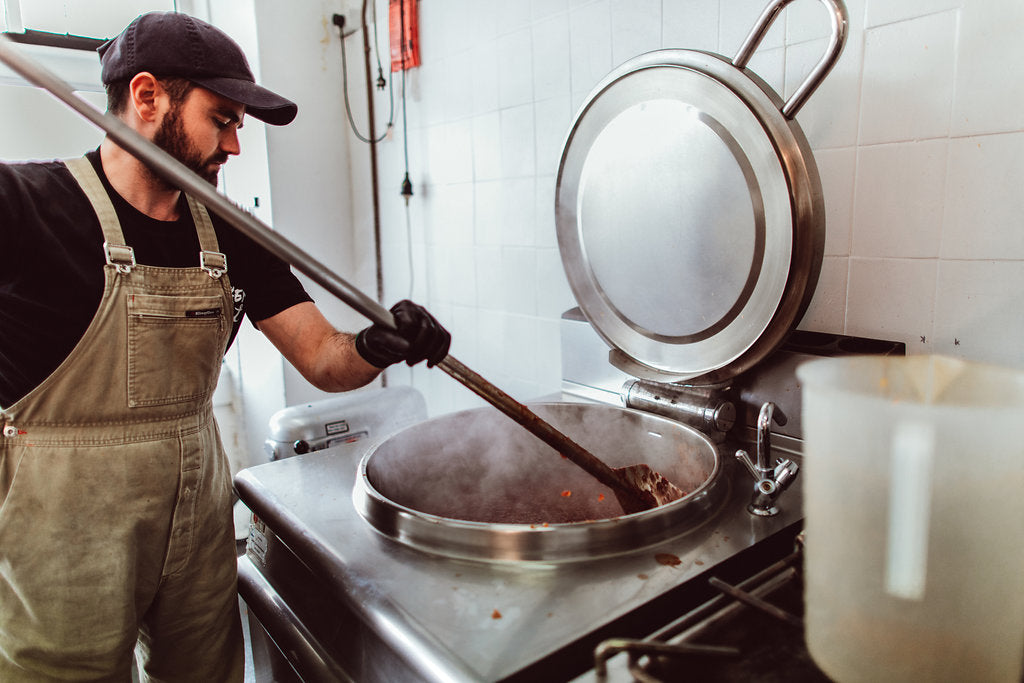 Meet The Locals - Drunken Sailor Jams
Drunken Sailor Jams was created over a couple of bottles of wine on a Winter's night in 2013.
A combination of flavour and fun, Drunken Sailor Jams is about bringing a bit of humour to the table. After months of experimenting with flavours, founder Justin released the first six jams in the range. Based in Sydney's Inner West, each of the now 18 varieties of jams, relishes & chutneys are made in small batches using high quality ingredients (think Beetroot & Gin, Jalapeno & Tequila) to ensure perfection is achieved.
Drunken Sailor 'Pineapple, Rum & Coconut' Jam is featured in the Aug/Sep 19 'City Slickers'
Discovery Box
What's your food philosophy?
Food is all about getting together with friends and family and enjoying an experience together, sharing your love of food and telling a good yarn. Breaking bread is one of the oldest forms of celebrating or commiserating by bringing people together around a table.
What was the inspiration behind starting Drunken Sailor Jams and its name?
I wanted to bring a bit of cheeky fun to the table, start a conversation and most importantly mouth-watering flavours. One night after a few wines with friends I decided that this is what I wanted to do. The next morning after the hangover had passed "Drunken Sailor Jams" popped into my head and I went about learning to make preserves and then experimenting with different flavour combinations.
You must have a lot of fun inventing new flavours! What process do you go through when creating a new product?
All my flavours are based on what I enjoy eating. I think of a simple base flavour and then i go about adding ingredients to it until it has the right balance. Some come easily and only take a couple of weeks to get right, but my smokey tomato relish took a whole year until I was happy with it. Luckily I have friends that are brutally honest so I know I'm onto a good thing when they are fighting over that last spoonful.
As a small batch producer, what's the most challenging part of your job?
When I first started Drunken Sailor Jams as a part time side gig, the dream was always to make it my full time job. Taking that leap was the scariest/most rewarding moment of my life. Now 2 years full time I'm still learning so much everyday. You can't have all the amazing equipment you see that the bigger companies have and we just have to make do with what we have. It's always very exciting to get a big new shiny toy to play with.
And the most rewarding?
Whenever I get to connect with a customer and hear their amazing feedback, and thinking to myself "I bloody made that!" it's something so simple but I get a kick out of it every single time. I love hearing how people use my products and occasionally someone surprises me with a pairing I had never thought of.
If we looked inside your fridge what would we find?
About 15 jars of half full Drunken Sailor jars. Mostly new flavours I'm experimenting with. And a bottle of nice French rosé.
What's your favourite season for food and why?
This is a hard one. I love winter because of the slow cooked comfort food. Spring and Summer because I love cooking feasts outdoors over fire with beer in hand. And Autumn is great for foraging wild pine mushrooms.
What is one thing you couldn't work without?
Good speakers! Gotta have good music turned up to 11. Cooking in silence is a big no no.
If you weren't a food producer, what would you be doing?
I love music and I studied event management. When I was younger it was my dream to work at the big music festivals.
If you could have any celebrity/renowned chef cook you dinner, who would it be & why?
Josh Niland from Saint Peter & The Fish Butchery absolutely killing it at the moment.
What are your BIG goals for 2019?
I am currently looking at a larger space with better access. I would love to have a great team working with me so I have more time to go out and spread the word and meet the growers that supply me around the country.
What advice would you give to someone whose considering launching their own food business?
Ask questions and do your research. Don't be afraid to reach out to someone established in the industry and ask questions. We all know how hard it is at the start and are more than happy to help.
What would your ultimate last supper be?
Being surrounded but family, friends and good wine is the most important thing. Then you need big share plates in the middle of the table where everyone is climbing over each other to get their piece. Think wood fired meat and veggies, seafood and pasta.
To discover more and connect with Drunken Sailor Jams click below:
Website: www.drunkensailorjams.com
Instagram: www.instagram.com/drunkensailorjams
Facebook: www.facebook.com/drunkensailorjams