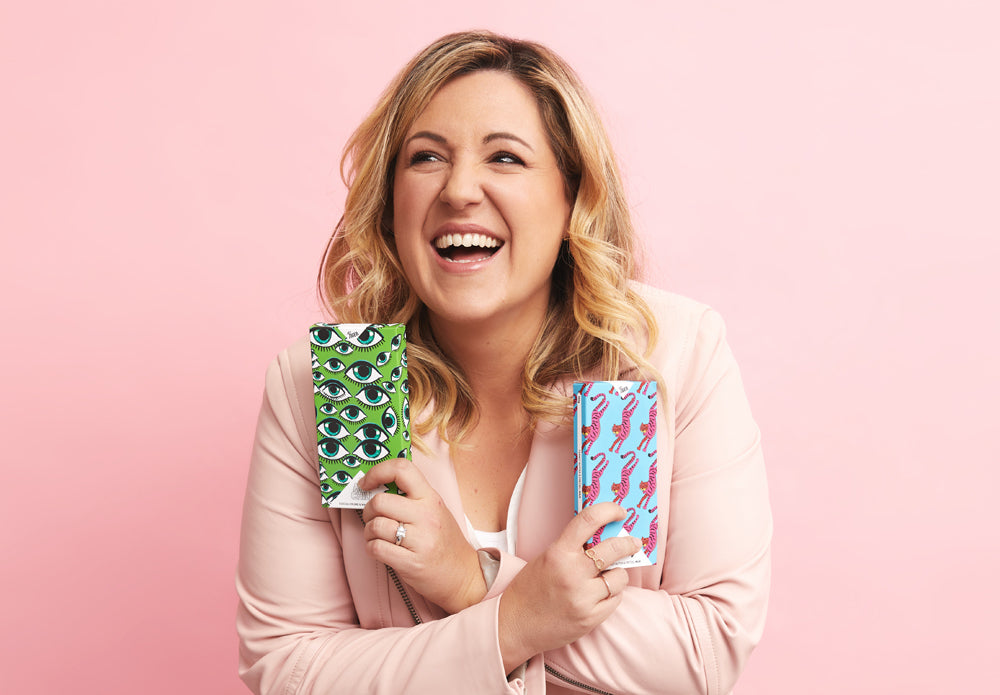 Meet The Locals - Cyan Ta'eed from Hey Tiger!
Foodies Collective Store Admin
Hey Tiger! is all about surprising flavours that knock you off your seat….they're also a social enterprise :)
Founded by Cyan Ta'eed, a hugely successful serial entrepreneur who also sits at the top of Australia's richest woman under 40 list, Hey Tiger! partners with not-for-profits like amazing The Hunger Project Australia to fund development projects in cocoa farming communities in West Africa. All their chocolate is ethically sourced and made in the heart of Melbourne.
Hey Tiger! was featured in the Aug/Sep 19 'City Slickers' Discovery Box
What's your food philosophy?
My background is French and Greek, so there has always been an emphasis on high quality, delicious food. My grandfather, in Paris, used to go all the way across town to get the best of any ingredient. There would be excursions to get a certain type of chicken from a particular farmer, or to go to a specific chocolatier that might take an hour to get to. And these shopping experiences formed a sort of a pilgrimage. I believe I've carried that philosophy through into my own journey. I love food, and find it to be a very celebratory and experiential part of life that I can enjoy with friends and family.
What was the inspiration behind starting Hey Tiger! and creating it as a social enterprise?
My background is in technology, which is about as different as it gets to Hey Tiger! After working in the tech industry for so many years, I wanted to do something that was about a pure experience. And I think in terms of food, chocolate is about as experiential as you get. It creates such a deep, evocative reaction in people. I also have very strong philosophies around businesses truly doing good in the world, and a social enterprise is the logical conclusion to that philosophy. I wanted to create a business that was really about positive impact at its heart.
Hey Tiger! is the first physical product you've created. How different was this experience versus your tech companies Envato and Milkshake.app?
Creating a physical product is very different, in that it is much more of a gamble than a digital product. With a digital product, it's quite a lean operation in the sense that it can be put online, tested, and changed or updated fairly quickly and easily. With Hey Tiger, I needed to commit to packaging, a production space and other important factors, before we'd even launched - which felt like an incredible gamble. I'm very grateful that people have such a love for Hey Tiger and that it's taken off the way it has.
As mum to two boys, wife and founder of two other tech companies, how do you manage your time & structure your day?
That varies a great deal day-to-day. However, on a standard day; I drop my kids off at school, do some sort of physical activity, (usually the gym), and then go into one of the two offices (Hey Tiger or Envato). That makes my day sound a lot simpler than it actually is but I try to manage my time as effectively as possible. It's important that I am present in order to provide the most value to my team.
What do you love to do when you have some free time?
I really love being with my family. I have two small boys (and two young dogs) so it makes for an energetic environment. Our favourite activity, of late, is making a fire in the backyard and cooking something with the kids, directly on the fire. It's very experiential and fun for small children.
What is one thing you couldn't work without?
A notebook and pen. I find I'm a lot more productive and organic with a pen and paper in front of me so I can scribble and take notes. I also now know, I need space and time in order to work effectively, as opposed to running around and being involved with everything.
Out of all the Hey Tiger! flavours, which is your all time fave?
My all-time favourite Hey Tiger! bar is Be Mine; which is a raspberry and brownie milk chocolate combination. It's quite a rich milk chocolate and our patisserie chefs make this incredible slightly bitter dark cocoa crumb which offsets the freeze dried raspberry and chocolate beautifully. I love all the bars in our range, but I can never go past that one.
What's the most challenging part of the Hey Tiger! business?
Right now it's scaling to meet demand, while continuing to do what differentiates us as a chocolate company. We constantly want to be producing new products, and be connected with our craft, as opposed to being a manufacturing company, (which can happen when growing quickly). On the other hand, we want to be impactful as a business and a social enterprise, so that does mean scaling. It's really about retaining our DNA as we scale.
And the most rewarding?
I'm lucky enough to work with an absolutely incredible team! Over the past year and a half we've all grown a huge amount. Whether I'm sitting down to try some amazing new chocolate that we've developed or looking at our newest campaign, I feel extremely proud and excited that I've been a part in bringing this into the world.
If we looked inside your fridge, what would we find?
I cook a lot! But right now, you'd find; almond crackers, cooked chicken (ready for sandwiches), home-made cashew cheese, fresh fruit and vegetables. You will also find some chocolate dipped nut-balls i've made, which are full of healthy ingredients that my family have taken to calling 'Tiger-Balls'.
What's your favourite season for food and why?
That is an almost impossible question to answer because I love them all equally. When I was young, my mother used to take me back to France every year in September to stay with my grandparents. My grandfather and grandmother would take me out to the forest and we'd pick blackberries and mushrooms. So while that isn't a particular season, that was a meaningful time in my life for discovering food and the beauty of fresh produce found in nature.
What advice would you give to someone who is considering launching their own food business?
I was fortunate enough that I had the resources to gather a team around me who were incredibly skilled at what they do. I was able to come up with concepts in my kitchen, have a play with flavours and then bring in the big guns who knew where to take it. Food is not for the faint of heart, but it is incredibly rewarding. So my advice would be to begin in your kitchen, test, play, sample, but also ensure you get some solid business advice because the stakes are high and investment is great, so it's really important to get it right.
What would your ultimate last supper be?
It would have to be a meal made by my beautiful mother. It would begin with her delicious signature guacamole (which thankfully she has passed the recipe down to me). Followed by fresh local prawns and lobster with her home-made mayonnaise. Main course would be roast duck with orange rice and plum sauce. And dessert, her frozen lemon tart. I have been having all these meals since I was a little kid and have always loved them! Now that we live in different cities, I don't get to eat them nearly as much as I would like. So if it were a last meal, it would have to be that, because there is very little that could be better!
To discover more and connect with Hey Tiger! click below:
Website: www.heytiger.com.au
Instagram: www.instagram.com/heytigerco
Facebook: www.facebook.com/heytigerco