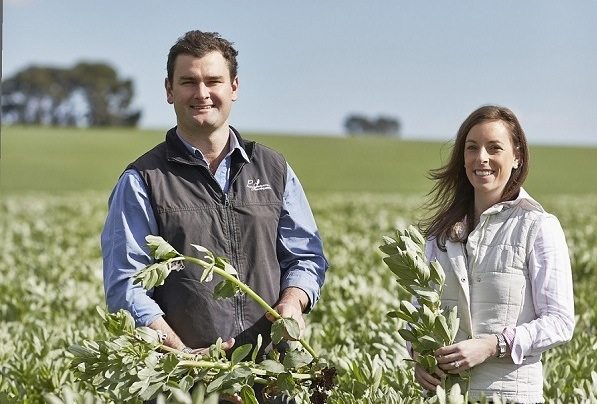 Meet The Locals - Pangkarra
Pangkarra is a proud family owned and operated business, based in the Clare Valley. For five generations, the Maitland family has produced quality cereals, legumes and now a selection of fine food products. Their products are made from grain and legumes grown on the farm, using sustainable farming methods incorporating organic fertilisers.
Their retorted chickpeas (featured inside the June 17' Discovery Box)
, won gold at the 2016 Australian Food Awards and awarded State Winner at the delicious. Produce Awards 2016.
In this interview, Katherine Maitland tells us a little more about the Clare Valley including key foodie hotspots to visit and what makes retorted chickpeas superior to canned.
What's your food philosophy?
We believe in quality, which starts at the farm and continues to the end product. From the best produce comes the best product.
Pangkarra foods has a beautiful, rich family history. Can you share a little more about its beginnings and what inspires your family to continue producing today?
Jim and Katherine Maitland are the fifth generation farming at the family farm, 25km north of Clare. Whilst the farm has been operating since 1866, Pangkarra Foods is a new business, starting in 2011.
For five generations, our family has produced quality cereals and legumes, as well as export hay.
Today, we also produce fine food products, including premium wholegrain dry pasta, flour and lavosh, as well as chickpeas and faba beans. Our products are made from grain and legumes grown on our farm, using sustainable farming methods incorporating organic fertilisers.
Can you tell us a little about the region you farm & produce in?
The farm, Anama Park, is located on the northern side of the picturesque Clare Valley. The region is renowned as a premium wine region, particularly Riesling, as well as productive agriculture and tourism.
The region is fast becoming an emerging food bowl, with bountiful lands of pastures, gum trees and fertile soil.
Can you tell us the difference between canned chickpeas, dried and your retorted chickpeas and what makes these so special?
Pangkarra Chickpeas are grown in the Mid North and Yorke Peninsula regions of South Australia. Farmers only employ sustainable farming practices and we ensure the very best chickpeas are selected for this unique product.
The chickpeas are soaked and cooked through a retort system (pressure cooking). This system is a completely natural and preservative free process that ensures the product remains pure and healthy but with a long, 18 month shelf life. Pangkarra Chickpeas are low in fat, low in GI, lactose free, high in fibre, high in protein and gluten free.
With a desirable crunch and delicious flavour that is much superior to canned chickpeas, Pangkarra Chickpeas are ready to eat and serve, making them an easy, quick meal option or snack food. Simply open, drain and serve. Just like you have cooked them yourself, but without all the time involved!! They are also perfect for hummus, salads, curries, soups and more.
In recent years, what's been your biggest achievement for Pangkarra?
We have been lucky to win a number of industry and product awards, including a gold medal at the Australian Food Awards and best new product at the 2016 South Australian Food Awards.
We also receive great satisfaction in seeing a product on the shelf, and to follow this product throughout the supply chain.
The Clare Valley is renowned as a foodies hotspot. What are the must dos for someone visiting for the first time?
There are some great eating destinations, including Skillogalee, Terroir Auburn and Seed Kitchen & Winebar. It's also a great place to throw a picnic rug and enjoy the scenery. Autumn is a particularly special time of year.
What would your ultimate last supper be?
Freshly caught fish from the Eyre Peninsula, freshly baked bread and Harris Smoked Salmon, or a slow cooked beef ragout with Pangkarra Wholegrain Fettuccine.
To discover more and connect with Pangkarra click below:
Website:
www.pangkarrafoods.com.au
Instagram
:
www.instagram.com/pangkarrafoods
Facebook:
www.facebook.com/pangkarrafoods