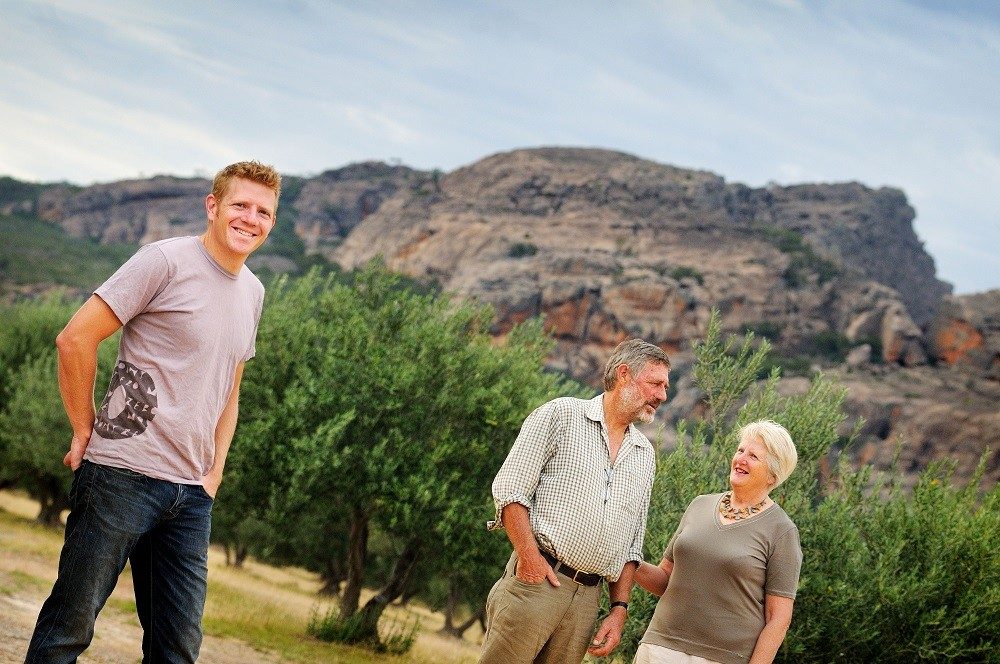 Meet The Locals - Mount Zero Olives
Mount Zero Olives is a family owned olive grove on the northern edge of the Grampians National Park in Victoria. The olive grove is Demeter certified bio-dynamic practicing a holistic and chemical free approach to growing.
In 2010, the family, Jane & Neil and son Richard, were inducted as "Melbourne Food & Wine Legends" for excellence in food production and the appreciation of, and engagement with, the best produce.
The Lime cold pressed olive oil (featured in the February Discovery Box) received a second successive gold medal at the 2016 Australian Olive Association EVOO awards.
Richard shares with us what it meant to be inducted, what makes the Mount Zero olive oils so special and his food philosophy which we love!
What's your food philosophy?
Food is my passion, business and past time and as such it is very important to me. For this reason I am certainly not an exclusionist - I am keen to try to taste & eat most things. However as a grower and producer, the quality & simplicity of ingredients is very important. By quality & simplicity I mean that I try to seek out the highest quality produce that I can and consume it simply - unprocessed, unrefined and as fresh as possible. While I eat meat and fish, it is not everyday, so when I do buy meat I can afford to spend a little more to ensure that it is sustainably grown or sourced and the best possible quality.
The Mount Zero Olive grove is a Biodynamic farm. Biodynamics was championed by Rudolf Steiner at the turn of the 20th century as a rejection of industrialised farming techniques. I guess my food philosophy is similar - I try to avoid processed & intensively grown & manufactured food.
Tell us a little about the region you farm in.
The Mount Zero Olive grove backs onto the Grampians National Park and sits on the edge of the Wimmera - Victoria's grain belt. Straddling both the mountains and plains, means that we have great small producers & wineries around the Grampians region, producing incredible wines, vegetables, lamb, while the Wimmera provides a bounty of lentils, chickpeas, spelt and traditional grains.
What does an average work day look like for you?
The Mount Zero Olive grove is farmed and managed by my parents Jane & Neil. My days are split between Mount Zero and our Melbourne production and distribution warehouse. So on any given day I can be; supervising the production of falafel or dukkah, meeting with some of our key restaurant customers or up at the farm for harvest, pruning or promotional times.
What makes Mount Zero olive oils so special?
Extra Virgin Olive Oil is essentially a fruit juice; it is simply fresh olives, picked and pressed as carefully as possible to produce an oil that is rich in flavour, aroma and nutrients. This careful handling and pressing can be chemically measured (acidity below 0.8% and other key measures), however a consumer can just as quickly tell by the freshness of the taste and aroma.
I think the quality of Mount Zero extra virgin olive oil is a reflection of the variety and quality of fruit (different olive varieties provide very different flavour profiles), careful pressing and handling of the fruit and resultant oil. Our lemon, lime and mandarin oils are created with the same quality and simplicity principle in mind - simply high quality whole citrus fruits are pressed at the same time as our olives to produce a natural citrus oil.
In 2010, you (the family) were inducted as "Melbourne Food & Wine Legends". What does this mean to you and can you share a little more about this official recognition with us?
Wow, being inducted as Melbourne Food and Wine Legends, was an incredible recognition of the passion that my parents have put into farming and supplying the retail & hospitality industry in Victoria. This recognition came at a time when we had struggled through some tough season (droughts) and was vindication for staying the course and remains inspiration to stick to our core values of quality, sustainability and regionalism.
Mount Zero is a diverse and innovative company, can you share with us what's next on the agenda?
We are working on a few things. We are trying to stay true to our core range of local products; olive oil, olives, pulses & grain & salt only this time doing some value adds, which combine many of these products - stay tuned.
To discover more and connect with Mount Zero click below:
Website:
www.mountzeroolives.com
Facebook:
www.facebook.com/mountzeroolives
Instagram
:
www.instagram.com/mountzeroolives