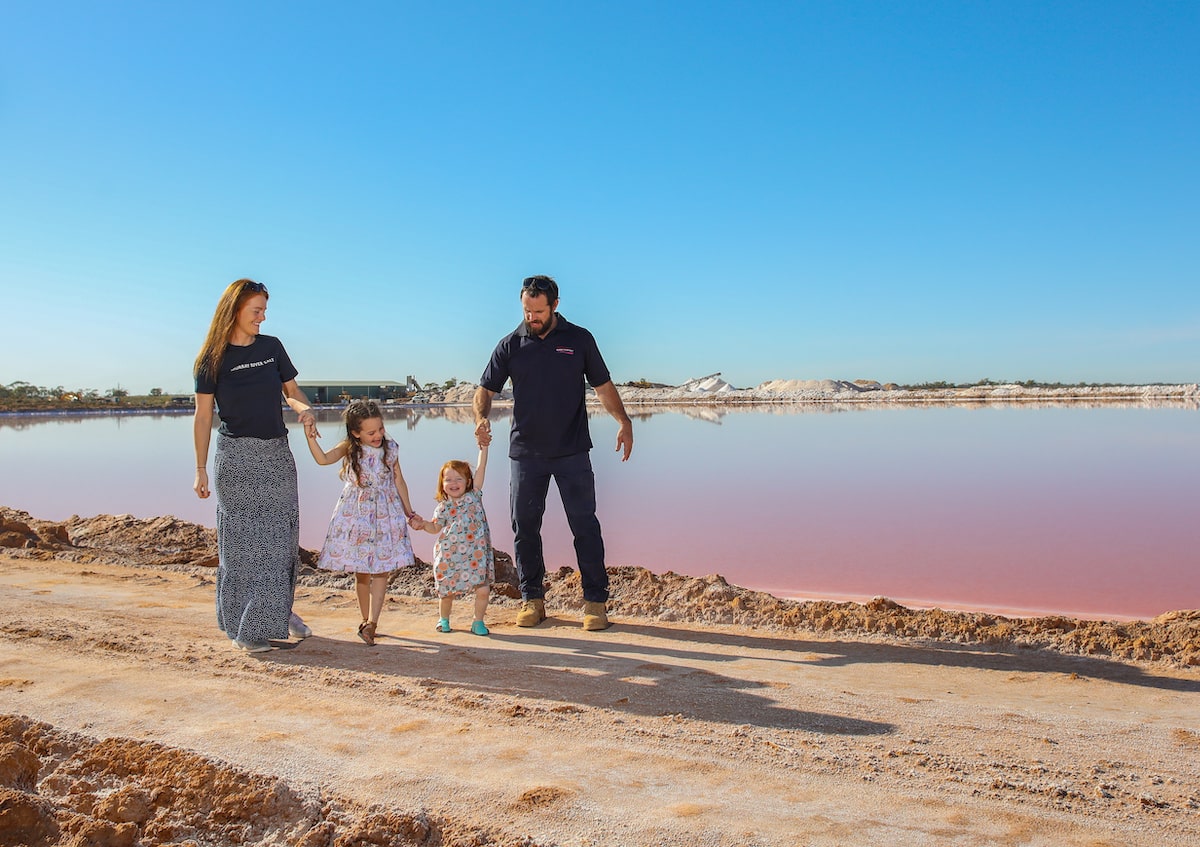 Meet The Locals - Murray River Salt
From humble beginnings big things grow, and so Murray River Salt ™ began producing Australia's only naturally Pink Salt flakes. Founded in 1983 by Duncan and Jan Thomson, to this day Murray River Salt is still a family run affair.
The family work closely with government authorities to access the brine from the Mourquong Salt Mitigation Basin which is part of the Salt Interception Scheme. By harvesting the salt at the Mourquong mitigation site, they are assisting in preventing 200 tonnes per day of saline water from entering the Murray River!
In this interview Ailsa, daughter of Duncan & Jan Thomson, (and whose husband is now the general manager) shares with us which chef she'd love to have cook her dinner, what she can't work without and what she'd be doing if she wasn't a food producer. 

>> Murray River Salt Pink Salt Flakes is featured in the Autumn 2021  Discovery Box (final boxes selling now!)
What's your food philosophy?
Select good quality ingredients.  Shop at your local farmers markets, butchers and cook from scratch so you know exactly what ingredients are on your plate.
What was your family's inspiration for starting Murray River Salt?
Our family has been in the salt industry since 1983 focusing on industrial salt.  After receiving requests for a good quality Australian Flake salt, we then expanded our business to include Pink Flake salt.  There was an opening in the market, being Australia's only pink salt flake producers has been an amazing achievement.
As a small batch producer,  what's the most challenging part of your job?
Salt presents many challenges from the packaging it is stored in, to maintaining the upkeep of our equipment.  The work load is over and above to keep our plant and machinery maintenance up to scratch and prevent rusting.  As our salt baths are unique we are building everything from scratch and trialling new improved work methods all the time.  We also find that we have to be very careful with the packaging we choose.  We are working towards sustainable packaging, but our salt can not have moisture so at the moment I am conducting trials to find something suitable.  
And the most rewarding?
Our family never imagined that our product would be sold worldwide.  It is an amazing feeling to see your product on the top cooking television shows and to be requested by Michelin star chefs around the world.
If we looked inside your fridge, what would we find?
Avocado's, a pinch of Murray River Salt on smashed avocado is the best!
What do you love most about Autumn and why?
The seasonal fruits and vegetables are changing, there are new surprises in the local produce boxes.
What is one thing you couldn't work without?
Murray River Salt has the most amazing team members who are just as passionate about our product as we are.  I would not get through my week without them!
If you weren't a food producer, what would you be doing?
Honestly, I would be a stay-at-home mum to my two beautiful girls.
What advice would you give to someone who is considering launching their own food business?
Running your own business is never a 9am to 5pm job, it is 24/7.  Make sure you have a healthy balance of work and home life.
If you could have any celebrity/renowned chef cook you dinner, who would it be & why?
Wow, so many amazing Chef's how can I only choose one?  We have been fortunate enough to meet some of the best Chef's Australia has to offer.  The one that does stand out is Miguel Maestre, when he visited our site he was loud, funny and very down to earth.  He dished up the most amazing salt crusted cod which I would love to have him back again.
What would your ultimate last supper be?
I love nothing more than trying a little bit of everything.  A tapas table for all to share!
To discover more and connect with Murray River Salt click below:
Website: www.murrayriversalt.com.au
Insta: www.instagram.com/murrayriversalt
Facebook: www.facebook.com/murrayriversalt.com.au