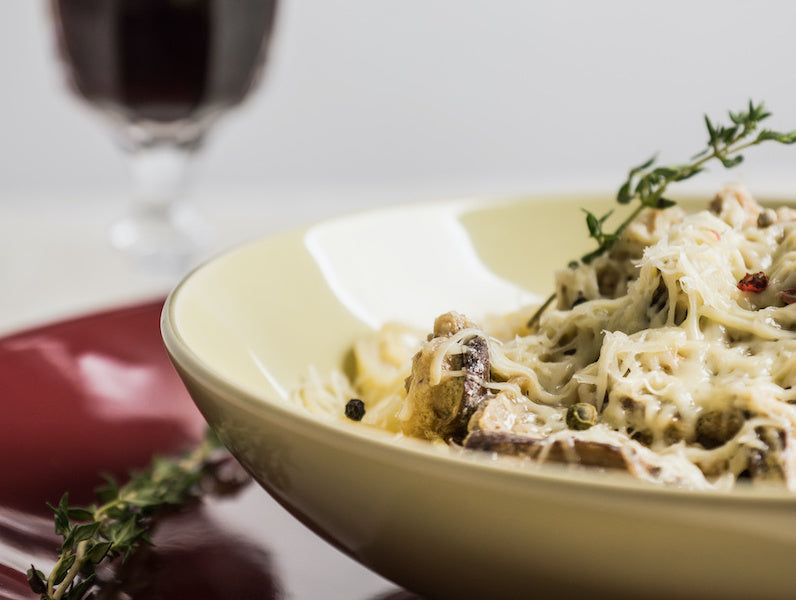 Autumn Mushroom Trotolle Pasta
A flavour packed Autumn inspired pasta dish which you'll have on the table in less than 20mins.
>>Quick side note: If you're new around here, a huge HELLO to you! Our mission is to help foodies like you discover new & exciting Australian made artisan foods every season! Come check out our ABOUT US page or say hi on our socials @foodiescollective 
Autumn Mushroom Trotolle Pasta

Ingredients:
400g Lello Artisan Trottole

90 ml extra-virgin olive oil

50g butter

½ cup White wine

1 Spanish onion, thinly sliced

2 garlic cloves, finely chopped

500g Wild mushroom Selection (pine / porchini / swiss brown / oyster)

Fresh parsley

Fresh Thyme

1 red chilli

200g  Stracciatella Cheese/ Or Fresh ricotta cheese to serve
Method:
Cook pasta in a large saucepan of boiling salted water until al dente (4-6 minutes), drain (reserve 40ml pasta water) and return pasta to pan.

Meanwhile, heat oil in a large frying pan over medium-high heat, add onion, garlic and chilli and stir occasionally until tender (4-5 minutes). Add mushroom mix, and stir occasionally until browned (3-4 minutes). Add wine, simmer until reduced by two-thirds (2-3 minutes) add freshly chopped parsley and thyme. Add pasta and reserved pasta water.  

Season generously to taste and scatter with Stracciatella cheese or fresh ricotta and serve.
Serves 2-4
* The highlighted Australian made ingredients are products featured inside our 'Discovery Box', as we love sharing recipes to help you use your newly discovered goodies. You can substitute these with other quality products. The authentic Lello Trotolle pasta in this recipe is featured in our 'Autumn 2021' Discovery Box