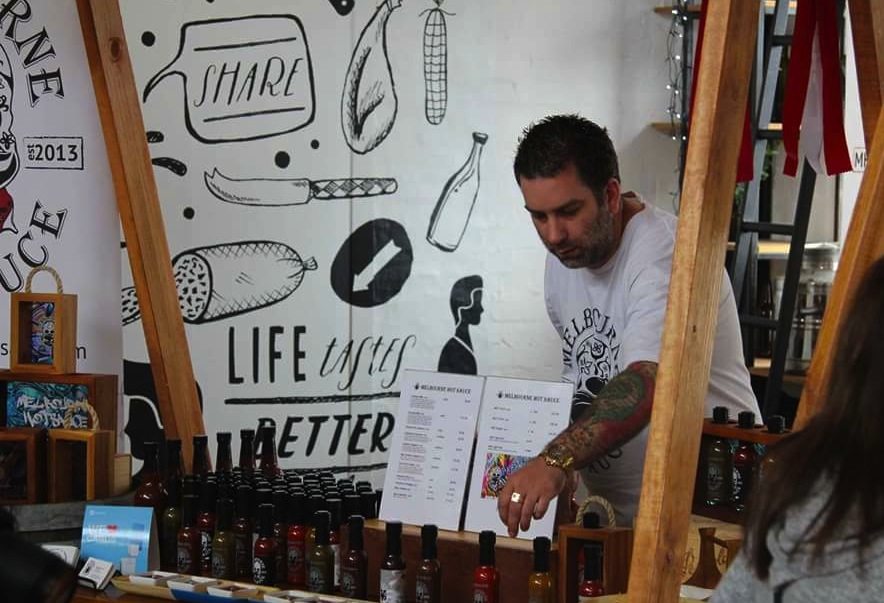 Meet The Locals - Melbourne Hot Sauce
With a vision to produce a high quality hand crafted Australian hot sauce, Richard Nelson founded Melbourne Hot Sauce in 2013, a time when there was only mass produced, one dimensional sauces available.
With 16 years experience as a chef specialising in Mexican, Cajun, Creole, Caribbean & Latin cooking, all of which required a lot of hot sauce, it seems the creation of the award winning Melbourne Hot Sauce was destined for Richard. (The BBQ Chipotle was featured in our February 17' Discovery Box.)
Richard shares his inspiration & philosophy behind Melbourne Hot sauce, his humble thoughts on his awards and his mega ultimate last supper.
What's your food philosophy?
Our basic philosophy for Melbourne Hot Sauce is Fresh, simple , clean well balanced flavours to create a culinary addition to food.
What inspired you to create Melbourne Hot Sauce?
My background is 16 years a chef with a predominantly Cajun, Creole, Southern USA, Mexican & Caribbean influence. I started playing around with making my own hot sauce about 8 years ago basically because most commercial sauces available at the time didn't really have the flavour profile i was looking for. This led to founding MHS in late 2013 while continuing to work as a chef until fully giving up chefing in 2016 to focus on hot sauce.
What makes the Melbourne Hot Sauce range so special?
We use mainly local fresh ingredients and have grown good relationships with our suppliers to maintain top quality produce. Our sauce are all natural, so no additives, added preservatives, thickeners, stabilisers, colouring or anything nasty. The key to a great hot sauce is balance of flavours. Like creating a dish in a restaurant, a great balance of clean simple flavours is vital. Our aim was always to make the most flavoursome balanced sauce rather than the hottest. We also do some unique collaboration style sauces which are a bit different, because like in any industry you need to keep pushing the boundaries into new territory.
What's your biggest achievement to date with Melbourne Hot Sauce?
We have won some great Australian and International awards at The World Hot Sauce Awards in Louisiana . The Sovie Awards in New Mexico. Some Gold medals at the Australian Food awards. and the Australia & NZ Mr Chilli Awards.

Awards are great and we love competing with the best in the world but it can be just as satisfying when someone takes the time to send an email telling you how much they love what you are doing.
What's your hottest, most craziest experience with chilli?
We run a yearly event "Melbourne Chilli Eating Championship" Its a last man standing KO event using some of the worlds hottest chilli, it gets pretty wild and messy! This years event is on April 8th at The B.east.
https://www.facebook.com/melbournechillieatingchampionship/
What's next for you and Melbourne Hot Sauce?
This year should see us pushing in to some more international markets and creating a few more hot sauce innovations....
What would your ultimate last supper be?
A big New Orleans spread. Gumbo, Jambalaya, Fried Chicken, Corn bread, Shrimp & Grits, Beignets, & a Roast beef Po Boy with plenty of gin fizz cocktails.
To discover more and connect with Melbourne Hot Sauce, click below:
Website:
www.melbournehotsauce.com
Facebook:
www.facebook.com/mhsco
Instagram
:
www.instagram.com/melbournehotsauce