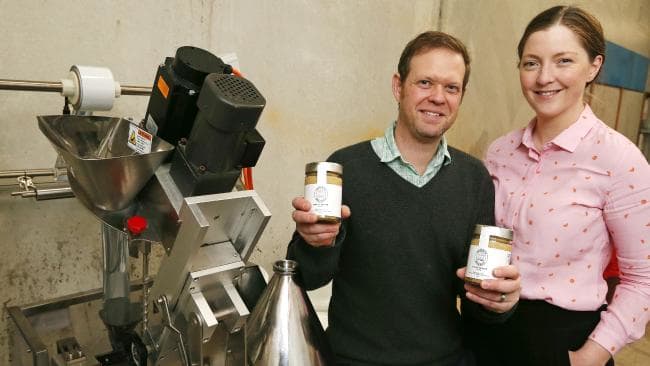 Meet The Locals - Meru Miso
In 2015, Chris & Meagan de Bono founded Meru Miso in Melbourne with the intention of creating an authentic fresh miso the whole world could enjoy. Today they are based in Tasmania and are committed to crafting the highest quality Australian made Japanese condiments respecting traditional techniques.
In this interview, Chris & Meagan share with us their awesome food philosophy, the interesting process for making their miso and what it means to have recently been announced a State Winner of the 2018 Delicious. Produce Awards, plus more!
Meru Miso White Miso Soup Sachets were featured in our June/July 18'
Discovery Box
.
Image: Tasmanian Country, Chris Kidd.
What's your food philosophy?
Provenance and no B.S. are the key elements of our food philosophy. We focus on seasonal and local where possible - there is a certain joy to buying foods where you know the maker or the grower.
What was the inspiration behind starting Meru Miso?
Meru Miso came about after Chris' long and intense interest in fermenting - this evolved into commercial production of Kombucha and Fermented Vegetables before a stockist mentioned that they couldn't find an Australian made Miso anywhere. After a little research, we realised that not only where there no Australian Miso available, there were no good quality Miso widely available so we set out to make an all Australian Miso that was so true to traditional methods that it would remind people of Japan. We have had countless Japanese customers tell us that the smell and taste remind them of Miso that their mothers and grandmothers used to make in Japan.
When we started the business we lived in Melbourne and were trying to figure out a name for the business when we stumbled upon the Japanese pronunciation of Melbourne which is Meruborun - and from there Meru was born.
What exactly is Miso and the process to make it?
Miso - in it's simplest description is a fermented soybean paste, but this is a little like saying "This is a red wine…" Miso comes in a wide variety of styles based on the culture medium (usually rice, soybeans or barley) and the length of fermentation. At Meru Miso we are making younger style rice Miso which means that we are growing the cultures on rice before mixing it with soybeans and salt. We use more cultured rice and less salt which enables us a shorter fermentation with a lighter and sweeter final flavour.
Making Miso is a complex process and at Meru Miso, we have worked hard to develop the ability to conduct the entire process in-house, right back to growing the starter cultures. Growing the
Aspergillus oryzae
spores is a process that is practices by only a small handful of Miso houses today - most miso makers buy a commercial starter culture. We chose to include this step to ensure that our miso making process is as true to traditional Miso as we can get outside of Japan.
You've recently been awarded 2018 State Winners of the Delicious. Produce Awards. What does this mean to you and your businss?
The delicious Awards are Australia's most prestigious food awards, particularly as they are chef nominated products (and last years Gold Category Winners can self nominate). Being nominated for a delicious Award is an industry recognition of the provenance and craftsmanship that makes our Miso so special.
As a small batch producer, what's the most challenging aspect to your job?
We face the same challenges as any other small business that is in the start-up/rapid growth phase - juggling a never ending list of tasks with limited resources and a lot of personal energy.
And the most rewarding?
Having leading Australian chefs using our products is very humbling - we know that they are producing world class dining experiences and choose their ingredients very carefully so to be featured in their dishes is an honour.
Equally, it is humbling to have Japanese visitors and Japanese chefs telling us that our Miso is reminiscent of home made Miso that they remember from their childhood.
If we looked inside your fridge what would we find?
Lots of Miso! And plenty of seasonal fruit and veg - we love the farmers markets around Launceston and find that seasonal produce is the most enjoyable way to cook.
What is one thing you couldn't work without?
Breakfast time. Apart from being the most important meal of the day, it is the time that we both get to spend some quality time together and set ourselves up personally and professionally for the day. A good foundation for the day cannot be understated.
What's your favourite season for food and why?
Chris: Summer - for all the delicious stone fruit!
Meagan: Autumn - Earthy ingredients for one pot recipes that are easy and delicious for sharing with family and friends.
If you weren't a food producer, what would you be doing?
Chris - Astronaut
Meagan -Illustrator/Writer
What are your BIG goals for 2018?
Our goal for Meru Miso is to introduce Miso in a way that makes it accessible to everyone and can be used as a staple ingredient in every kitchen.
What advice would you give to someone whose considering launching their own food business?
Chris - Strap in! It's a hell of a ride.
Meagan - Create a food product you're passionate about and do it better than anyone else.
What would your ultimate last supper be?
Food tastes better when shared with friends - our ultimate last supper would be a gathering of family, friends and mentors who have all helped us on our Miso making journey. The menu would feature heaps of seasonal produce and seafood. And we would of course be sharing our Miso with everyone too!
To discover more and connect with Meru Miso click below:
Website: www.merumiso.com
Instagram: www.instagram.com/merumiso
Facebook:
www.facebook.com/merumiso