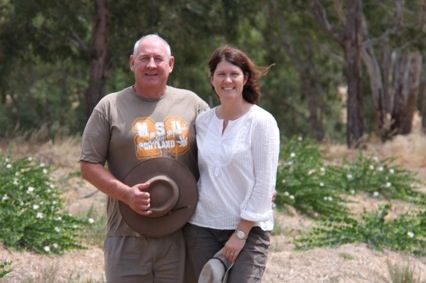 Meet The Locals - Long Lane Capers
Following a move from Melbourne to Mansfield in 2005, Rowena and Mick Ellis established Long Lane Capers in 2008. With a passion for producing fresh, high quality food, their capers and caperberries are handpicked and preserved using Murray River Sunsalt.
In this interview founder Rowena shares with us their inspiration behind their 'escape to the country' move, what makes Mansfield in Victoria ideal for growing capers and what she couldn't work without.
Long Lane Capers were featured in the Oct-Nov 17'
Discovery Box
. (limited boxes left).
What's your food philosophy?
To produce a high quality product that is Australian grown, grown chemically free and provides a full flavoured experience for our customers.
You and your husband escaped the city life of Melbourne and moved to the country in 2005. Can you share with us your inspiration behind this move and for starting Long Lane Capers?
Having both worked in rural Australia previously, then travelling around Australia in a caravan for 12 months in 2004 it didn't take us long on our return to decide the corporate world and city living was no longer for us. So…. we bought a farm then decided what to do with it -13 years on, so far so good. There was of course a bit of research before we leaped into capers. Cattle was an obvious choice as Mansfield and the High Country are renowned for quality beef production.
Tell us a little more about the region you farm in and why it's ideal for growing capers?
Capers love a Mediterranean type climate which is what Mansfield provides. They do best in hot dry summers and are one of the reasons we chose them as a drought tolerant crop.
Can you share with us how and when capers/caperberries are grown and harvested?
Capers and caperberries are produced from the plant Capparis Spinosa, a small shrub which produces its crop over the summer months. We start harvest at Long Lane Capers in late November first picking our caper leaves which are pickled, then the capers (the flower bud). We grade our capers into 3 sizes, small medium and large then preserve in Murray River Sunsalt. The salting process maintains the integrity of the caper bud flavour ie floral and herbaceous rather than overpowering the flavour with vinegar brines. If the caper is allowed to flower it will produce a fruit called the caperberry and these form from late January until the end of harvest in March. We brine these to preserve then finish in a pickle. The harvesting is quite labour intensive with each bud and berry picked by hand. 1kg of capers takes approximately 3 hours to harvest.
What was the best piece of advice you were given when starting your business?
Do it on a trial basis, seek out expert advice, talk to people and ask for help when you need it.
As a small batch producer, what's the most challenging aspect to your job?
Having to do everything from being a horticulturalist to website designer to a marketing expert. Also costs including labour and compliance costs can mount up very quickly, so making sure you understand business is really important.
And the most rewarding?
Producing a beautiful product and getting feedback from our customers and industry peers. We've also met the most amazing and real people in the farming and hospitality industries that we wouldn't have in our corporate lives.
What's your favourite season for food?
We love eating seasonally but if I had to choose I'd say Autumn – it's harvest season in Victoria's High Country and the diversity in food and wine produced here make it a wonderful place to live.
What's one thing you couldn't work without?
The coffee run, Mick does this to avoid the picking!! Luckily we have our great harvesting crew mostly from the Mansfield Secondary school where we work closely with the Agribusiness students keeping employment local.
What's been your biggest achievement to date with Long Lane Capers?
Getting on the menu into some hatted restaurants such as The Provenance at Beechworth, Grossi Florentino and Movida in Melbourne.
What would your ultimate last supper be?
Have to be Mick's Chilli Tuna Pasta (with Long Lane Capers). It was the dish he wowed me with when we started going out which introduced me to capers, little did I know that I'd grow them one day. You find that recipe on our website www.longlanecapers.com.au/recipes
To discover more and connect with Long Lane Capers click below:
Website: www.longlanecapers.com.au
Instagram:
www.instagram.com/longlanecapers
Facebook:
www.facebook.com/longlanecapers