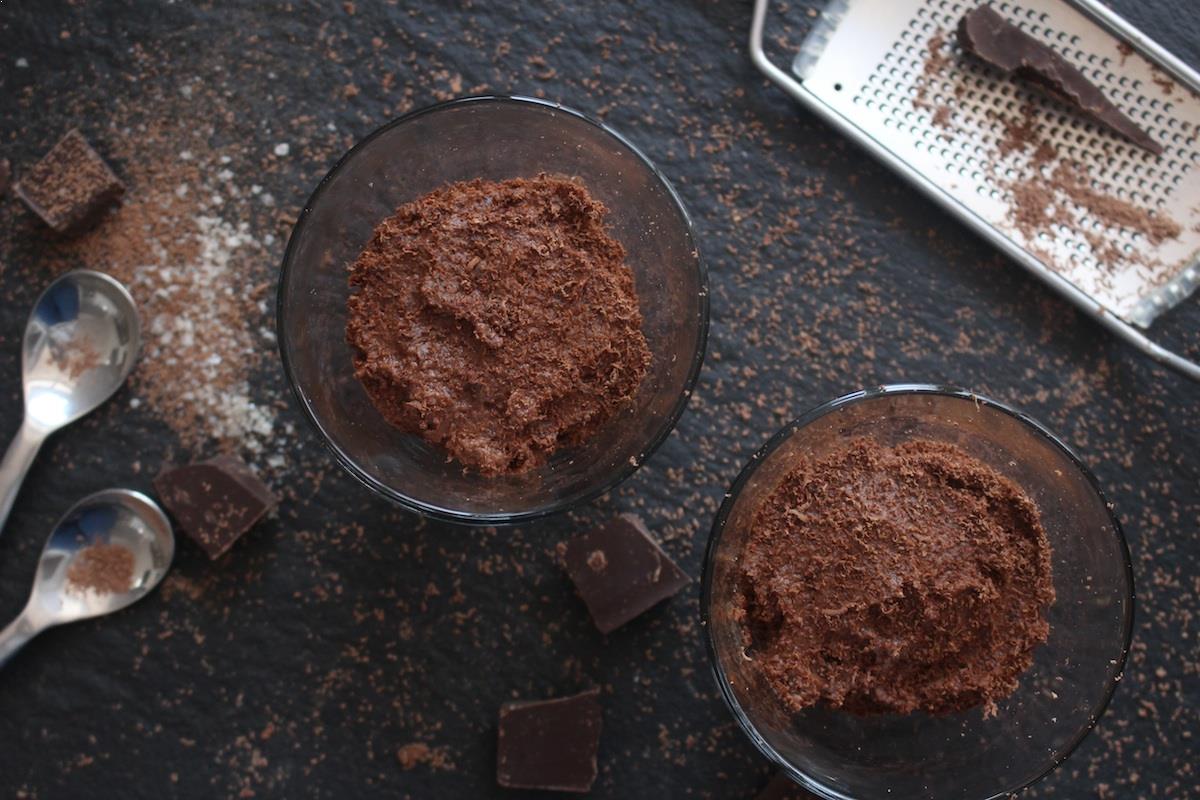 Chocolate Mousse with Smoked Sea Salt by Arum Nixon
For our Oct/Nov 2017 Discovery Box, we had our favourite MasterChef contestant & top 5 finalist, Arum Nixon, curate the products inside. This box contained some of Arum's favourite ingredients, including the incredible Smokehouse Sea Salt by Rivertown Trading Co which is a standout ingredient in this indulgent Chocolate Mousse recipe.
Thanks for the wicked recipe Arum!
Chocolate Mousse with Smoked Sea Salt
Ingredients:
150g good quality dark chocolate, broken into pieces

200ml thickened cream

1 tbs light extra virgin olive oil (optional)

A few flakes of Smokehouse Smoked Sea Salt
Method:
Place the chocolate in a bowl standing over a deep saucepan/pot of simmering water. Turn the heat off the saucepan and allow the chocolate to gently melt, stirring occasionally. Once the chocolate is completely melted, transfer to another bowl and allow to cool. Once cool, stir through the olive oil.
When the chocolate is almost cool, place the cream in a large bowl with plenty of room, and whisk to soft peaks.
Take a quarter of the cream, and carefully fold it through the chocolate. Once fully combined, add another quarter and fold through, then repeat with the rest.
To serve, scoop out a spoon (or two) of the mousse, and sprinkle a few salt flakes on top.
Tips:
-Water is chocolate's number 1 enemy. It's really important that you don't get any in the bowl when melting the chocolate - so make sure the bowl is completely dry, and that the water isn't boiling too vigorously so it might splash. -Like with many simple recipes, it's all in the process. Make sure the chocolate is cooled to room temperature before folding into the cream, otherwise it'll split. And when you're folding the cream, do so carefully with a spatula, to avoid knocking the air out of the mixture. -Adding a small amount of the cream to the chocolate at first helps to bring it down in temperature without setting straight away. If you add it all at once, the chocolate may set before it's incorporated, resulting in a grainy mousse. Believe me, I know - I've done this before trying to save time! -The olive oil gives a nice smooth silky texture, but it still works well without it. You can also use flavoured oils if you have them. -Because this mousse is so simple, it won't hold for very long - so make it fresh and use straight away. -To get a nice, smooth, glossy scoop of mousse, dip the spoon or an ice cream scoop in warm water first.
*If you can't find Rivertown Trading Co Smokehouse Sea Salt, substitute with another good smoked salt or sea salt.
Recipe courtesy of Arum Nixon.
As seen in our October/November
2017 mini zine found inside the Discovery Box:
Experience your very own Discovery Box now and discover the #tasteoflocal.