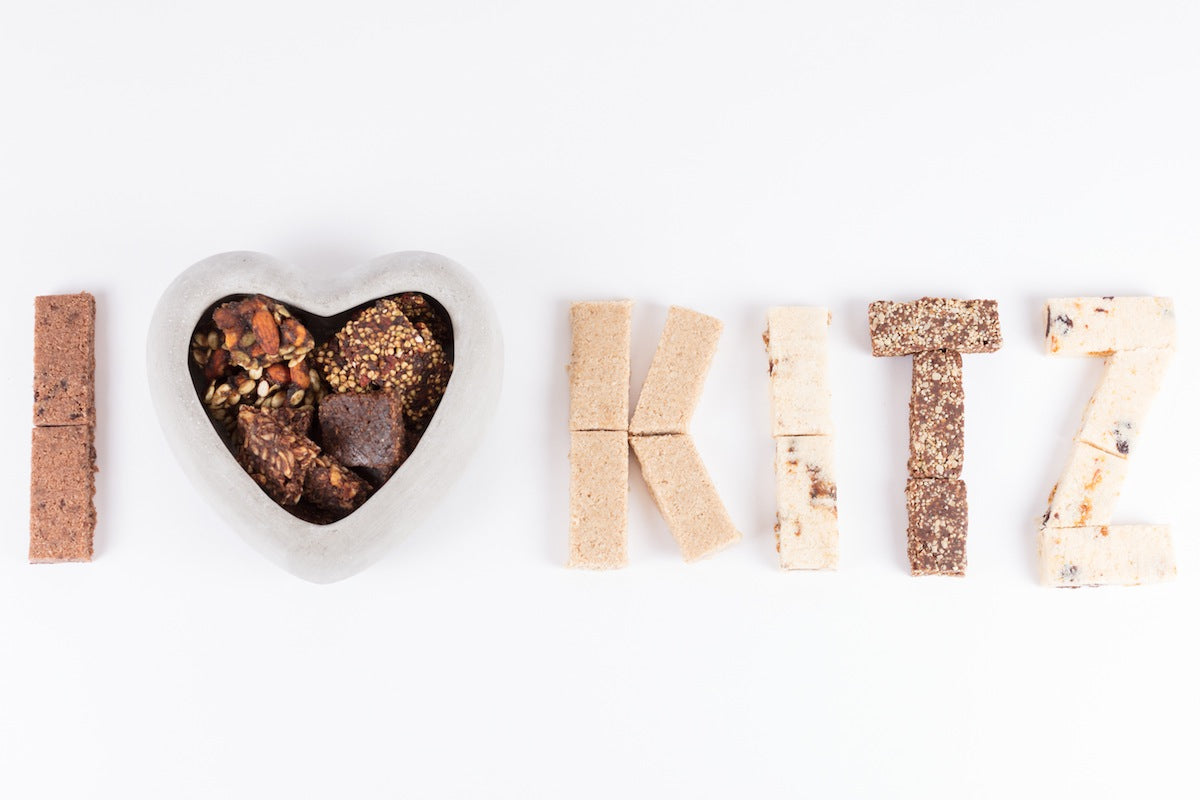 Meet The Locals - Kitz Living Foods
Born in the family kitchen in 2006, Kitz Living Foods has flourished into a thriving hand-crafted snack food business. They are a family-owned, eco-conscious team of food lovers who are zealous about bringing healthy, delicious vegan alternatives into your life. Owners Mandy and Scott, together with their children Aila and Rowan, are always having fun concocting new products for their ever-growing range.
In this interview Scott shares with us what it takes to be a green and sustainable business, the low down on 'activated' and 'raw' foods and what it's like to work in a family business.
Kitz Living Foods Rosemary & Black Pepper Crackers are featured in our Aug/Sep 18'
Discovery Box
.
What's your food philosophy?
Eat clean food. Eat some raw each meal, each day absolutely. Eat as minimally processed as possible. Garden. Choose fruit for dessert as a default. Drink lots of water, get lots of exercise each day and develop loving relationships. Avoid fried food, avoid soft drinks, avoid late night snacking. But ENJOY all that you eat. It is tough to diet, so if you indulge, just exercise more.
What was the driving force behind taking on Kitz Living Foods?
We had been organic farmers for 7 years and organic, clean eaters for 20 plus years and jumped at the chance to make healthy snacks by buying Kitz in 2011. We eat pretty simply at home, though we take great joy in food. We love to work with food, and creating something every single day is very rewarding!
A lot of people would be hesitant to go into business with family. Can you share any tips on how you make it work (and keep everyone happy!)
"You are right, honey". Very important words for a married person. In my case, it is easy to say because my wife and partner is so smart. Also, she has her area (development) and I have my area (everything else). We still are on speaking terms after 19 years. Yes there can be conflicts, but I really cherish the time I spent working my family growing up (especially from the vantage I have now). We do a lot of experimenting with food at home. All four of us are involved in that, because we enjoy food! My kids bake 4 or 5 times a week. Always something new too. Food has become something we can share and 'do' together.
We can see you're committed on being a green and fully sustainable business? Why is this so important to you and can you share any advice for those who are aspiring for the same outcome?
Ha! It is challenging to walk the walk. I didn't like to see petroleum-based packaging going out the factory door. So we made a decision years ago to buy renewable energy and pack in compostable packaging. It costs more, but at least i can look my kids in the eye, and myself in the mirror. Advice for other aspirants? Don't give up, don't take 'no that's impossible' for an answer. I must have hear that 50 times before i found my first supplier of compostable films. I still hear it from some suppliers! But if we fail to get our leaders to think ahead, we can indeed change our consumption habits, so that we change the paradigm from below.
All seeds and nuts in your products are 'activated' and 'raw'. Can you talk us through this process and what the health benefits are?
Sure. All of our nuts and seeds are soaked overnight in filtered water to 'activate' the ingredients, breaking down the naturally occurring enzyme inhibitors such as phytic acid, making them easier to digest. Then we slowly dehydrate them at 47°C or less so they
remain 'alive and raw. This is our way of ensuring your body absorbs the maximum amount of nutrition possible from our products. Raw foods have been shown to alkalize our modern acidic diets (the body works better slightly alkaline). Raw foods have less embodied energy (usually from reduced transport and lack of cooking), raw foods have great fibre and roughage, all things lacking in the modern diet. And the taste great!
As a small batch producer, what's the most challenging aspect to your job?
Ha! consistency. We have over 25 staff, and keeping every person making our products in the most consistent form is a big challenge. Plus there are seasonal changes to seeds, nuts and dried fruit. While most people may not notice changes from cracker to cracker, we do TRY to get them to be alike. Ultimately, i find the slight differences kind of charming, so maybe i worry over nothing...
And the most rewarding?
The people! I have great staff, and my customers are, if possible, even better. We get heaps of love letters from customers and it always, always makes my day. What other business do you get people writing to you telling you they love what you made? it's awesome!
If we looked inside your fridge what would we find?
Top shelf-sauerkraut, harissa, coconut cream, nut butters
middle two shelves-fruit of all kinds, seasonal and otherwise
bottom shelves- veggies! both cooking and raw eating
What is one thing you couldn't work without?
At work, we couldn't work without dates or coconut, and i am falling in love with cacao butter too. yeah that's three things.
What's your favourite season for food and why?
Summer absolutely! Fruit of all kind, especially the subtropical and tropical we get around here.
If you weren't a food producer, what would you be doing?
Farming, which is what I do on the weekend.
What advice would you give to someone whose considering launching their own food business?
Start today. Experiment. Develop a great product. Find a mentor. Ask questions. Don't give up! Keep at it until you have a great product, a great package and are asking a reasonable price. It's okay to start small, just begin.
What would your ultimate last supper be?
How morbid!
Easy to answer though - Herb rice, black beans, corn tortillas, ripe avocados, diced tomatoes, sliced cabbage, roasted jalapenos and FAMILY and FRIENDS to enjoy it with.
To discover more and connect with Kitz Living Foods click below:
Website: www.kitzlivingfoods.com.au
Instagram: www.instagram.com/kitzlivingfoods
Facebook: www.facebook.com/rawveganglutenfree