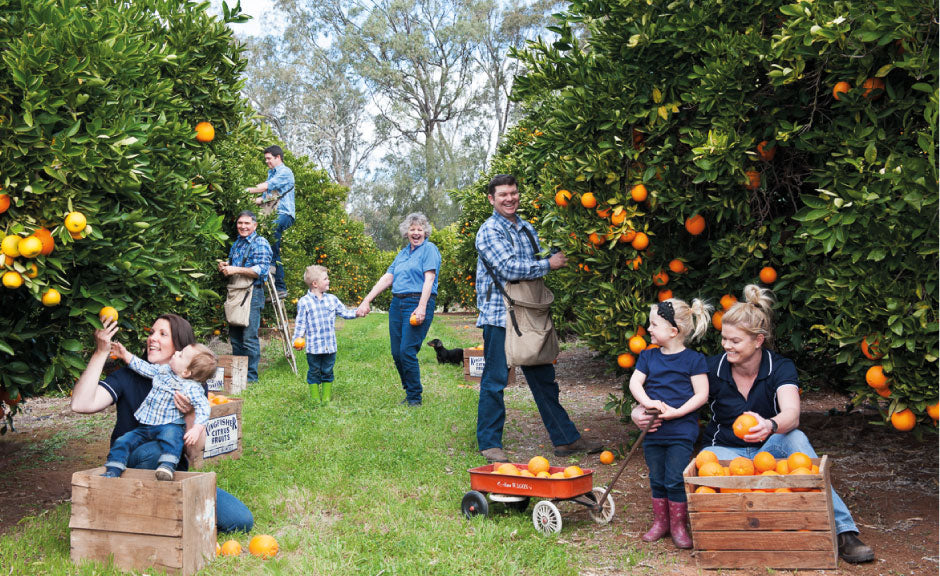 Meet The Locals - Kingfisher Citrus
Family is the heart and soul of Kingfisher Citrus. Brothers Angus and Alexander Fisher, first established the farm back in 1938 and it is the children, grandchildren and great grandchildren of Alexander, who continue to live and work the farm today. Lex and Glenda, together with their sons, Ronan and Lynton and their wives, Mel and Aimee have embraced the opportunity to sell direct through farmers' markets across Victoria and amidst the chaos, a previous decade long drought and increasing workload, the Fisher family continues to flourish and so too does the workforce!
In this interview, Aimee gives us insight into their family life on the farm, shares the one thing she couldn't work without, their favourite season for food and gives advice to those looking to launch their own food business plus more.
The Kingfisher Citrus jar of Preserved Lemon is featured in our Oct/Nov 18'
Discovery Box
.
The Fisher family:
Back row - left to right: Ronan, Tayce, Glenda, Lex, Aimee, Lynton
Front row - left to right: Campbell, Melanie, Jack
What's your food philosophy?
Kingfisher Citrus is a heritage farm with heritage flavour. We take great pride in harvesting our produce at optimum sweetness and flavour. We employ sustainable farming practices, nurturing our trees to produce premium quality fruit.
Kingfisher Citrus has a beautiful rich family history. What motivated you to join the family business?
Embracing our family's fourth generation on farm, propels us to secure this family legacy for future generations so that they too can share in the journey, learn from the land and enjoy being part of our farming heritage.
A lot of people would be hesitate to work with family. How do you guys make it work (and keep the peace!)?
You should never do business with family, so they say, but family is what makes Kingfisher Citrus actually work. Each family member has a different role to play within the business and we each work to our individual strengths. It helps to be versatile and work toward a common goal.
Can you tell us a little about the region you farm in?
Our family farm resides in the heart of the Murray, in North-West Victoria. The colourful landscape of the Murray fruit bowl boasts a patchwork of seasonal produce such as; almonds, avocados, citrus, grains, olives, stone-fruit and much more.
As a small batch producer, what's the most challenging aspect to your job?
As a small multi-facet farming business it can be challenging to factor and coordinate your time between the various, equally important, different components of the family business.
And the most rewarding?
Most rewarding is the customer appreciation for our products and service. Repeat customers are what gives us the confidence to continue to work hard and ultimately secure our family farm for the future generations to come.
We understand you don't wax your citrus fruits, preferring to keep them in their natural state. Why does waxing on fruits still occur and is this be something consumers should be wary of??
Fresh fruit is waxed to extend the overall shelf life of the product. Consumers should be mindful that coloured waxes may be applied to some produce that is imported. We choose not to wax our fresh fruit as this masks the aroma and is an inconvenience to the consumer.
Kingfisher Citrus is primarily a producer and seller of fresh citrus fruits, when did you introduce your range of preserved condiments & why?
Blessed with the retail opportunity of farmers markets we explored the avenue of value adding. Preserved condiments was a natural pathway given Grandma Fishers endless repertoire of home-made condiments that would grace the family table. Some of our condiments are indeed her own recipes.
If we looked inside your fridge what would we find?
Typically you would find in our farmhouse fridge an eclectic mix of market barters; artisanal foods and fresh seasonal produce that not only tastes wonderful but enlightens the palate with new found foods.
What's your favourite season for food and why?
Our favourite season for food is Winter because there are so many beautiful varieties of citrus to be enjoyed.
What advice would you give to someone who's considering launching their own food business?
For someone considering their own food business, appreciate the quality of your crafted product and understand its value. Be prepared to work-hard, be open minded and relish opportunities to network and collaborate with like minded people.
What is one thing you couldn't work without?
Family is the heart of our farming business and we simply would not work without the combined crazy of one another.
What would your ultimate last supper be?
The ultimate degustation.
To discover more and connect with Kingfisher Citrus click below:
Website: www.kingfishercitrus.com.au
Instagram: www.instagram.com/kingfishercitrus
Facebook:
www.facebook.com/kingfishercitrus