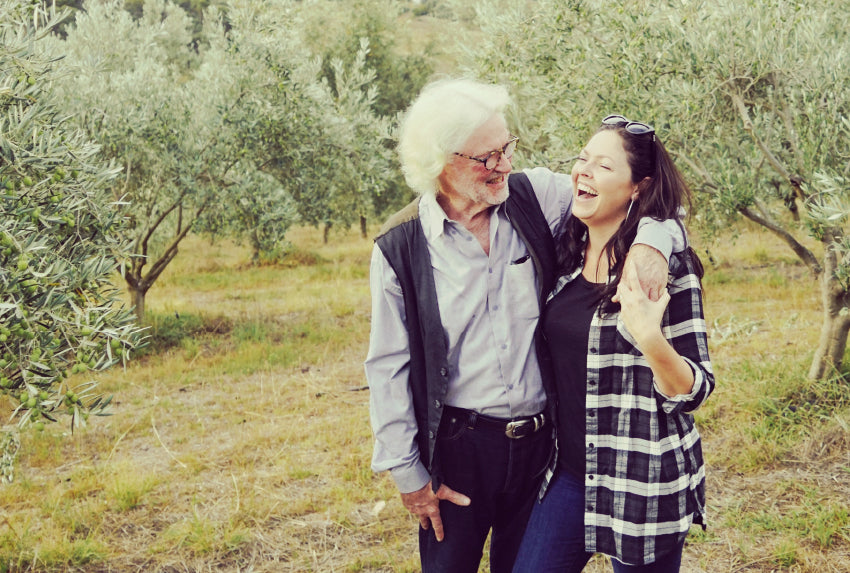 Meet The Locals - Alto Olives
Take sunshine, clean country air, constant warm days and cool nights – add professional grove management and a dash of ingenuity – and you have ALTO Olives.
Located at the foothills of Australia's Great Dividing Range near Crookwell, ALTO Olives has 20,000 trees, 15 different varietals, and outputs approx 50,000 litres of Extra Virgin Olive Oil per annum. Led by a Father and Daughter team, ALTO Olives is one of Australia's most premium olive oil producers.
In this interview, daughter Westerley Isbaih, shares with us their secret to winning prestigious awards, their biggest challenge and the one thing she couldn't work without (which we're all probably guilty of!).
Alto Olives Lemon Infused Extra Virgin Olive Oil is featured in our Oct/Nov 18'
Discovery Box
.
What's your food philosophy?
I probably most closely subscribe to Michael Pollan's philosophy about food, ie. Eat food. Not too much. Mostly plants. I also believe in keeping it simple and starting with good quality ingredients, no matter what you are cooking.
Your father started Alto Olives in 2003. What was your motivation to join the family business?
I've always loved food & the country. Working with our olive business gives me the opportunity to incorporate both of those into my weekly life. Plus I have always loved everything about olives, so it just made sense.
Can you tell us about the region you farm in?
Traditionally sheep & cattle country, we are based 3.5 hours southwest of Sydney, high up in the foothills of the Great Dividing Range. The land is wild & generally quite dry, which the olives trees seem to flourish in.
Alto Olives is still winning prestigious awards years after it's first harvest in 2003. What's your secret?
Aside from our excellent grove management and production practices, which is integral to producing premium extra virgin olive oil, I am a big believer in the idea of terroir, and there is something special about our high altitude location and our soil on this patch of land that is just perfect for the varietals of olives that we grow. When you are up against 900 of the worlds best EVOO producers, like when we enter the New York International Olive Oil Competition, and you take out Best of Class awards, you must be doing something right!
As a small batch producer, what's the most challenging aspect to your job?
Every season is potentially different based on what happens climactically. Things like drought, heat waves, frost, and even too much rain at the wrong time can all affect the final product when it comes to our olives and extra virgin olive oils. So I would say that dealing with the elements and what nature throws at us every year is probable the hardest thing because it is completely out of our control.
And the most rewarding?
Getting positive feedback from customers. It never gets old!
If we looked inside your fridge what would we find?
Good basics, like Holbrook Paddock free range eggs, Pepe Saya butter, and Australian grown fruits and vegetables, a whole bunch of my Dad's homemade jams & chutneys from all the fruit we grow on the farm, and a few special things like Pilu bottarga and Yarra Valley caviar. I am also a complete chilli addict so there are about 20 different chilli condiments in there at any given time.
What's your favourite season for food and why?
Definitely Autumn/Winter as that is when our extra virgin olive oils have only just been pressed/produced and are super fresh. But I love all the seasons for the different fruits and vegetables that are available at the different times of year.
What advice would you give to someone who's considering launching their own food business?
Quality & integrity are everything. Don't compromise on those two things.
What is one thing you couldn't work without?
Unfortunately I'd have to say my phone!
What would your ultimate last supper be?
Either some beautiful freshly baked bread doused in some of our freshly pressed Novello extra virgin olive oil with a sprinkle of salt, or a full on Japanese Omakase degustation meal. Depends on my mood that day!
To discover more and connect with Alto Olives click below:
Website: www.alto-olives.com.au
Instagram: www.instagram.com/altoolives
Facebook:
www.facebook.com/altoolives