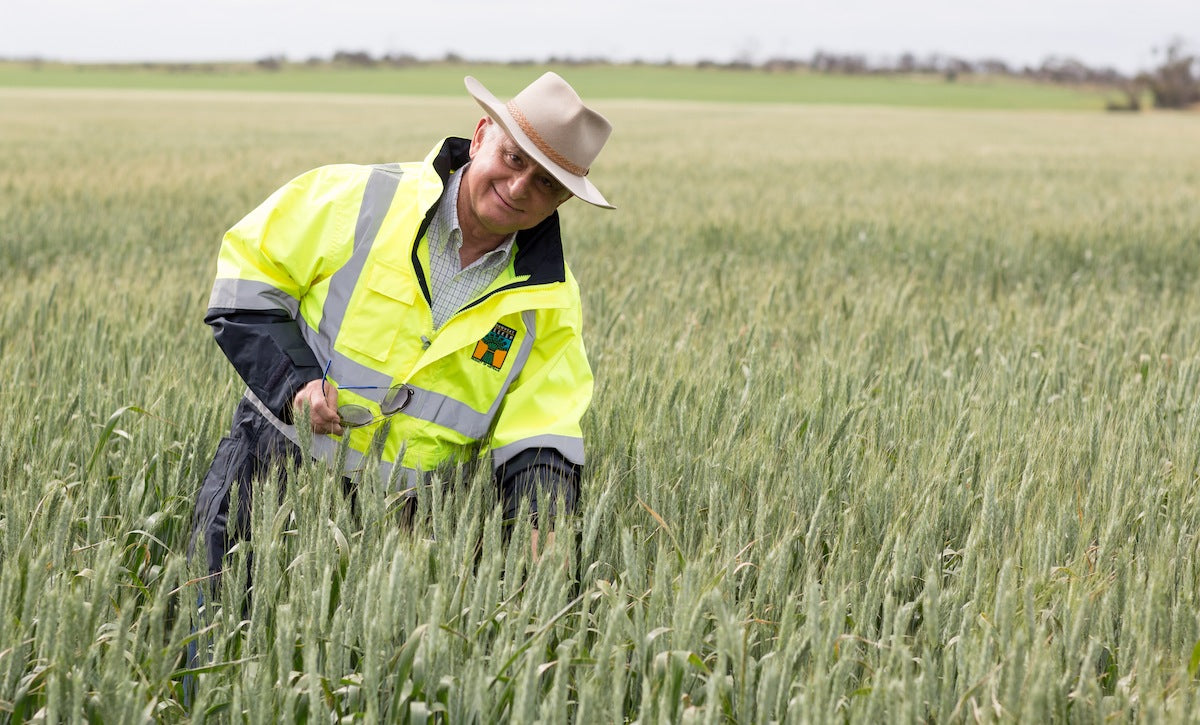 Meet The Locals - Greenwheat Freekeh
Tony Lutfi is the founder of the world's largest producer of freekeh. Greenwheat Freekeh, based in South Australia, is also the world's first major company producing freekeh via modern automated means. Due to the primitive way freekeh is processed in the Middle East (on the bare ground) stones and rocks are usually found in freekeh from these regions which is why Greenwheat Freekeh's automated means is seeing so much success. The ancient grain process has been around for more than 4000 years, but the average Aussie household has probably never heard of it.
In this interview Tony shares with us his fascinating story on how his journey with freekeh began, what makes freekeh a superfood and his favourite way of eating it plus more!
Greenwheat Freekeh's Cracked Freekeh is featured in our Oct/Nov 18'
Discovery Box
.
Founder Tony Lutfi, Greenwheat Freekeh for FoodSA Awards. Pic James Knowler / @jkcrewphotos
What's your food philosophy?
Food is the essence of life. Eat it and enjoy it, making sure it is healthy, clean and nicely well-presented. Because we eat with all of our senses.
How and when did your journey with Freekeh begin?
The Greenwheat Freekeh journey started when I first ate it in the home of the then Crown Prince Hassan of Jordan in 1988. He told me that Freekeh is a process discovered thousands of years ago and if someone could develop a unique technology to make it in a modern way, they would create a great food for the future.
Freekeh was named in the Top 100 Foods by Taste 2017. Can you tell us a little more about what makes Freekeh a superfood?
Freekeh is actually a process, not necessarily a grain itself. The process effectively captures young green grain at peak taste and nutrition and retains them with these properties indefinitely. Here are some amazing facts:
Very high in protein. Protein content ranges on average between 14-19%.

The protein quality in freekeh is high making it far more digestible than normal protein.

Extremely high in fibre and fermentable fibre, . Total content of 30-35% on average making it higher than almost all other grains & seeds.

Rich in calcium, iron, zinc and potassium;

Low-carb product with high resistant starch content. According to the CSIRO, freekeh is extremely beneficial for bowel health.

Very low Glycaemic Index (GI) with excellent insulin response. According to the CSIRO, freekeh is beneficial for managing type 2 diabetes.

Research by both the CSIRO and Flinders Medical Centre indicates that freekeh may be helpful in producing outcomes which impact indicators for bowel cancer.
In addition, Freekeh is very tasty with a wonderful nutty taste and a hint of smokiness.
Can you tell us a little more about the region(s) you farm in and the harvest/production process?
We are not farmers ourselves but we work closely with them, processing the green grains into freekeh and value adding to them in a sustainable way. This sustainable process helps farm economics, facilitates new technology, leads to scientific research and to greater regional development. Currently, we harvest from several regions in SA, extending from the Yorke Peninsula to Crystal Brook and all the way down to the Barossa Valley and the region close to the river land. We even harvested grain for freekeh from the South East near Keith when we processed under irrigation in the summer.

As the world's leading producer of Freekeh, what's the most challenging aspect to your job?
We face two challenges:
Educating farmers to get them to supply grain for freekeh. This is a serious challenge because farmers are extremely conservative and hard to change. However, Freekeh is one of the best things that they can engage in because it reduces risk, increases return, reduces costs (no chemicals) and helps to get rid of rye grass without interfering with normal farm activities. The lack of chemicals also helps the environment.
Educating consumers to get them to know what freekeh is. This has slowly been happening, although, it has taken us over 20 years to get freekeh known in the market today. 20 years ago no one had even heard of freekeh. Our resilience and determination have slowly but surely been producing the desired outcomes. We are still a long way from making freekeh a mainstream food for a better and healthier lifestyle. That is my dream.
And the most rewarding?
It is pleasing to see consumers flocking to buy freekeh and manufacturers using it more and more as an ingredient. I smile every time I eat it in a restaurant. The recognition of its health and nutritional value, and consequently becoming more prevalent in the world is a vindication of our efforts and my belief in freekeh.
If we looked inside your fridge what would we find?
Of course Freekeh! You can find freekeh salads in the summer and freekeh soups in the winter. By the way, my most recent invention is to blend our Cracked Freekeh & Quinoa with lentils and cook them on the stove just like rice. And then prior to finishing add some mushrooms and leeks and then serve with a salad and sheep or goat yogurt on the side. Yummy!
What's your favourite season for food and why?
Every season. Because every season has different characteristics and no season is better than other. Freekeh is a food for all seasons. In winter I have it in soups and stews. In summer I have it in salads. Most of the year I have it in breakfast cereals. I have even played around with blending it with beef or lamb to make burgers. Freekeh is a food for all seasons.
What advice would you give to someone who's considering launching their own food business?
Be resilient. Believe in what you are doing. Don't allow negativities to put you off the track. Stay focused on achieving what you want to achieve.
What is one thing you couldn't work without?
Freekeh of course! A healthy food which gives me energy and strength. A healthy meal which is easily digestible. We tried to bring freekeh to the Australian Submarine Core. It burns slowly giving sustained energy for longer & keeps the bowel healthy. In a cramped submarine it offers more nutrition/square meter of space & more health per dollar spent.
What's your favourite way to eat freekeh?
I actually love eating Freekeh as a breakfast cereal. I use the whole package of Wholegrain Freekeh. While the wholegrain freekeh is cooking, which takes about 35 minutes, I use another little pot with one teaspoon of water to cook a chopped green apple with a little bit of cinnamon and dry fruits (usually raisins) and stir for one minute. After that I mix the apple and fruits with my cooked wholegrain freekeh and put it in the fridge. In the morning, I take a spoon of the mix and add milk to it, put it in the microwave for a minute. After that I put a dollop of vanilla yogurt in the middle and top it up with nuts. And voila! The taste is absolutely lovely. It burns slowly in the body giving energy for a long time. I don't feel hungry and it is good for weight loss.
What would your ultimate last supper be?
Picture this. I am in the Australian Alps in a log cabin next to a wood fire surrounded by crisp snow. Eating a thick stew with juicy Australian beef and soaking it all in amazing freekeh bread or on a bed of freekeh grain. Washing it all down with a beautiful glass of Australian Shiraz while gazing in the beautiful eyes of my gorgeous woman. Please Lord… make this my last supper every day.
To discover more and connect with Greenwheat Freekeh click below:
Website: www.greenwheatfreekeh.com.au
Instagram: www.instagram.com/greenwheatfreekeh
Facebook:
www.facebook.com/greenwheatfreekeh