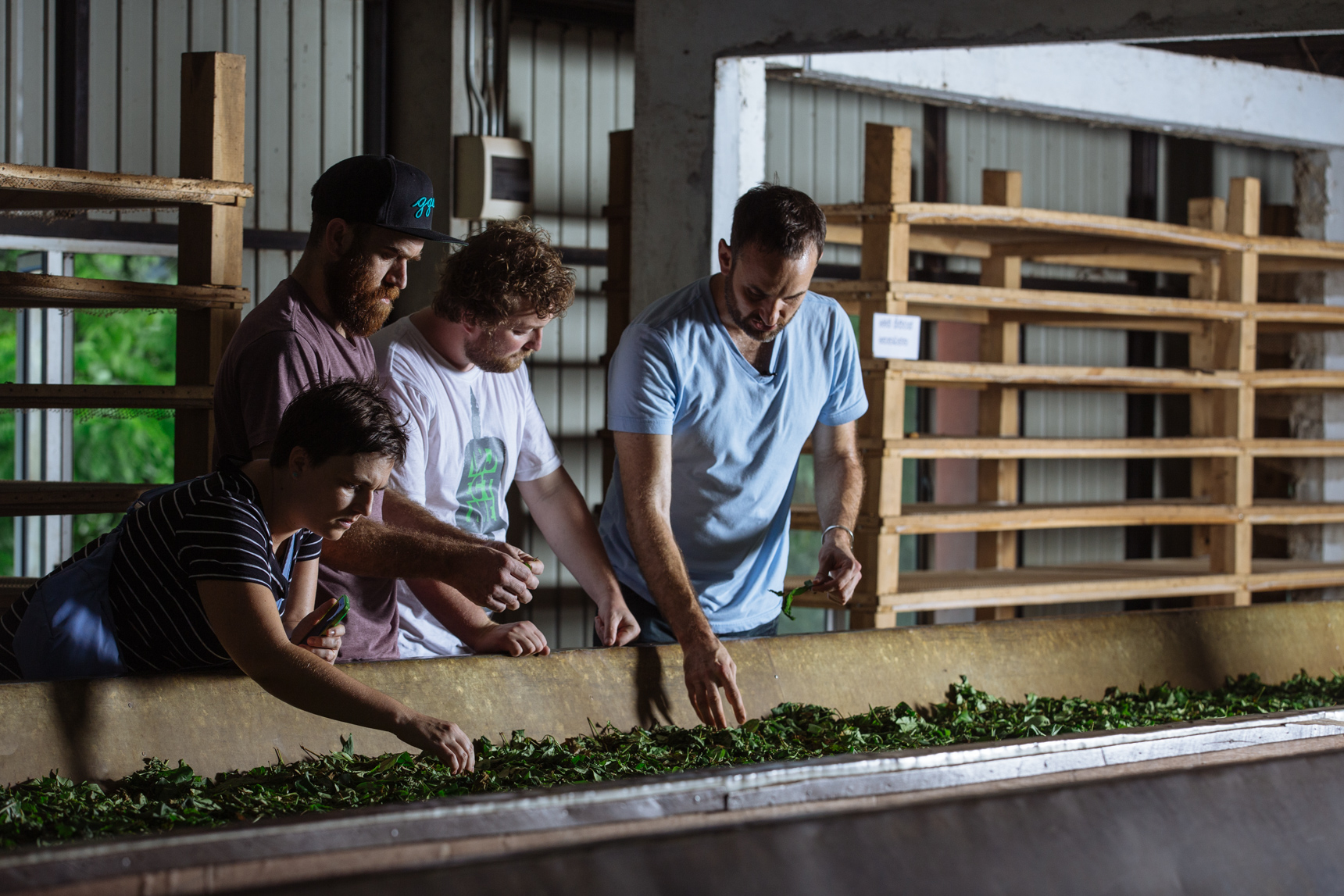 Meet The Locals - Kali by Somage Fine Foods
Ben Kelly and Nathan Wakeford founded Somage Fine Foods in 2006 - a time when cappuccinos looked like muffin tops, chocolate drinks were flavoured sugar and it was still okay to serve teabags in polystyrene cups to take away. The pair had a vision for something better.
Kali, Somage Fine Foods specialty chocolate range, has been created with premium quality cocoas and all natural ingredients.
Kali reflects their passion for discovering the best ingredients found in nature and transforming them into foods that bring enjoyment, satisfaction and wellbeing.
Co-founder, Nathan, shares with us the inspiration behind starting Somage Fine Foods, what their exciting plans are for 2018 and gives advice to those who may be looking to launch their own business. Kali's chocolate coffee beans were featured in our Feb/Mar 18'
Discovery Box
.
Far right is Nathan
What's your food philosophy?
Nature knows best. The industrialisation era brought a lot in terms of efficiency, but in many cases we sacrificed character, flavour and the health of our environment. We're about restoring the balance to what tastes good and is healthy for you. The best flavours and healthiest ingredients come from nurturing the people and environment who produce them.
What inspired you to start Somage Fine Foods?
We loved food and the cafe environment - we considered selling coffee for a while at the start of the third wave, but then saw an opportunity to enhance the quality of drinking chocolate - at the time the product served in cafes was artificial, and packed with sugar, dairy and fillers. We decided to create something where the flavour was the most important aspect, not the price. (The guys have gone on to introduce a premium tea range Chamellia too).
As a small batch producer, what's the most challenging aspect to your job?
It's educating venues on quality and the preparation methods to ensure this quality reaches the customer. Fortunately much has changed in Australia - consumers are becoming more informed, venues are doing a better job of preparation. This has been a 6 year long commitment, but we're having to start again in the USA where in cafes convenience is often valued over quality.
And the most rewarding?
When you walk into a cafe like proud mary and the staff hug you, because you have made a positive impact on their business.
Your Ahinsa Partnership is incredibly inspiring. Can you tell us a little more about this and why you feel it's important to give the support you do.
It's part of our philosophy: The best flavours and healthiest ingredients come from nurturing the people and environment who produce them. To make anything sustainable, all inputs must be valued. (They provide educational support, medical support and grower support for those on the Ahinsa Tea Estate in Sri Lanka - you can read more about this special partnership here)
What's one thing you couldn't work without?
A unified team that truly cares to make a difference.
What's your favourite season for food and why?
Spring. It's when nature turns on her display in full colour, sweetness and aroma.
What advice would you give to someone who's considering launching their own food or beverage business?
Seek support from a mentor who has been there before.
What are your BIG goals for 2018?
USA expansion, new retail packs, new RTD iced teas, new website.
What would your ultimate last supper be?
A nourishing organic vegan meal created with love, shared with warm friends to nourish my soul.
To discover more and connect with Kali / Somage Fine Foods click below:
Website: www.somage.com.au
Instagram:
www.instagram.com/somagefinefoods + www.instagram.com/chocolatekali
Facebook:
www.facebook.com/somagefinefoods