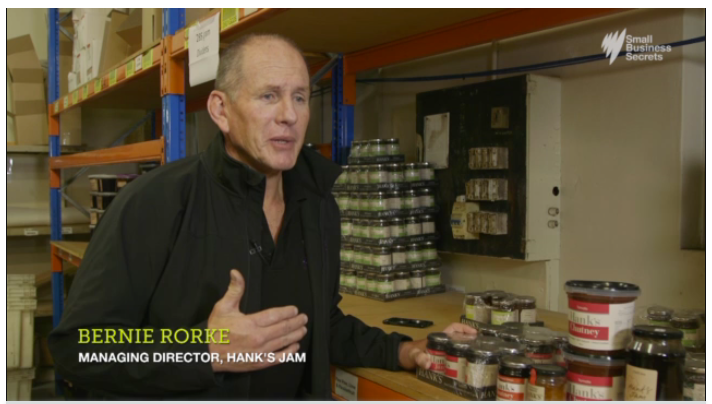 Meet The Locals - Hank's
Hank's was started in 1993 and by a chef named "Hank" in Darlinghurst in Sydney's Eastern Suburbs. Using an old collection of traditional recipes he had collected over the years in his travels and using excess fruit he obtained from local fruit shops he developed a range of exquisite jams and chutneys. Today Hank's jams and chutneys are still cooked in the same traditional methods (slow reduction cooking) with the same "Time and Love".
MD Bernie Rorke shares with us the beginnings of Hank's, some valuable business advice and the one thing he couldn't work without. Hank's Ploughman Chutney was featured in our Feb/Mar 18'
Discovery Box
.
As seen on SBS
What's your food philosophy?
Our Food Philosophy at Hanks is all natural food with strong flavour and texture , made with time and care.
Hank's has a long rich history, can you share with us a little about its beginnings and how you've managed to keep its values alive?
Hank started as a chef in Darlinghurst 23 years ago working 3 days per week in a restaurant and surfing 2 days. He started to develop a small range of jams and chutneys to sell to his friends in the eastern suburbs to subsidize his income. Cooking in a small kitchen at night and delivering in the morning the next day.
As the business grew by word of mouth based on the amazing quality being produced Hank started to cook full time he then found he was not cut out to operate a business and passed the business onto a group of foodie's that loved producing the Hanks product and increasing the number of people that experienced the product to grow the business to what it is today.
Keeping the integrity of what Hank set out to do many years ago we still use his methodology cooking by slow reduction using only the highest quality natural ingredients.
In recent years, what's been your biggest achievement at Hank's?
Developing a range of natural full flavoured soups which is now growing around sydney through the Harris Market chain.
What's one thing you couldn't work without?
Our team make the quality of our product their priority and make it enjoyable to come to work each day.
What's your favourite season for food and why?
Summer with all the fabulous fruits that are available , a taste sensation
What advice would you give to someone who's considering launching their own food or beverage business?
Never substitute quality for profit once you develop your range of good quality strong flavoured products, be clear on your market and ensure as many people experience your products. Lighting the fire under the centres of influence in your market and let " word of mouth" be your strongest marketing strategy.
What are your BIG goals for 2018?
Our big goals are to increase our soup range and launch into stores around Sydney. We're also working to launch a new range of healthy products that are full of flavour and have a strong quality that will help diabetics....stay tuned.
What would your ultimate last supper be?
A lamb roast with a big range of Australian veggies and hanks chutneys on the side.
To discover more and connect with Hank's click below:
Website: www.hanksfood.com
Instagram:
www.instagram.com/hanksjam
Facebook:
www.facebook.com/hanksjam