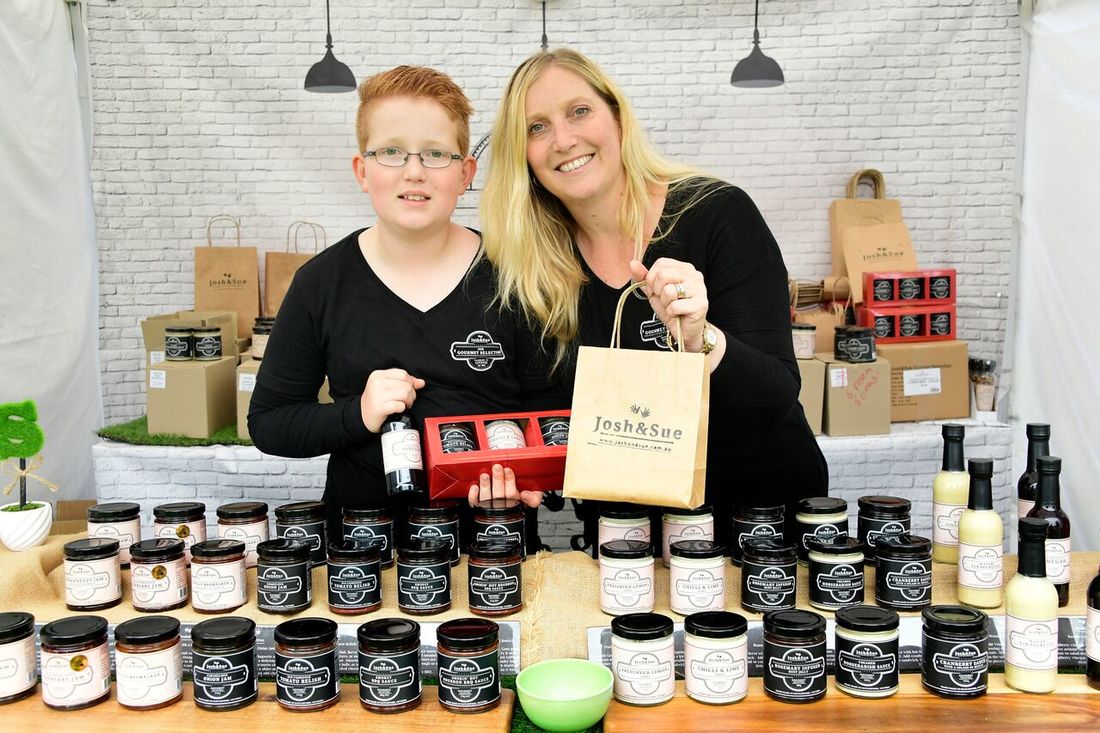 Meet The Locals - Josh & Sue
Award winning Josh&Sue was established in 2013, born from a love of creating small batch gourmet foods which capture the natural colours and flavours from premium ingredients. The business, named after 12 year old son Josh and mum Sue, makes old fashioned favourites like Tomato Relish or Raspberry Jam to the more innovative Wasabi Vinaigrette or Cranberry with Muscat Sauce.
In this interview, Sue shares with us the most rewarding part of being small batch producer, her inspiration for starting Josh&Sue and what her ultimate last supper would be (and it sounds amazing!)
>> The Josh&Sue Tomato Relish was featured in the April 17'
Discovery Box
.
What's your food philosophy?
Quality and freshness of food and ingredients,
All natural, gluten free, vegan where possible with a focus on gourmet, local, all natural victorian produce. No preservatives, no fillers or artificial colours made with love and care focusing on flavour.
Where and when did your story with making condiments & preserves begin? What was the inspiration behind launching Josh&Sue?
We started on the cusp of the trend towards gourmet, we love good quality food and sharing recipes with friends and saw an opportunity to launch a brand that Josh can grow into. Josh now 12, loves to cook and help represent our brand.
You must spend a lot of valuable time with your son Josh. What do you enjoy cooking most together?
We love making Pizza together, we make Gluten free bases then grab all our favourites and create new combinations, Josh loves to try new flavour combinations.
What's been your biggest achievement to date with Josh&Sue?
Our Bronze medal for our Old Fashioned Raspberry Jam last year at the Australian Food awards.
Having one of the USA's largest retailers interested in stocking our brand, they were just too big for us to handle.
As a small-batch producer, what are the most challenging and rewarding parts to your job?
We love seeing social media posts of our products as photographed by our consumers, showing us how they use our artisan treats. Seeing consumers who enjoy their Josh&Sue purchase so much that they want to share our range with their friends and families. GOLD!
We love meeting our regular clients each year at events like the Good Food & Wine show, they are always so keen to see what is new and top up on their old favourites.
Finding enough distribution for our range, we are always on the hunt for new retailers to support our range.
At what point in your journey with Josh & Sue did you realise you were onto a winning thing?
Based on the feedback we were getting from consumers, friends and retailers and how they love the flavour profiles.
In the last 2 years we have focused on a "better for you product" ie.removing malt vinegar to ensure the ranges are gluten free, we are working on low sugar options, we have 3 delicious new items we are launching June1st.
What would your ultimate last supper be?
Josh&Sue Mint Harrisa marinated roast lamb, crispy roast potatoes, green beans and asparagus, rosemary and lamb gravy with a big dollop of Josh&Sue Rosemary infused Mint Jelly!
To discover more and connect with Josh&Sue, click below:
Website: www.joshandsue.com.au
Facebook: www.facebook.com/joshandsue
Instagram
:
www.instagram.com/joshandsue