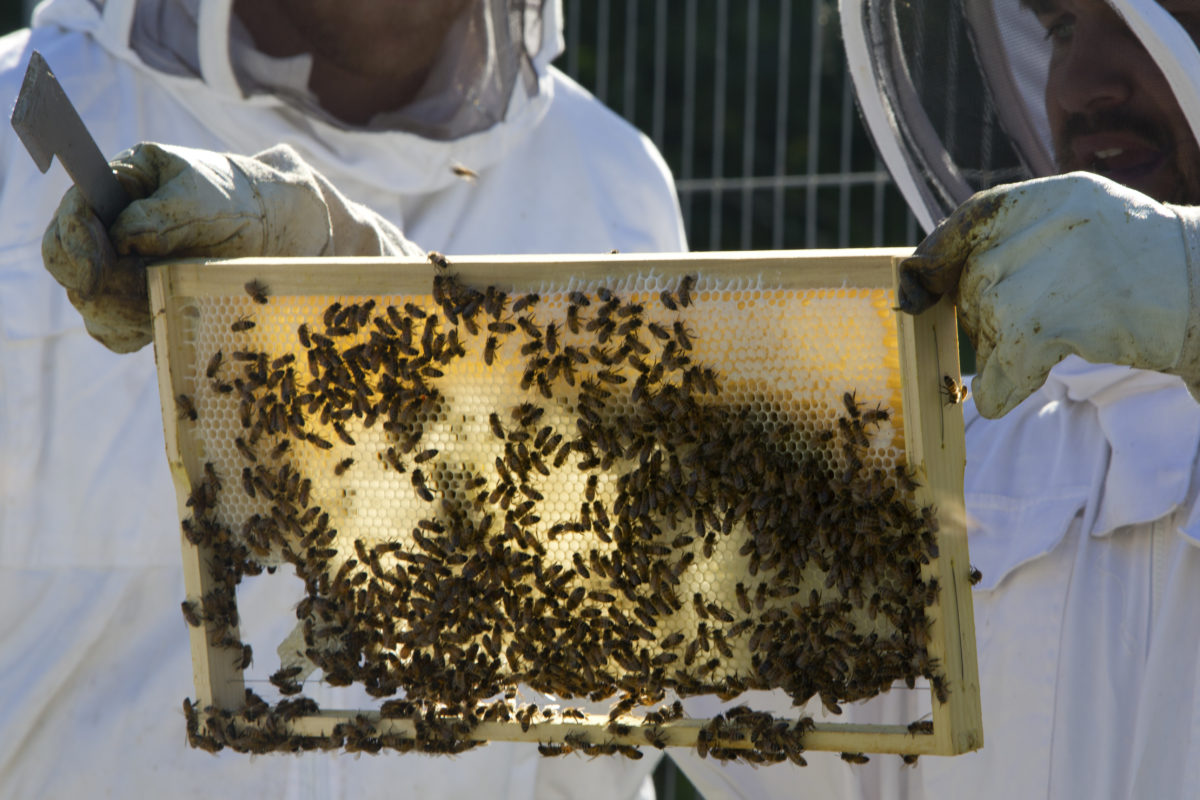 Meet The Locals - Careel Bay Honey Co
Joel Seaton always had an avid love for science and intrigue with all aspects of nature.
After visiting
the
Beechworth Honey factory, he joined a beekeeping club and bought his first hive. In collaboration with his partner Alex, they realised their was an opportunity to expand their passion and love of beekeeping and environmental education. As a result, Careel Bay Honey was born.
In this interview Joel shares with us some real truths behind the honey industry, how important bees are to Australian agriculture as a whole and what the most rewarding aspect is to being a small batch producer.
>> The Careel Bay Honey Co 'Raw Honey' was featured in the April 17'
Discovery Box
.
What's your food philosophy?
As a primary producer and vegetarian I like to eat food at the bottom of the food chain and prefer foods that I can easily distinguish their place of origin.
Where and when did your story with honey begin? What was the inspiration behind establishing Careel Bay Honey Co?
I've always had an avid love of science and an intrigue with all aspects of nature.
After a trip to the Beechworth Honey factory and museum I was inspired to learn more about bees and apiary so I joined a beekeeping club and bought my first hive.
After collaborating with my partner Alex we realised their was an opportunity to expand our passion and love of beekeeping and environmental education and Careel bay Honey was born.
Tell us a little about the region you farm in?
We have our hives at several locations including Careel Bay, Avalon Beach and the Warriewood Valley. Careel Bay has a rich indigenous and European food production history that I am pleased to be able to continue. Warriewood Valley is an incredible mixture of wetlands and natural flora that produces a unique flavour of honey. Sadly pristine areas of Warriewood Valley are being destroyed to create high density housing and unsightly development. When this last strip of primary production area is concreted it will be a sad day for the Northern Beaches residents.
Beekeeping and producing honey is very much seasonal which may surprise some people. Can you talk us through each season, from the dormant periods to harvest?
During Winter we generally don't take much honey from our bees as nectar and pollen is less prevalent. We spend from July to August preparing our hives and gearing up for Spring, which in apiary is the "silly season" as bee numbers increase massively, hives can swarm and the first honey runs begin. Honey production is at its highest from September until the hotter parts of December where it generally plateaus until February. We get a second peak of honey production from February that can last as long as May/June depending on the rainfall we experience. There are so many seasonal variations in honey production including pollen and nectar variations due to alterations in local flora flowering, rainfall, daily temperatures and extended dry and wet periods.
Can you tell us the difference between raw honey and say your standard honey you see on a supermarket shelf? Are there any additional health benefits?
Wow, where to start?!
Firstly our honey is flown and grown on the Northern Beaches of Sydney and all aspects of our production can be witnessed and seen. Consumers should know that if you are supporting your local beekeeper that the product is going to be 100% legit. Our honey is not heat treated like a lot of supermarket honey is and contains no additional additives.
As a result our honey will crystalise faster, as it is usually maintained at 34 degrees celsius inside the hive. When honey is heat treated it loses its medicinal and beneficial properties and you are pretty much just eating a sugar syrup. We pride ourselves in a raw, healthy and pure process of honey production.
Sadly, this is not the case with one of Australia's largest honey companies (which shall remain nameless here as I generally don't like to tango with lawyers) but let's just say this company has recently faced allegations of bringing in honey from overseas, combining it local honey and selling it in supermarkets as an "Australian product". This highly deceptive conglomerate is importing honey from South America and China, where there are higher occurrences of heavy toxins in their agricultural areas, more severe pesticides are utilised and there is way less regulation than Australia. Not only could this lead to the poisoning of consumers, it also drives the cost of local honey down and makes competition almost impossible.Some honey available in supermarkets has been analysed and shown to be diluted with corn syrup and other additives.In short, it's generally crap!
We know your passionate about sustainability, can you share some of your learnings with us, in particular how important bees are to Australian agriculture.
Indeed I am! Our main apiary was constructed almost entirely from recycled materials, we use glass jars for our honey which are reusable and recycled paper for our tags.
One third of all the food we consume comes from pollinators and bees play an integral part in Australia's future ability to grow and produce a massive percentage of crops. Thankfully, our local bee colonies in Australia have not yet felt the pressures of colony collapse disorder and Varroa mite that have decimated beekeeping practices overseas. We need to be mindful of this though; in the USA beekeepers currently lose up to 50% of their hives annually and are forced to inject large quantities of antibiotics into their hives to counter these external threats.
How do you make creamed honey? We're guessing it's not by simply whipping it?
It actually is! It's literally just aerating the honey. Honey that has crystalised works best and it should be refrigerated afterwards otherwise it usually turns back to a candied state.

What would your ultimate last supper be?
As a small batch producer, what's the most rewarding part of your job?
Most definitely the connection with our customers and the amazing feedback and support that we get. People are absolutely stoked on our honey and it's great we can spread an educational message about the importance of bees whilst offering an amazing food product.
What would your ultimate last supper be?
Tough call….. I think for me it would be less about the food and more about the company. As a devout atheist and lover of science I know that at my last supper there'd be not be a single disciple in sight!
To discover more and connect with Careel Bay Honey Co, click below:
Website: www.careelbayhoney.com.au
Instagram
:
www.instagram.com/careel_bay_honey_co