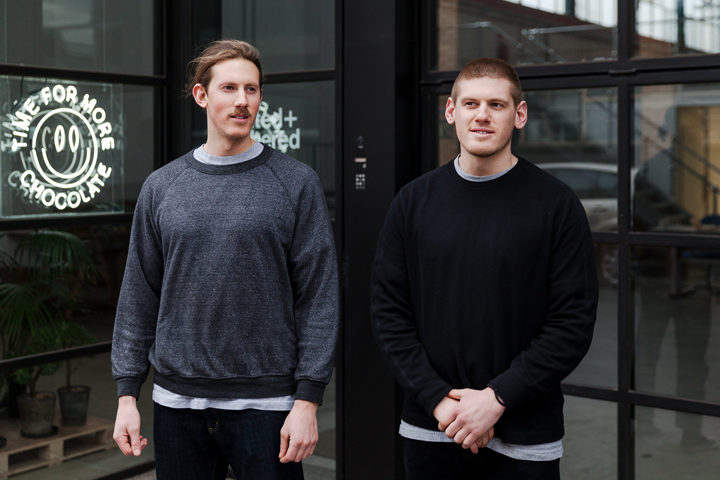 Meet The Locals - Hunted + Gathered
In the backstreets of industrial Melbourne, brothers Charlie and Harry temper cacao from Peru, Ecuador, Belize and the Dominican Republic. They thoughtfully develop and produce chocolate for those who are passionate about taste and quality. Each chocolate bar contains just three ingredients (cocoa nibs, cocoa butter and coconut sugar), giving the brothers as much control as possible in sourcing their beans and creating unique flavour profiles.
In this interview Charlie and Harry share how they source the best cacao beans in the world, the challenges of being a small batch producer and what they'd be doing if they weren't producing incredible chocolate.
Hunted + Gathered 'Belize' dark chocolate was featured in our June/July 18'
Discovery Box
.
Image: Smudge Eats
What's your food philosophy?
Charlie: Our philosophy is that the simplest things are best, and usually taste the best too. We place an emphasis on small details to create things that we can be proud of.
What was the inspiration behind starting Hunted + Gathered?
Harry: We started Hunted + Gathered by conducting simple food experiments in our homes. Through trial and error, we refined the chocolate, each batch a little more sophisticated than what came before.
How do you go about finding the best cocoa beans in the origins you source from?
Charlie: We work closely with partners in Central and South America to directly source the world's best cacao beans.
In 2017 you won multiple Gold awards at the Australian Fine Food awards. What did this mean to you and your business?
Harry: It was great recognition and has given customers a bit more of an excuse to try the full single origin range side by side.
You recently opened a shop front and cafe within your factory. What was the thought process behind this?
Charlie: We opened our chocolate factory to the public to showcase our full range of products as well as offering an educational bean to bar experience for our customers. The cafe also offers daily in-house baked goods made with our chocolate that we pair with coffee and tea by assembly.
As a small batch producer, what's the most challenging aspect to your job?
Harry: Seasonal availability. Occasionally we won't be able to re-order beans thats we love, however the positive to this is that we continuously get to experiment with new beans and flavour profiles.
And the most rewarding?
Charlie: Being involved daily with the full production process from start to finish and ensuring the quality of the finial product is always at the highest standards.
If we looked inside your fridge what would we find?
Harry: Fresh produce from the market.
What is one thing you couldn't work without?
Charlie: Our team of staff, everyone plays a key role in the business to keep it running smoothly.
What's your favourite season for food and why?
Harry: Spring, it's the time that you can find the biggest and best range of fresh produce.
If you weren't a food producer, what would you be doing?
Charlie: Working outside on a farm or winery. Harry: Working in the food industry, probably as a chef.
Image: Smudge Eats
What are your BIG goals for 2018?
Charlie: Taking Hunted + Gathered International, so far this year we have visited Tokyo, Seoul and Shanghai.
What advice would you give to someone whose considering launching their own food business?
Harry: Take the time to refine the product and get it as good as possible before it enters the market.
What would your ultimate last supper be?
Charlie: Spaghetti. Harry: Roast goose from Yat Lok in Hong Kong.
To discover more and connect with Hunted + Gathered click below:
Website: www.huntedandgathered.com.au
Instagram: www.instagram.com/huntedandgathered
Facebook:
www.facebook.com/huntedandgathered